2009 Scottish Open Brass Band Championship - Preview & Prediction
25-Nov-2009
There will be plenty of variation on show at the Scottish Open - but which of the 17 bands will be able to impress the most and end the year on a high?
---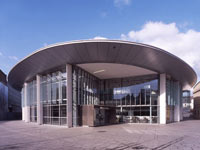 A large field of 17 bands will compete to end the year on a contesting high on Saturday afternoon – all armed with what they hope will be own choice selections that will impress the two learned men in the box – Frank Renton and Philip Harper.
Freedom

And that freedom of choice will be the key – because these are one heck of a set of ambitious choices made by the bands: From a trio of 'Titans' to a brace of 'Centre of the Earth's' and a goodie bag that includes exotica in the titles as, 'Dances', 'Dreams,' 'Spheres', 'Extremes' 'Encounters', 'Wakes', 'Sketchbooks', 'Make-Overs' and even the odd 'Alleluia'.
Frank and Phil will be weighed down like pack horses as they load their scores into their baggage for the journey north this weekend.
Rude awakening

This is a pretty decent field of bands in anyone's book, but any of them thinking they will be onto a winner just because they have picked a piece with a fancy title and rock hard reputation could be in for a rude awakening. Both these judges certainly know the scores, so these bands better be well prepared – bluff and camouflage will be found out pretty sharpishly we suspect.
Championship Section Scottish banding has had a pretty average time of it of late outside the homeland boundaries, so they will be keen to maintain their stranglehold on the victory laurels here for a fourth year in succession.
Heavyweight trio

The heavyweight trio of reigning champion, Scottish Funeralcare, Kirkintilloch and Whitburn all have the qualities to end the year with a victory, but all three also have something to prove too, after a year of fairly mediocre results at the top level contests.
It will also be interesting to see if their domestic hegemony is finally challenged by the likes of Bon Accord, Dalmellington, Kingdom, Kirkintilloch Kelvin, Newtongrange and Unison Kinneil: There is plenty of banding talent in Scotland even if it sometimes fails to play to its full potential.
English contenders

The English contenders make their way north once again, but they will know that it will be very difficult for any of them to return home with the title if the Scots really do play to form on their home turf.
There are some pretty confident outfits however, and each of Easington, Fishburn, Kikbymoorside, Marsden Silver, Pemberton Old, United Co-op Milnrow and Wire Brass will be keen to bloody the Scots noses.
Some will be more realistic than others of leaving the contest weighed down with prize winning booty, but there is a real chance that the flag of St George could be flying proudly above Perth Concert Hall on Saturday night.

Joker in the pack

The joker in the pack however has made the longest journey of all – Fountain City from Kansas in the USA. However, as was shown with their performances at both the Gala Concert and Contest at Brass in Concert last weekend, they do not come here as an unknown quantity.
The Scots have already had a sneak preview of their form after they performed in Glasgow a few days ago, and they impressed a great many people with the quality of their ensemble work, their warm sound and gifted principal players. You don't get to win six domestic titles in a row without being a good band - and nobody will be underestimating their challenge for certain.
The contest kicks off at 2.30pm with the first of a well matched field of bands playing one of those exotic choices of music.
As for a winner?
Well, if they can play as well as they did at the British Open then Whitburn could be the band to beat, but they will have to be on top form to regain the title they last won in 2007.
Co-operative Funeralcare will surely be in the mix once again and could just have the edge over their rivals. If Kirkintilloch hit top form they could feature, but we think Fountain City could be the band to watch out for – they are a very good outfit.
The English challenge will be interesting with the trio of Wire Brass, United Co-op Milnrow and Pemberton Old Wigan best placed to return home with the spoils.
Prediction:
1. Co-operative Funeralcare
2. Whitburn
3. Fountain City
4. Kirkintilloch
5. Wire Brass
6. Pemberton Old Wigan JJB
Dark Horse: United Co-op Milnrow
Own Choice Test Piece selections:
Dances and Alleluias (Philip Sparke)
Dreams (Bertrand Morend)
Essence of Time (Peter Graham)
Extreme Make-over (J de Meij)
Journey to the Centre of the Earth (Peter Graham) x 2
Lowry Sketchbook (Philip Wilby)
Masquerade (Philip Wilby)
Music of the Spheres (Philip Sparke)
Paganini Variations (Philip Wilby)
Rienzi (Wagner arr. Howard Lorrimar)
Rococo Variations (Edward Gregson)
Titan's Progress (Hermann Pallhuber) x 3
Tristan Encounters (Martin Ellerby)
Whitsun Wakes (Michael Ball)

Tickets for the weekend, including the Gala Concert are available from Perth Concert Hall box office on 0845 612 6320 or at www.horsecross.co.uk.