2009 Scottish Open & Youth Brass Band Championships - Introduction
25-Nov-2009
The Scottish Open & Youth Championships round off an exhausting 2009 season this weekend. Perth isn't a bad place to call it a day for a while...
---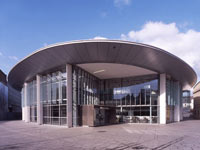 This weekend, the 2009 contesting season at last reaches its final stop off point of the year at Perth, with the Scottish Open and Scottish Youth Band Championships.
There may still be a contest or two still to be run somewhere in the UK, but for the vast majority, this is it – for about another 8 weeks or so when it all starts up once again. It's not a bad old place to call a halt for a while though.
Musical zeal

The Scottish Open has come a very long way in a very short space of time, whilst a spirit of almost Calvinistic musical zeal has transformed the Scottish Youth Championships beyond recognition.
A couple of years ago the whole event moved to the wonderful Perth Concert Hall – a bit of downsizing that was appropriate for a contest that to the outsider had been fatally flawed with misplaced Celtic expectations.
Now, if the progress it has shown continues, the Scottish Amateur Brass Band Association may have to book Hampden Park in a few years time to accommodate the mushroom crop of new bands that have sprung up all over the country.
Blueprint

These Championships have become the blueprint for others to copy, because SABBA got off its backside and decided to invest in its future. No procrastination north of the border – just a need for change and a desire to make sure it was carried out. If you think these championships are impressive now, in a decade's time Scotland could well be the powerhouse of European banding.
It's not just here either. Local and regional competitions are feeling the benefit too – from burgeoning numbers in solo and ensemble events to increased participation in local contests.
Niche

The Scottish Open Contest itself has now found its niche, with its enjoyable mix of local/cross border/international competition enhanced by the sub plots between the competing bands to claim not just the prize money, but also the unwritten bragging rights that go with it.
The home country bands love nothing better than putting one over their English rivals (no fellow Celtic cousins from Wales this year, although there is an American challenge) as well as enforcing their own claims to be recognised as the rightful brass band kings of Scotland.
It gives the whole contest an added competitive edge that brings the best out of a number of high class outfits.
Plenty to enjoy

Meanwhile, there is plenty to enjoy in both the Scottish Challenge Shield and the Scottish Challenge Cup, which gives the lower section bands in the country an end of year opportunity to impose their claims to domestic supremacy too.
It is the Sunday however where you really get to see and hear why the Scots have so much to boast about at present – and why the future of brass banding in Europe could well be coloured a fetching shade of tartan in years to come.
Youth Championships

On the stroke of 10.00am on Sunday morning, the first of no less than 26 youth ensembles will take to the stage – yet another year on year increase for the event, which just a few years ago was struggling to get enough bands together to fill one section, let alone four.
Now there will be 12 bands in the seed corn 'Novice Section' – from Abbey Brass Jedforest to St David's Budding Brass, all bursting with entusiasm and talent. They perform music they enjoy and can play (there is not a single pointless test piece on show) and it's a delight.
That will be followed by the Development Section, where seven more mature outfits will perform entertaining programmes, before the day is rounded off with the highly impressive bands found in the Senior and Premier Sections.
Here, the bands are packed with talented performers – many of whom will have already played with their community bands in other sections. The standard of performance is excellent and it is no wonder that quite a few 'scouts' from all over the country will be in the audience making notes on those players who will be furthering their musical education at universities and music south of the border.
The 2009 contesting season may well be coming to an end, but Perth provides an uplifting conclusion to what has been an exhausting season.
Iwan Fox