2009 4BR Awards - 4BR Special Award - Ian Williams
18-Dec-2009
The 2008 4BR Special Award goes to Ian Williams - the recently retired principal cornet player of the Cory Band.
---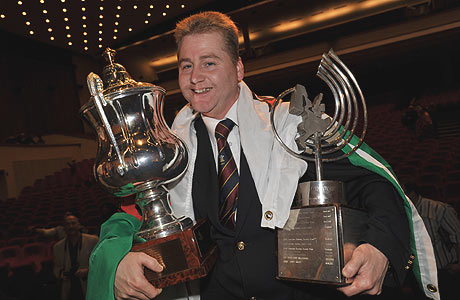 Ian Williams: 20 years of prizes and trophies
Picture: Ian Clowes

To perform as principal cornet of a top flight championship brass band for 20 years is an achievement. To do so with one of the most famous and successful bands in the world is something else again.
Fans

Ian Williams has done both – and with the most iconic band in Wales too. His achievement is made all the greater in that he has done it all with a degree of modesty that has brought him a legion of banding fans and admirers, from occasional listeners to rival players.
He has been a truly magnificent performer for Cory.
The news that he had decided to retire from the position he has held his own for two decades came as something of shock, but coming from a man who has given nothing less than 100% commitment to the band he joined in 1990, it was appropriate that he did so after enjoying perhaps the greatest year of contesting success in his career.
Enjoyment

He retires from top line playing at a young age (the early 40s) although you suspect that his instrument will never be too far from his lips – the enjoyment he obviously gets from his playing has always been transparent - even when you hear him warming up.
In the Principality, to be top man of Cory is to be in the 'hot seat' – the banding equivalent of playing outside half for Wales at rugby. Reputations are won and lost at a single contest – on occasions, on a single solo entry.
Welsh banding enjoys and revels in its playing heroes, but also has an uncanny knack of making sure they never forget their roots. Get too big for their boots and a single mispitched entry can be greeted by comprehensive admonishment – a hard earned reputation stained until appropriate penitence is paid in full.
Exacting standards

It says a great deal for Ian Williams as both a player and a man that even when he has made a rare error, or performed below his exacting standards (and he is the first to admit to having had a few uncomfortable moments or two in his 20 years as both a principal and a soloist) they have been greeted by nothing more than a raised eyebrow, invariably followed by a warm smile from even his most ardent critics as he has effortlessly found his feet again.
He has never forgotten where he came from.
Pressure

Ever since he took over the principal cornet post at Cory, he has never let the pressure of a famous banding history, or even a single note of potential contesting winning playing faze him.
He accepted the pressure and the expectations that came with him moving from the Coedely Band to follow in the banding footsteps of the likes of Stan Williams and Colin Stokes, and of course, the great Jim Davies. He has revelled in the spotlight.
Like the best outside halves he is a small man – in stature but not in heart – and certainly not in talent, which he has had by the coalhouse full ever since he begun playing in the small Welsh valley town and started accumulating a Welsh Dresser full of solo trophies and awards.
Fearless

He joined Cory at a troubling time – the bandroom fire of 1990 had tore much of the old heart from the band, and despite sponsorship the glory years of the hat trick of National titles was well behind them.
His youthful brilliance took time to flourish as Cory enjoyed only sporadic success, although it soon became clear that he was a principal cornet of fearless ambition, scorching technique and individual style.
Over the years, his playing matured, the brashness of tone and reliance on technique replaced by thoughtful musicality – a wider range of solos showcasing an ability to play with rare artistry.
Critics

With the arrival of Robert Childs and a number of high profile signings, many thought his time as principal cornet would come to an end, but he proved his critics wrong.
His reward was to be the principal cornet of the Cory renaissance - one that started in spectacular fashion in 2000 with their historic double triumph.
His leadership of the band from the principal seat became more than mere showcase individualism. His team ethic and his selfless approach saw him relinquish the limelight on occasions for the greater good – an act that even now stands him apart from just about every other principal cornet player of a top band.
The move helped him become the fulcrum of a world class Cory Band; the precision of his technical work never losing its razor sharp edge, the quest for maintaining the highest standards of performance never dulled by an ever increasing concert workload of concerts and recordings. His performances where ever the band played were rarely less than outstanding.
Cherished

Even in victory he never crowed or boasted – he had witnessed too many moments of disappointment not to realise that victories, even the greatest ones, had to be cherished rather than taken for granted.
For years a victory at the European was his greatest ambition – and when he achieved it after so many close calls, he allowed himself an extra pint or three to celebrate long into the Norwegian night. It must have tasted like nectar in Stavanger in 2008 – despite the cost.
Great player

He has been one of the truly great Welsh players – no doubt about that, and one thought all the more of because of his warm personality, his genuine modesty and his commitment to a band that he loved.
We haven't seen the last of him by any means – even if the Fire Brigade will take up a great deal more of his time now that he has been promoted, but perhaps we have seen the last of him occupying the end chair of one of the great bands of recent times.
It will be a talent greatly missed by Cory, Wales, British and world brass banding, even if he is too modest to accept that himself.
Iwan Fox