2009 4BR Awards - Solo CD of the Year
18-Dec-2009
Some of the very best performers in the movement have released CDs this year. All have been of fine quality, so its going to be a pretty difficult choice for you to make.
---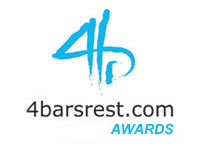 It's been a pretty decent year for solo CD releases and there have been an eclectic selection to choose from of high quality productions. Some exceptional solo performers have put their reputations on the line and to be fair all of them come up trumps.
Repertoire has also been varied and it was nice to hear that many of the players were looking to perform new original works.
We have only include those recordings we have reviewed on the 4BR site during the past 12 months regardless of when they were actually recorded.
Our selection for nomination are as follows: Gung-Ho (David Bremner); Mandrake in the Corner (Hakan Bjorkman); What are you doing the rest of your life (Mnozil Brass); Salt of the Earth (Les Neish); Rococo Variations (Steven Mead)

There were plenty others too, so check out your CD collections and the 4BR review son the site....
---

Gung-Ho
Virtuoso Works for Trombone
David Bremner
The National Band of New Zealand and NZ Symphony Orchestra
Conductors: Howard Taylor & James Hudd
Atoli Recordings: CD 999
Total Playing Time: 70.23
It's been a great year so far for trombone releases, but this could be one of the very best in any year from the New Zealander.
http://www.4barsrest.com/reviews/cds/cd426.asp
---

Mandrake in the Corner
Håkan Björkman
Stockholm Brass Band
Conductor: Kent Jonsson
SBB Recordings: SBB003
Total Playing Time: 77.53

A man in a top hat and Terry Thomas moustache - enter the very odd trombone world of Hakan Bjorkman...
http://www.4barsrest.com/reviews/cds/cd417.asp
---

What Are You Doing the Rest of Your Life
Mnozil Brass

Those whacky guys at Mnozil Brass tend to do things differently, but have they struck gold again with their latest release? It seems so...
http://www.4barsrest.com/reviews/cds/cd411.asp
---

Salt of the Earth
Les Neish
Foden's Band; Martyn Parkes (Piano)
Conductors: Michael Fowles, Garry Cutt
Les Neish rubs a bit of musical salt into some classy repertoire to make even tastier…
---

Rococo Variations
Steven Mead
Whitburn Band
Bocchino Recordings: CDBOCC114
Total Playing Time: 73.57
The inveterate explorer goes down the Rococo path for his latest release, even if it may need an '18 only' certificate in places...