4BR Scouting Report - Sam Chapman - Wantage Silver
11-Jan-2009
4BR puts the scouting spotlight on 14 year old Sam Chapman - one of the star performers of 2008, and a player with an exciting future ahead of himself.
---
Name: Sam Chapman
Age: 14
Occupation: Student
Instrument: Cornet
Current Band: Wantage Silver
Previous Bands: Wantage Silver 'B' Band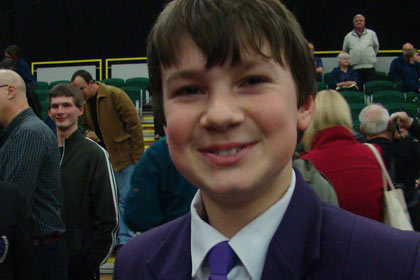 Winning smile: Rising star Sam Chapman

Our first scouting spotlight of 2009 falls on one of the brightest young talents we heard in 2008 – Sam Chapman of the Wantage Band from the London Southern Counties Region.
4BR first heard this talented young player at the Regional Championships in Stevenage last year, when he played principal cornet with the Wantage B Band in the Fourth Section on Rodney Newton's 'Four Cities Symphony'.
Impression

And what an impression he made too – wowing the audience with his lovely cornet sound, strong technique and effortless musicality – all this remember in a 14 year old in a field of 22 bands.
In fact, we wrote: "…if you were lucky enough to listen to a young gentleman called Sam Chapman, aged 14, with Wantage B Band in the Fourth Section then you would have been very fortunate indeed.

"Here was the best young cornet player the 4BR Editor has heard for a very long time – technically secure, but with such a lovely sound allied to a quite wonderful sense of style and musicality. Watch out for him in years to come – this is star player, make no mistake about it."
Matured

Since then he has matured as a performer, winning soloist prizes both at school and at the local Leamington Spa Contest too, where adjudicator Philip Harper was deeply impressed with his playing, and gaining his place in the 4BR Band of the Year.
He has also been promoted from the Wantage B Band up to the senior outfit, and now plays on the solo cornet bench – just a few seats down from his dad Steve on principal cornet.
Family ties

It's a bit of a family affair too, with his grandmother the Wantage bandmaster for a quarter of a century, mum, Judith on solo horn, dad, Steve the principal cornet and elder sister Josie on 1st horn.

The thriving Wantage Band organisation caters for almost 200 players (around half of them youngsters) with a Championship Section 'A' band, a 4th Section 'B' band, a non-contesting 'Concert Brass' band, a Youth Band and two training bands.

Sam has come up through the ranks and is now one of its undoubted rising stars.
Scientific future

Sam started to play at around 7 years of age and has been taught by Simon Handley and latterly John Chesterman, the former principal of Aldbourne Band – who earlier taught dad, Steve too.

He has recently passed Grade 8 on cornet with flying colours and his Grade 3 on piano too. However, at the moment he feels that with options to study ICT, music, resistant materials (woodwork to you and me) and business studies at school he thinks a future in a science may well beckon in the years to come – although he will never give up his cornet playing.
"I'm not too sure about the long term at the moment," he told 4BR. "I will never give up playing the cornet, but I think I may want to have a career in science."
Championship challenge

Sam is currently enjoying the challenge of playing in a Championship level band and is looking forward to playing at the Areas as well as the Senior Cup in Blackpool later in the year. "The pieces are much harder, and I like that. I enjoy practicing them, as well as the concert pieces such as 'Daphnes & Chloe' that the band will be playing at our next concert in February."
As for home practice, Sam is working through the Arban Tutor. "Dad tells me I should practice a bit more, but I do work on the Arban to try and improve my technique. I think my best part of my playing is my sound, but I know I have to work on my fingering, my stamina and my range."
National Youth Band

With the chance to play some solos in the next few months means he is currently working on 'Nessun Dorma' and has started to break the back of the famous Harry James Trumpet Concerto.
"Both are really difficult in their own ways, but I am enjoying trying to play both – although it may take me a bit of time to play the Harry James piece!"
As for 2009? "I would like to try and audition for the National Youth Band of Great Britain and improve my playing even further. It came as a shock when I saw my name in the 4BR Band of the Year, so I know I have to keep practicing now!"