2009 Butlins Mineworkers Championships - Fourth Section retrospective
21-Jan-2009
There were Four Noble Truths to overcome in the Fourth Section, but only one over the moon winner in Eccles Borough - and all for a second time in a row.
---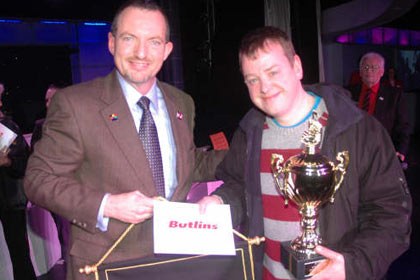 Piece of cake: Eccles take the Fourth Section title once again
Picture: John Stirzaker

18 bands battled it out for glory on the Saturday in the warm and welcoming acoustic of the Crazy Horse Theatre.
Philip Sparke's 'Four Noble Truths' provided the contenders with a stern but enjoyable test, well within the best bands capabilities and not totally unplayable for those with more limited resources.
Tough nut to crack

It was still a tough nut to crack, even for the best on the day, but the overall standard was pretty good with the bands that eventually coming in the prizes fully deserving them from adjudicators Lynda Nicholson and Simone Rebello.
Eccles Borough came to Butlins as the defending champion, and they returned to Manchester still the Champion Band, courtesy of a stylish performance directed by Les Webb.
Each of the sections was delivered with security and sense of understanding, whilst it was noticeable that care had been taken over tuning and tempi – issues that undermined many a rival. It was a worthy victory – especially as they were the last band to play on the day.
Early marker

Ireland Colliery (Chesterfield) had earlier put down the marker for the rest of the field to beat from the number 3 draw. This was a cracking performance, full of control and colour, and mention must be made of the band's principal cornet, soprano and euphonium, whose contributions really impacted on them being placed in the prizes.
Meanwhile, Backworth Colliery under Duncan Beckley played immediately after the comfort break, and the band clearly benefited from his intimate knowledge of the piece.
Duncan had guided Grange Moor into third place in Harrogate in 2004, and he brought all his insight of the work to bear with a confident reading. The delivery wasn't flawless, but the band knew what they were about and what the MD required - and they delivered to fine effect.
Narrow edge

Maltby Miners Welfare completed the top four finishers (those announced at the results ceremony) as they narrowly edged out Whitwell in the race for the generous prize money.
Both bands had their moments of uncertainty, but both also had extended periods when all the essential ingredients came together with a sense of style and colour too.
Although neither quite had enough about them to have forced their way any higher into the prizes, both were a little way above the rest of the chasing pack and fully deserved their final positions.
Committed

Brian Draper's Bestwood Black Diamonds drew number two and gave a fully committed performance to come home in 6th place, with just too many little annoying errors and unforced errors to have come any higher.
Meanwhile, Tewkesbury and Thoresby Colliery Youth produced two wonderfully coloured performances, exciting and atmospheric, but riddled with just too many basics flaws to have pushed higher than 7th and 8th. Here were two bands though on the cusp of producing something special – so watch out for them at the Regionals.
Black Hole of Calcutta

After this the bands were as tightly packed together as the inmates of the Black Hole of Calcutta, and there were persuasive arguments for higher or lower placings for any of the contenders that eventually ended up from joint 9th to joint 14th.
Simone and Lynda obviously gave their deliberations a great deal of thought and analysis (Organiser Brian Eggleshaw telling 4BR that they had taken time to reassess the merits of each performance in quite some detail), so the bands could have no real cause for complaint to have come where they did.
Consistency

It was really all about consistency. Some bands played the opening well, but fell away only to recover by the last movement, whilst others played the two central sections better than the two outer ones. It is the same old story at this level, so the judges must be congratulated that they took their time in making sure they were in full agreement.
Melton, Thurcroft and Rivington & Adlington all had their moments when it seemed they were heading for performances that could have forced their way into the top six, but just when things were looking rosy, a combination of sloppy ensemble playing, some errant tuning and fragile solo contributions just undermined their efforts. All though came out of the contest very much in credit, and all can build on this outing in time for the Areas.
Hairsbreadth

So too, Banovallum Brass (who quite a few people we spoke to liked a great deal), and Swineshead Silver who ended up in joint 12th place. There really wasn't a hairsbreadth to choose between them overall, although both bands didn't quite have the consistent quality to have come any higher. Both though went home with points in credit rather than debit.
Wheels off

The same can also be said of Dronfield CMW and Royston Town – both of whom didn't get off to the best possible starts, but who recovered form and security the longer the piece went on. Those early moments when the wheels nearly came off though explained why they ended where they did.
Isolation

That just left Linthwaite in isolation in 16th place after a performance that was too inconsistent to have really have come higher than it did, but also had moments when things came together and the band produced a wonderful rounded sound. The errors though were nasty and expensive.
Finally, Kingsway Printers Cleethorpes and Pleasley Colliery Welfare – both of whom found the piece just a notch above their current comfort zone of technical and musical security, but nonetheless delivered two performances rich in enthusiasm and no little skill in execution. If both can just tie up the basics a bit better in tie for the Regionals then things will be looking up.
Intelligent conductors

The Fourth Section here continues to provide evidence that there is still a host of bands at this level who are being coached and developed by intelligent conductors, who know the exact strengths and weaknesses of their bands and don't let their personal egos get in the way of trying to coax a good basic performance out of their band.
It meant that a sizeable audience got to enjoy a fine contest with the vast majority of the bands producing performances that should stand them in good stead for the rest of the contesting season. Eccles in particular will be one of them we are certain.
Malcolm Wood