Credit Crunch banding - Can bands survive the latest economic downturn?
28-Jan-2009
With the effects of Credit Crunch and the recession starting to tell, what position are our leading UK bands in to ride out the financial downturn? 4BR investigates.
---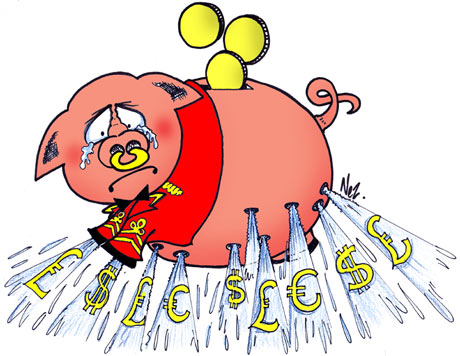 Brass bands have voracious appetites – and we are not just taking about the porcine eating skills of many a bass section.
What they devour is money. Lots of it.
They also spend it like Imelda Marcos at a Manolo Blahnik shoe sale.
Financial lubrication

Brass bands need money to oil the wheels of their business as much as any other enterprise under the sun – but at the moment there are quite a few up and down the country that will be starting to find that financial lubrication drying up.
As a result, some bands may well have to look closely at just how wisely they spend their hard earned income too, because there is a sense that the brass band junkyard may well start to fill up with yet more bankrupt corpses in the next few financially stringent years.
How else can you explain the fact that according to the figures available to the general public through the Charity Commission for England and Wales website, the income for three of the top five bands ranked bands in the UK in the year ending December 2007, was just seven grand short of £600,000. They spent £520,000 of it.
4BR investigation

4BR has investigated the published income and expenditure figures for 43 UK bands currently ranked in the top 200 in the 4BR/World of Brass rankings.
These are bands that currently submit accounts to the Charity Commission of England and Wales and the Scottish Charity Registry. They are figures that are available in the public domain.
Charity bands

The top five bands in the 4BR rankings – Cory, Grimethorpe Colliery, Fodens, Black Dyke and Brighouse & Rastrick are all registered charities, as are Carlton Main (ranked 10), Desford Colliery (12), Tredegar (13), Kirkintilloch (16), Rothwell Temperance (17) and BTM (19).
The bands ranked in the top 20 that are not currently registered charities are Leyland (6), Fairey (8), Hammonds Saltaire (11), Scottish Co-op (14), Whitburn (15), Hepworth (Cookson Homes) (18) and Flowers (20).
Outside the current top 20 rankings, a further 32 bands in the top 200 are registered too – from Reg Vardy (22) to Pontardulais (194).
Other bands are either non for profit organisations, limited companies, or partly or wholly sponsored bands who trade under a variety of financial identities. At least two bands not currently registered as charities said they were in the process of doing so.
Good financial shape

On the face of it, many of the bands we looked at appear to be in pretty good financial shape.
Cory's returns to the Charity Commission for instance show that in the last two years, their income has exceeded their expenditure by over £10,000, whilst Grimethorpe managed a surplus for the financial period ending 31st December 2007 (10 months in this case) of over £68,000.
Brighouse & Rastrick meanwhile suffered a small deficit of just under £1,500 for the same 12 month period, but racked up an equally impressive surplus over the preceding four years of £72,000.
Not published

The two bands whose up to date figures are currently not published on the Charity Commission website however are Black Dyke and Fodens.
Black Dyke is registered as Black Dyke Band (1855) Limited and Fodens as Fodens (Courtois) Band, but neither has sent returns to the Commission for the year endings 31st December 2006 and 31st December 2007.
That may have consequences for both bands, as well as others who do not send their returns within the prescribed time limits set down by the Commission.
Registry removal

Currently the Commission are undertaking a 'Registry Removal' process – something that may well see brass bands lose their charitable status if they do not send in returns within ten months of the accounts being due. Both Black Dyke and Fodens are currently 436 days and counting for their 2006 returns.
An officer from the Charity Commission told 4BR: "The Registry Removal is now in place and will be looked at strictly. Those who don't meet the 10 month period could very well end up losing their charitable status – and it would be very difficult for them to get it back."
Interesting reading

As for Black Dyke and Fodens themselves, their available figures make for interesting reading.
Fodens made a small surplus to the year ending 31st December 2003 of £4,469, but then recording deficits of £8,476 and £29,255 in the following two years.
Black Dyke meanwhile showed income of £51,859 for the year ending December 2003, but this dropped significantly to £19,661 and then to £15,659 for the following two years. They recorded a surplus for each year however.
4BR understands that the Black Dyke organisation is split into two main parts – Black Dyke Band (1855) Promotions Limited and its charitable subsidiary Black Dyke Band (1855) Limited. The holding arm gives the concerts etc, which generate the income and profits that the trustees then gift aid to the charity.
Varied reasons

There may well be varied reasons why some bands have not produced returns on time (changes to charitable status etc) and these two bands are not alone.
Carlton Main Frickley has yet to produce returns for the past three years to 31st July 2007 (972 days overdue), Wingates (149 days overdue) and Staffordshire (645 days), although the vast majority of the 43 bands we looked at had met the reporting criteria.
Clear rules

The Charity Commission is very clear on its rules: "Trustees of charities with income exceeding £10,000 in their last financial year are required to complete and submit an Annual Return and a copy of the trustees' annual report and accounts. This must be done within 10 months of the end of the charity's financial year.
Charities failing to provide evidence of their activity and existence by submitting accounts, Annual Returns or Annual Updates will be sent a series of reminders. If the Commission has not received overdue documents, charities may be removed from the Register."
Bands have now been warned.
Weather the storm

So with the current financial climate looking ever more gloomy, how many of the 43 bands we looked at seem to be in the financial position to weather the storm?
The good news appears to be that according to their returns, the majority are in decent financial positions, although some bands are still reliant on financial umbrella coverage from generous sponsors.
Of the 43 bands, 5 are Scottish bands registered with the Scottish Charity Registry, which only publishes gross income and not expenditure. 1 band has been being removed from the registry in the past year and 2 have yet to register any returns as they have only become charities in the past 12 months.
Figures

Of the bands that have sent in returns for 2007 or 2008, 16 recorded a surplus of income over expenditure, whilst 12 recorded a deficit.
Over the last 5 years, of the 43 bands we looked at, 26 recorded overall surpluses, whilst 9 recorded overall deficits.
3 bands recorded yearly income of over £100,000 (Cory, Grimethorpe, Brighouse & Rastrick) with 4 (Fodens in 2005) recording expenditure over this amount in their last submitted returns.
3 bands had incomes of between £75,000 and £100,000 declared in their last returns, although none showed expenditure between these levels.
4 bands showed incomes of over £50,000 with 4 showing expenditure of over that amount too.
8 bands had income over £26,000 with 10 declaring expenditure of the same levels.
22 bands recorded yearly income of under £26,000 in their last published returns, whilst 17 had expenditure of under the same amount.
How much does it cost?

So how much does it cost to run a top class band nowadays?
Well if you are a band that wants to compete with the most successful contesting bands of the 21st century such as Cory, Grimethorpe, Fodens, Black Dyke and Brighouse & Rastrick – quite a lot it seems according to sources investigated by 4BR.
Hotel and travel costs, players expenses, retainers, conductors fees, purchase of music, instruments, uniforms, utility bills, insurances, subscriptions and entry fees, concert promotions, CD purchases and merchandise, repairs, office equipment, percussion hire, even bank charges, accountancy fees, contest rehearsal facilities… the list of outgoings is almost endless.
On the plus side however top bands can perhaps look forward to income from sponsors, concert fees, prize money, donations, recording fees, merchandise revenue and perhaps even contributions from players themselves…
Balancing the books

The problem not just for top level bands, but for every other band under the contesting sun is balancing the amount coming in to the amount going out – and some bands can only do this with considerable help.
Figures from various sources secured by 4BR show some leading ranked bands having overall annual incomes ranging from around £100,000 to over £340,000.
These include amounts ranging from around £24,000 to over £79,000 in direct sponsorship and donations ranging from around £9,000 to well over £56,000 in total.
Concert fees that we have seen from various sources can account for between £25,000 to over £150,000 per year with broadcasting fees over £45,000 in certain cases.
Prize money

Prize money, although welcome, is neither guaranteed, or enough, to meet the bills on its own. Fodens picked up £15,360 at the end of the 2007 season, Brighouse £11,900, Cory £6,420 and Black Dyke £6,175. Not insubstantial, but nowhere near enough to survive on alone.
There are of course mitigating circumstances for the top bands – taking part in the European Brass Band Championship for instance may well be a great honour, but it is also a huge financial drain too. Cory for instance will have had to fork out around £11,000 per appearance since 2000 – around £100,000 in total.
Player expenses

That said, the payment of player and conductor 'expenses', 'associated costs' or 'retainers' can make a big hole in the outgoings. Figures of around £78,000 - £170,000+ are paid out each year by some of the biggest bands.
However the danger for many bands is that they now seem to rely on just four main sources of income – sponsorship, individual donations, prize money and concert fees.
Lap of the gods

With the economic climate as it is – all could come under considerable threat as companies look more closely at their sponsorship budgets, individuals feel the pinch in their pockets, well paid concerts become increasingly hard to find and prize money – well that is in the lap of the adjudicating gods.
Bands will of course live to their means – year on year in many cases. Some have substantial reserves (over £200,000 and £300, 000 in two cases) - although others appear to have what looks like healthy balances in the bank, but in reality it amounts to less than half a year's running costs.
And if you think sudden financial downturns and decisions may not affect a band – just look what has happened to the likes of Pennine, Sellers, Mid Rhondda and Stockport Brass of late.
Dangerous route

As one Band Manager of a top section band told 4BR: "We have to look and find other income sources. Relying on the good will of sponsors is a dangerous route to take, especially as many of the companies who have been involved with banding are currently finding trading difficult for themselves."
Further down the banding ranking list, the same problems occur – although perhaps not at the same levels. The good news appears to suggest that those bands with incomes of below £26,000 a year seem to be balancing their books more often than not, whilst those up to £50,000 are holding their own.
Manageable loss

Most top section bands, who are non for profit making organisations 4BR spoke to, admitted to having income of between £20,000 - £40,000 per year. Some admitted to running at a 'manageable loss' for the last couple of years militating against them seeking charitable status.
Those in the lower sections revealed that their income and expenditure tended to fall into line with those bands under the £26,000 figure – mostly, substantially so.
Finding out information from bands that are not currently charities is much harder – although another Band Manager of a top section band told 4BR: "If we didn't have our sponsor we would be in trouble. Simple as that"
Sponsorship

4BR understands that there are currently around 20 bands in the UK in the top 200 ranked bands that are partly sponsored to varying degrees – from major companies such as the Co-operative to those who have linked up to more local firms such as Reg Vardy or Cookson Homes.
Not all sponsorship comes as direct cash – but many are reliant on sponsors for their survival nonetheless.
So with the financial storm clouds gathering, it seems that just about every band in the UK will have to make sure they are not leaking money down the drain if they are to survive.
Most, with long and proud histories in communities are in pretty good shape it seems at present, but then again, they said that about Woolworths – and look what happened to them…
Iwan Fox