2009 Norwegian National Championships - Fourth Division preview and prediction
4-Feb-2009
The foundation base of Norwegian banding continues to grow - both new and old.
---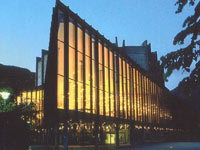 Fourth Division

Adjudicators: Elizabeth Fossan and Jappie Dijkstra
Saturday 7th February (9.00)
---
19 bands last year, 22 bands this time out. The foundation base of Norwegian banding continues to grow at a pace that is both encouraging and manageable.
It also continues to delight.
Enjoying the contesting experience

Where else can you get a host of bands clearly so enjoying the contesting experience? Young and old, new performers, old stars, weird clothing and some even more weird own choice selections. The whole thing is an absolute joy.
This year there will be great interest in the appearance of Bjorsvik Brass, a 'veterans' band made up of former players of the Eikanger Bjorsvik Band – yes – that Eikanger band.
It may seem a little unfair, but the rules are the rules (and very liberal they are too here) and their appearance will be seen as somethng to celebrate for friends and rivals alike.
Cause for celebration

Instead of leaving their instruments to rust in the Norwegian air, here they make sure they keep them in working order, even if the lips may not quite be in the same tip top shape anymore. It means another band is added to the movement, and so what if they do well – isn't that a cause for a little bit of celebration?
There are bands from just about every nook and cranny of Norway now taking part. There are also seven, new or returning bands appearing this year too, and although a couple have dropped out for various reasons, the net gain is three bands from last year.
What form?

What form all these bands bring to Bergen is anyone's guess – there could be some real surprise packages taking to the stage to thrill the two adjudicators Elisabeth Fossan and Jappie Dijkstra.
Two of the bands here played at SIDDIS late last year. Langhus Brass came 3rd, whilst Nes Musikkforening came 4th, so a touch of form to fall back on there.
Other than that it could be a close run thing, although Bjorsvik Brass should be the clear favourites we think. The two promoted bands from 2007 found life a little tough in the Third Division last year and return back to battle it out again, so Lismarka will want to make it a quick return.

As for the rest?
Randeburg were 6th last year and will want to make it back into the prizes once more, whilst there was little to choose between the bands in joint 7th to 9th places in Floro, Skeie and Stavanger Kommunes Korps. IMI Brass will want to make a quick return to the Third Division.
After that it's a bit of a mystery for us, wiht the likes of Fla, Rosendal, Brummond, Hetlevik, Fagernes and Flora a hairsbreath apart in terms of talent. Rudsbygd will be looking for a move up the table after coming = 17th for sure, whilst some of the new bands will also be looking to make a real impression on the judges on their debuts or overdue returns.
So watch out for Forde, Haroy, Kristiansand, Lalm, Lyshornet and Salhus.
4BR Prediction:

As for a winner?
Well we can't see farther than the grey heads of Bjorsvik Brass, although they will have to make sure their lips are in trim. After that we opt for Langhus and Nes, with the likes of Randaburg, Skeie and Stavanger Kommunes Korps making up the top six. Our dark horse is IMI Brass.
1. Bjorsvik Brass
2. Langhus
3. Nes Musikkforening
4. Randaberg
5. Skeie
6. Stavanger Kommunes Korps
Dark horse: IMI Brass
---
Brummund Nordaasen Musikkforening
Conductor: Morten Sanner
National Record:
2008: =13th (Karsten Dalsrud)
2007: 4th (Karsten Dalsrud)
2006: DNC
2005: 8th (Botolv Gjeldaker)
2004: 9th (Botolv Gjeldaker)
2003: 10th
2002: 13th
2001: DNC
2000: DNC
Last Year: =13th
Own Choice Selections:
2008: Anglian Dances
2007: Chorale and Variations
2006: DNC
2005: Inspiration
---
Fagernes Musikkorps
Conductor: Odd Arne Erlandsen

National Record:
2008: =15th (Odd Arne Erlandsen)
2007: =8th (Tor Arthur Hagen)
2006: 7th in Third Section (Tor Arthur Hagen) (rel)
2005: Winners of Fourth Division (Tor Arthur Hagen)
2004: 13th in Third Division

Overall Record:
Winners of Fourth Division 2005
Winners of Third Division 1986

Last Year: =15th

Own Choice Selections:
2008: The Kingdom Triumphant
2007: Music for a Festival
2006: The Plantagenets
2005: Triptych
---
Flora-Bremanger Brass Band
Conductor: Johnny Saelemyr
National Record:
2008: =15th (Johnny Saelemyr)
Last Year: =15th
Own Choice:
2008: Partita
---
Floro Hornmusikk
Conductor: Kjell Erik Husom
National Record:
2008: =7th (Kjell Erik Husom)
Last Year:
2008: =7th
Own Choice:
2008: Rhapsody in Brass
---
Flå Musikkorps
Conductor: Odd Steinar Mørkved
National Record:
2008: =11th (Odd Steinar Mørkved)
2007: =6th (Odd Steinar Mørkved)
2006: DNC
2005: 8th
2004: 8th
2003: 5th
2002: DNC
2001: DNC
2000: DNC

Last Year: =11th

Own Choice:
2008: St Austell Suite
2007: Northern Landscapes
2006: DNC
---
Hetlevik Musikklag
Conductor: Oyvind Nikolaisen

National Record:
2008: =13th (Jan Arne Pupe)
2007: 13th (Jan Arne Pupe)
2006: 12th (Jan Arne Pupe)
Last Year: 13th

Own Choice Selection:
2008: Partita for Brass
2007: Triptych
2006: A Malvern Suite - Philip Sparke
---
IMI Brass:
Conductor: Per-Erik Petersen
National Record:
2008: 13th in Third Division (Per-Erik Petersen) (rel)
2007: 12th (Per-Erik Petersen)
2006: 2nd in Fourth Division (Per-Erik Petersen) (prom)
Last Year: 13th in Third Division (rel)
Own Choice Selection:
2008: A Pastoral Symphony
2007: Romans 8
2006: To Serve and to Save
---
Langhus Brass
Conductor: Idar Toskangerpoll

National Record:
2008: 15th in Third Division (Idar Toskangerpoll) (rel)
2007: Winners of Fourth Division (Idar Toskangerpoll) (prom)
2006: DNC
Overall Record:
Winners of Fourth Division 2007

Last Year: 15th in Third Division (rel)

Own Choice Selection:
2008: Songar fra Fysjenes
2007: A Breathless Gnu Kiss!
2006: DNC
---
Lismarka/Mesnalia Brass
Conductor: Morten Fagerjord
National Record:
2008: 14th in Third Division (Morten Fagerjord ) (rel)
2007: 3rd in Fourth Division (Morten Fagerjord) (prom)
2006: =10th (Morten Fagerjord)
2005: 10th
2004: 5th (Erling Myrseth)
2003: 4th
2002: Joint 16th
2001: 13th
2000: 16th
Last Year: 14th in Third Division (rel)
Own Choice Selection:
2008: Northern Landscapes
2007: Images for Brass
2006: A Celtic Suite - Philip Sparke
---
Nes Musikkforening
Conductor: Andres Halla
National Record:
2008: =7th (Andres Halla)
2007: 13th in Third Division (Andres Halla) (rel)
2006: 11th (Andres Halla)
2005: 11th (Andres Halla)
2004: =8th (Andres Halla)
2003: 4th
2002: 6th
2001: 16th
2000: 14th
Last Year: =7th

Own Choice Selections:
2008: Harmonius Variations
2007: Ancient Monuments
2006: Firestorm
2005: Northern Landscapes
---
Randaberg Musikkorps
Conductor: Selmer Simonsen
National Record:
2008: 6th (Marcel Sorin Totolici)
Last Year: 6th
Own Choice Selection:
2008: Anglian Dances
---
Rosendal Musikklag
Conductor: Torstein Hatlevik
National Record:
2008: =11th
2007: 15th in Third Division (Jan Magne Olsen) (rel)
2006: 3rd in Fourth Division (Jan Magne Olsen) (prom)
2005: 14th (Michael Antrobus) (rel)
2004: Winners of Fourth Division (Yngve Nikolaisen) (prom)
Overall Record:
Winners of Fourth Division 2004

Last Year: =11th

Own Choice Selection:
2008: Call of the Cossacks
2007: Sunset Rhapsody
2006: Essay for Brass Band
2005: Main Street
---
Rudsbygd Brass
Conductor: Morten Fagerjord
National Record:
2008: =17th (Grethe Berntsen)
2007: =6th (Botolv Gjeldaker)
2006: =12th (Grethe Berntsen)
2005: =12th (Grethe Berntsen
2004: =13th (Grethe Berntsen)
Last Year: =17th
Own Choice Selection:
2008: Laudate Dominum
2007: Anglian Dances
2006: Schattdorf Impressions / Country Scenes
---
Skeie GladBrass
Conductor: Espen Westbye
National Record:
2008: =9th (Einar Mæland)
2007: 10th (Einar Mæland)
2006: =6th (Einar Mæland)
2005: =6th (Einar Mæland)
2004: 5th (Einar Mæland)
2003: 12th in Third Division
2002: 8th

Last Year: =9th
Own Choice Selection:
2008: Reflections
2007: A Celtic Suite
2006: Kaleidoscope (Five Variations on the Brugg Song) - Philip Sparke
---
Stavanger Kommunes Korps
Conductor: Morten Ovrebekk
National Record
2008: =9th (Morten Ovrebekk)
2007: 11th (Morten Ovrebekk)
2006: DNC

Own Choice Selection:
2008: To Serve and to Save
2007: A Saddleworth Festival Overture
2006: DNC
---
The following bands are either making their first appearance at the contest or are returning after a period away.

Bjorsvik Brass (Russell Gray)
Forde Musikkorps/Musikkorpset Heimdal (Pal W. Josok)
Haroy Musikklag (Nils Magne Abelseth)
Kristiansand Brass Band (David Tellefsen)
Lalm Musikkforening (Morten Gaff)
Lyshornet (Knut Harald Rydland)
Salhus Musikklag (Sindre Dalhaug)
---
Test Piece Selections:
Journey into Freedom (Ball)
Inspiration (de Hann)
Kaleidoscope (Sparke)
Triptych (Sparke)
Connotations (Gregson)
Music for a Festival (Sparke)
Valerius Variations (Sparke)
Triptych (Sparke)
Second Suite in F Major (Holst)
Tone Poem - Joshua (Silfverberg)
Princethorpe Variations (Downie)
Anglian Dances (Fernie)
Festivity (Condon)
Music for Thanksgiving (Downie)
Partita (Gregson)
Prelude & Jubilate (Barry)
Concert Overture (Sparke)
Dimensions (Graham)
A Gallimaufry Suite (Harper)
Lydian Pictures (Dobson)
The Talisman (Hughes)
The Dark Side of the Moon (Lovatt-Cooper)
---
2008 Result:

1. Torskangerpoll Musikklag (Eirik Gjerdevik) = 96
2. Fjell Brass Svein (Henrik Giske) = 95
3. Manger Old Star Brass (Johannes Mangersnes) = 94
4. Frei Hornmusikk (Stein Åge Sørlie) = 93
5. Hordvik Musikklag (Knut Emil Mjøs) = 92:5
6. Randaberg Musikkorps (Marcel Sorin Totolici) = 92
=7. Florø Hornmusikk (Kjell Erik Husom) = 91
=7. Nes Musikkforening (Andres Halla) = 91
=9. Skeie Gladbrass (Einar Mæland) = 90
=9. Stavanger kommunes korps (Morten Øvrebekk) = 90
=11. Flå Musikkorps (Odd Steinar Mørkved) = 89
=11. Rosendal Musikklag (Torstein Hatlevik) = 89
=13. Brummund Nordaasen Musikkforening (Karsten Dalsrud) = 88
=13. Hetlevik Musikklag (Øyvind Nikolaisen) = 88
=15. Fagernes Musikkorps (Odd Arne Erlandsen) = 87
=15. Flora-Bremanger Brass Band (Johnny Sælemyr) = 87
=17. Hof Hornmusikk (Truls Sanaker) = 86
=17. Kaland/Lysefjorden Musikklag (Knut Harald Rydland) = 86
=17. Rudsbygd Brass (Grethe Berntsen) = 86