2009 Norwegian National Championships - First Division preview and prediction
4-Feb-2009
4BR casts its eye over the 12 bands hoping to make the step up and join the Elite bands in Norway this weekend.

---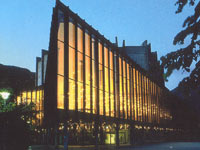 First Division:
Adjudicators: Karl Ole Midtbo, Cathrine Winnes
Saturday 7th February (9.00)
---
Once again Norway leads the banding world in the way in which they have set up their First Division.
Here are 12 quality bands that are currently one step below true Elite level, although all have ambitions to gain entry to the select club above them.
Keen contest

This makes for a very keen contest of competitive wits, with conductors eager to show off the strengths of their bands without leaving their weaknesses too over exposed in the process.
Some of the own choices are therefore much more subtle than they may first appear – although a few do bite off more than they can chew. It does make for a contest of vibrant ambition though.
Hard to pick a winner

With Oslo Brass Band promoted to the Elite Division and replaced by Tertnes, the balance of the section has been maintained. It is hard to pick a winner.
That said, the likes of Tomra and Sola in particular will want to push Sorum for the chance of gaining the priceless automatic promotion spot (Sorum lost out to Sandefjord late last year in what was a play off of sorts on 'Spectrum' to see if they would gain promotion at their expense to the Elite level), but Tertnes have had the experience and that could be crucial.
Sola meanwhile will be looking to further boost their form after gaining a fine 2nd place at the SIDDIS contest ahead of Sorum, whilst Askoy will be hoping for a better return this year than their 9th place 12 months ago.
Last year there was little to choose in the adjudicator's eyes between the likes of Oster and Radoy (joint 5th) and Jolster and Tertnes Amatorkorps (joint 7th), whilst Laksevag will want to improve on their poor outing too.
Oskog and Kopervik Musikkorps will be full of confidence after gaining promotion from the Second Division last year, so an interesting contest is in store.
4BR Prediction:
A real hard one to call this – it could well go any which way you choose.
We always stick our necks out though and we opt for a quick return to the Elite level for Tertnes, closely followed by Sorum and Tomra. Sola should be in the mix, but we have a sneaky suspicion that both Orskog and Kopervik may well spring a surprise or two. Our dark horse is Jolster.
1. Tertnes
2. Sorum
3. Tomra
4. Sola
5. Orskog
6. Kopervik

Dark horse: Jolster
---
Askøy Brass Band
Conductor: Egil Magnussen
National Record:
2008: 9th (Egil Magnussen)
2007: =4th (Egil Magnussen)
2006: 6th (Helge Haukas)
2005: 3rd (Egil Magnussen)
2004: 3rd (Tom Brevik)
2003: 3rd
2002: 2nd in Second Division (prom)
2001: 6th
2000: 11th
1999: 3rd
1998: 7th
1997: 7th
1996: 2nd
1995: 7th
1994: 10th
Last Year: 9th
Own Choice Selection:
2008: Chivalry
2007: Partita
2006: Journey into Freedom
2005: Tallis Variations
---
Jølster Musikklag
Conductor: Arvid Anthun
National Record:
2008: =7th (Arvid Anthun)
2007: Winners of Second Division (Arvid Anthun) (prom)
2006: Winners of Third Division (Arvid Anthun) (prom)
2005: 4th (Arvid Anthun)
2004: 2nd in Fourth Division (Arvid Anthun) (prom)
2003: 9th in Third Division (rel)
2002: 7th
2001: 4th
2000: 6th
Overall Record:
Second Division winners 2007
Third Division winners 1993, 2006

Last Year: =7th

Own Choice Selections:
2008: Pageantry
2007: The Lord is King
2006: Voyage of Discovery
2005: Nautalis
---
Kopervik Musikkorps:
Conductor: Simon Dobson
National Record:
2008: 2nd in Second Division (Simon Dobson) (prom)
2007: 2nd in Third Division (John Philip Hannevik) (prom)
2006: Winners of Fourth Division (Selmer Simonsen) (prom)
Overall Record:
Winners Third Division 1989
Last Year: 2nd in Second Division
Own Choice Selection:
2008: Tallis Variations
2007: Trittico
2006: Voyage of Discovery - Goff Richards
---
Laksevåg Musikkforening
Conductor: Tom Brevik
National Record:
2008: 11th (Tom Brevik)
2007: =4th (Tom Brevik)
2006: 4th in Third Division (Tom Brevik) (promoted to First Division)
2005: 3rd (Tom Brevik)
2004: 5th (Tom Brevik)
2003: 7th
2002: 12th in Second Division (rel)
2001: 6th in Second Division
2000: 2nd
Last Year: 11th

Own Choice Selections:
2008: Festival Music
2007: A Kensington Concerto
2006: The Land of the Long White Cloud
2005: Salute to Youth
---
Oster Brass
Conductor: Torstein Aagaard-Nilsen
National Record:
2008: =5th (Torstein Aagaard-Nilsen)
2007: 7th (Torstein Aagaard-Nilsen)
2006: 9th (Reid Gilje)
2005: 5th (Reid Gilje)
2004: 10th (Oddmund Hjartaker)
2003: 11th
2002: 10th
2001: 8th
2000: 10th
1999: 7th
Overall Record:
Second Division winners 1982, 1983, 1992, 1995
Last Year: =5th
Own Choice Selection:
2008: Dances and Arias
2007: Forest of Dean
2006: Variations on an Enigma
2005: English Heritage
---
Radøy Brass
Conductor: Tormod Flaten
National Record:
2008: =5th (Tormod Flaten)
2007: 6th (Gareth Pritchard)
2006: 8th (Gareth Pritchard)
2005: 8th (Gareth Pritchard)
2004: 2nd (Gareth Pritchard)
2003: 5th
2002: 9th
2001: 5th
2000: 5th
1999: 5th
Overall Record:
First Division winners 1994, 1997
Second Division winners 1988, 1990, 1991
Last Year: =5th
Own Choice Selection:
2008: Diversions on a BassTheme
2007: Montage
2006: Odyssey
2005: London Overture
---
Sola Brass Band
Conductor: Selmer Simonsen
National Record:
2008: 4th (John Philip Hannevik)
2007: 12th (Christopher Evans)
2006: 4th (Rune Gundersen)
2005: 10th in Elite Section (Benny Wiame)
2004: Winners of First Division (Steve Bastable)
2003: 4th in First Division (Steve Bastable)
2002: 6th in First Division (N/K)
2001: 3rd in First Division (Russell Gray)
2000: Winners in 2nd Division (Russell Gray)
1999: 9th (Melvin White)
1998: N/K
1997: 12th in First Division (T. Anundsen)
1996: 3rd in First Division (N/K)
1995: 4th in First Division (Melvin White)
1994: 7th (Melvin White)
1993: 7th (James Scott)
Overall Record:
Winners of First Division 2004
Winners of Second Division 2000

Last Year: 4th
Own Choice Selection:
2008: Tallis Variations
2007: Variations on an Enigma
2006: Dances and Arias
2005: Between the Moon and Mexico
---
Sørum Musikklag
Conductor: Christian Tenfjord
National Record:
2008: 2nd (Christian Tenfjord)
2007: =8th (Christian Tenfjord)
2006: 2nd in Second Division (Erling J. Myrseth) (prom)
2005: 11th in First Division (Erling J. Myrseth)
2004: =7th (Trond Elnes)
2003: 7th
2002: 7th
2001: 2nd in 2nd Division
2000: Joint 5th in 2nd Division
Overall Record:
Winners of Third Division 1994
Last Year: 2nd
Own Choice Selection:
2008: Journey to the Centre of the Earth
2007: A Lowry Sketchbook
2006: Trittico
2005: Spectrum
---
Tertnes Brass
Conductor: Gary Peterson

National Record:
2008: 10th in Elite Division (Bjørn Breistein) (rel)
2007: 7th (Bjørn Breistein)
2006: 8th (Bjørn Breistein)
2005: Winners of First Division (Bjorn Breistein)
2004: 10th in Elite Section (Bjorn Breistein)
2003: Winners of First Division (John Hinkley)
2002: 10th in Elite Division
2001: 7th in Elite Division
2000: 6th in Elite Division
1999: 2nd in 1st Division
Overall Record:
Winners First Division 2003, 2005
Winners Second Division 1984 and 1985
Last Year:
10th overall: 10th on set work/ 10th on own choice
Own Choice Selection
2008: Tallis Variations
2007: Ascending – learning how to fly
2006: Contest Music
2005: Dances and Arias
2004: …Dove Decending
2003: Variations on an Enigma
---
Tertnes Amatørkorps
Conductor: Martin Winter
National Record:
2008: =7th (Tormod Flaten)
2007: 2nd in Second Division (Tormod R. Flaten) (prom)
2006: 8th (Tormod Flaten)
2005: =4th (Tormod Flaten)
2004: 4th in Third Division (Tormod Flaten) (prom)
2003: Winners of Fourth Division (Tormod Falten) (prom)
2002: DNC
2001: DNC
2000: DNC

Overall Record:
Winners of Fourth Section 2003
Last Year: =7th
Own Choice Selections:
2008: Salute to Youth
2007: Coventry Variations
2006: Quintessence
2005: Rhapsody in Brass
---
Tomra Brass Band
Conductor: Frans Violet

National Record:
2008: 3rd (Frans Violet)
2007: 4th in Elite Section (relegated due to admin error)
2006: Winners of First Division (Frans Violet) (prom)
2005: 2nd (Frans Violet)
2004: =7th (Arnfinn Dalhaug)
2003: 2nd
2002: 3rd
2001: 4th
2000: 8th in Elite Division (rel)
1999: Winners of First Division
Overall Record:
Winners of First Division 1993, 1999, 2006

Last Year: 3rd
Own Choice Selection:
2008: Music of the Spheres
2007: Journey to the Centre of the Earth
2006: Journey to the Centre of the Earth
2005: Whitsun Wakes
---
Ørskog Brass
Conductor: John Hudson
National Record:
2008: Winners of Second Division (John Hudson) (prom)
2007: 3rd (John Hudson)
2006: 6th (Henrik Dalhaug)
2005: 12th in First Division (Michael Antrobus) (rel)
2004: 4th (Michael Antrobus)
2003: 2nd Second Division
2002: 7th
2001: 11th in First Division
2000: 2nd
Overall Record:
Winners of Second Division 2008

Last Year: Winners of Second Dvision
Own Choice Selections:
2008: Dances and Alleluias
2007: English Heritage
2006: Trittico
2005: Five Blooms in a Welsh Garden
---
Own Choice Selections:

English Heritage (Lloyd)
Ballet for Band (Horovitz)
Journey to the Centre of the Earth (Graham)
Tallis Variations (Sparke)
The Essence of Time (Graham)
Dances and Alleluias (Sparke)
Music of the Spheres (Sparke)
...Dove Descending (Wilby)
Pageantry (Howells)
Dances and Arias (Gregson)
Concertino for Band (Downie)
Spectrum (Vinter)
---
2008 Result:
1. Oslo Brass Band (Frode Amundsen) = 96
2. Sørum Musikklag (Christian Tenfjord) = 94
3. Tomra Brass Band (Frans Violet) = 92
4. Sola Brass Band (John Philip Hannevik) = 91
=5. Oster Brass (Torstein Aagaard-Nilsen) = 90
=5. Radøy Brass (Tormod Flaten) = 90
=7. Jølster Musikklag (Arvid Anthun) = 89
=7. Tertnes Amatørkorps (Tormod Flaten) = 89
9. Askøy Brass Band (Egil Magnussen) = 88
10. Kleppe Musikklag (Russell Gray) = 87
11. Laksevåg Musikkforening (Tom Brevik) = 86
12. Haukås Musikklag (Thor-Arne Pedersen) = 84