2009 North of England Regional Championship - Fourth Section retrospective
24-Mar-2009
Despite the brave efforts, the evidence for urgent change in the Fourth Section was clearly on display - even with the winners.
---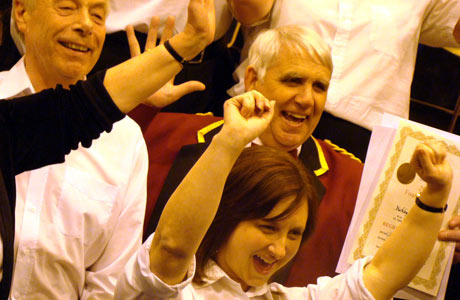 Uniform delight: Kirkby Lonsdale celebrate thier victory in the Fourth Section

If ever a performance told you all you needed to know about the suitability of 'The Talisman' as a test piece for bands in the Fourth Section, it came with the opening performance of the whole contest from NASUWT Riverside Youth conducted by Jeff Bell.
Encourage

This is the type of band regions are desperate to encourage and develop – full to the brim with promising youngsters, parents, mature starters and returning 'silver heads' who want to enjoy their banding once again. It's the type of band that the future prosperity of the movement depends, for without them the very grass roots of banding in this country will wither and die.
For such a band to have to work for weeks on end (confirmed by their tremendous MD) on a piece like this then makes you wonder whether we are deliberately committing musical suicide.
CSI

And after sitting through eight other brave, committed, but ultimately totally unsuccessful performances here, you couldn't help think that unless something is done to help these bands out immediately we'd better start getting Quincy or CSI in to look at the corpse.
Alan Hope and the Music Panel have one heck of a difficult task in picking music for bands to play at this level, and Alan in particular readily acknowledges that this particular work has been one, that on this occasion has proven to be perhaps beyond the vast majority of bands up and down the country.
And to be fair, he has also taken the time to ask opinions and views from those who have listened to Fourth Section performances up and down the country this year too. It may not have made pleasant hearing, but he will now know just where we stand in terms of musical standards at this level – and it is not very high, if the bands have to try and play pieces such as this.
Thankless job

The Music Panel have a thankless job (no one is ever totally happy with the choices made – players, conductors, supporters and 4BR included), but the time has come to make far reaching decisions on the future of the Fourth Section, because we are in real danger of losing bands such as NASUWT Riverside Youth if something isn't.
Gave it their all

Riverside gave it their all, and Jeff Bell deserved special credit for the way in which he encouraged and cajoled, inspired and even sneakily sung the odd part to keep them on track.
From 8 – 80 everyone tried his or her best - from the young solo cornet, flugel and euph to the battling brigade on percussion. Medals for valour should have been issued, but we understand the MD had already got little cups for all the players (and those who couldn't play due to the antiquated rules) inscribed to commemorate their fine efforts here as a memento. A cracking idea by a cracking band.
The two bands that eventually battled their way through 'The Talisman' to gain a trip to Harrogate were Kirkby Lonsdale and Kingsway Printers Cleethorpes.
In pure contesting terms, neither managed to produce a truly musically comfortable or technically consistent performance of the work, but on a day when those considerations could not be contemplated by any of the competing bands, theirs deserved their reward from Barry Thompson.
Diplomatic

He delivered a very diplomatic address to the audience before the announcement of the results, which emphasised the positives of what he heard.
He had no doubt about the two qualifying bands, who he said were 'way ahead' of the rest, whilst he also emphasised that some bands found the exposed writing of the 36 bars of the 'Nocturne' a hurdle too high to overcome. He was generally disappointed by the standard, apart from the top two prizes winners, but fully appreciated just how hard a test piece this was. It was a generous and gracious assessment.
Silver heads

Kirkby Lonsdale was a band with quite a few of those 'silver heads' in the ranks and their experience told, as they delivered a performance of merit under Alan Greenwood.
The opening 'Prelude' was sensibly delivered, and whilst the 'Nocturne' saw familiar problems of tuning and balance arise, some tasteful playing from the solo cornet and euphonium (who took the 'Best Euph' award) got them through to round off with a breezy 'Scherzo' that held its form and style right to the end.
Enjoyable

Kingsway Printer Cleethorpes will join them in Harrogate after they delivered an enjoyable performance that was enhanced by notable solo contributions – especially from the solo cornet who took the 'Best Principal Cornet' award, trombone, flugel and horn.
The two outer movements produced their best rhythmic playing, and whilst the 'Nocturne' was a touch nervous, they did more than enough to book their September passage. It was a fine effort from a band that was a few players short in the ranks too.
Something of note

Although the standard of playing was understandably variable throughout the contest, there were occasions when each of the competitors managed to produce something of note.
Third placed Swinton & District was one of those – at times they were just about on top of the technical challenges, only to fall away. The 'Prelude' was vibrant, whilst the 'Nocturne' was neatly shaped if untuneful. An attempt to play the 'Scherzo' at speed and in right style nearly came off too, to round off a performance that almost had Harrogate in its grasp.
Strange tempos

As for Backworth Colliery? Perhaps the best band on the day fell short of a place at the finals due to a rather curious approach to tempos by the usually metronomically accurate Duncan Beckley.
Strangely, all three movements sounded within a few beats of each other, so the 'Prelude' and 'Scherzo' lacked drive and light purpose, whilst the 'Nocturne' was anything but 'Adagio'. The playing was solid and tuneful, but the interpretation on this occasion seemed at odds with the intentions of the score.
Lip stamina

In terms of doing your bit for the cause, the solo cornet player of Bearpark & Esh should be awarded a medal for lip stamina.
There couldn't have been a bar in the piece when he didn't either play his part or the missing sop part for that matter – all of which he delivered quite brilliantly.
No wondered he was sweating like a Tyneside docker when he came off stage after a performance from his band that had more than it share of ups and downs, but always tried to find the right style in each of the three movements.
Flamenco

Talking of style, Jonathan Fenwick, the MD of Lanchester, was that and more – a mix of Ray Farr meets Nicholas Childs, packaged into a talented compact 5' 6" of well cut suit.
He is more than a mere mimic though, and although at times it looked rather than actually sounded as if he was conducting a tip top performance (the flamenco style foot stamping in the final movement was perhaps a touch too flamboyant) there was a persuasive style about his reading, even if the actual execution didn't always come off, despite fine contributions from the classy solo cornet and horn.
Battle

For Trimdon and Craghead it was a question of battling through to the end – literally from the word go.
Two braver efforts it would be hard to find, and despite the obvious weaknesses in solo and ensemble lines the sense of sheer determination was palpable.
Trimdon's team of girls led the way (there was just one young man in the entire cornet ranks – lucky lad!) and there were fine contributions to the cause for the solo cornet, euphonium, and a sweet sounding sop and percussion team. Overall it was a little all over the place at times, but the potential was there, if they can get a test piece that doesn't so overtly penalise their efforts.
Summed up

The same goes for Craghead too – with a performance that had its obvious faults and failures, but was still a top class performance in terms of sheer grit and determination (none more so than the powerful soprano player and the young girl on solo cornet). The potential for the future was there in bags, if only it can be untapped by more appropriate music.
That perhaps summed up this contest and the whole of the Fourth Section up and down the country this year.
Iwan Fox