4BR Band under the spotlight - Eikanger Bjorsvik Musikklag
3-Apr-2009
4BR puts the current Norwegian Champions under the spotlight to find out a bit more about them, their aims and objectives for the current 2009 season.

---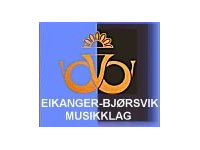 Band: Eikanger-Bjørsvik
Website: http://www.ebml.no/index.php
Region: Hordaland, Norway
Major Honours:
European Brass Band Champions: 1988,1989
Norwegian National Champions: 1981; 1985; 1987; 1988; 1991; 1993; 1999; 2001; 2005; 2008; 2009
SIDDIS Champions: 1986; 1989; 1990; 1992; 1993; 1994; 1998; 2000; 2001; 2003; 2005; 2006; 2007
European Entertainment Challenge Champions: 1990; 1992
---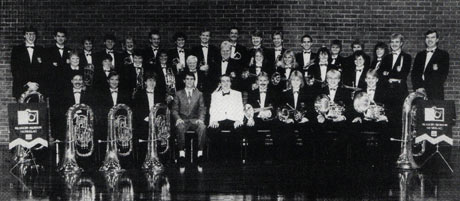 The way we were: Eikanger in 1988
Band History:

Eikanger Musikklag was founded 60 years – on the 28th February 1949 to be precise, in the small community that bears its name. Within two years the adjoining rural community of Bjørsvik had also started their own band, but it wasn't until 1969 that both organisations merged.
Eikanger-Bjørsvik Musikklag has since become one of the leading brass bands, not just in Norway, but also in Europe, with a record of contest and concert success that has been based on innovative thinking, professional organisation and a great deal of home grown talent.
The band won its first Norwegian National Championship title in 1981 under the baton of Helge Haukas, who with Tom Brevik and others was instrumental in raising the playing standard and artistic profile of the band.
Lifeblood

Competitions have of course been the lifeblood of the band and they have won the Elite Section at the Norwegian National Championships on no less than 11 occasions – including the past two years under the baton of Dr Nicholas Childs.
13 times winner of the SIDDIS Entertainment title, Nordic Champions, 2 times winner of the Norwegian television 'Resonance' title, as well as twice winners of the now defunct European Entertainment competition, their success has been impressive.
The band will make its 15th appearance at the European Brass Band Championships in Ostende in May, (its first was in 1980) eager to add a third title to the two already won in 1988 and 1989 under the baton of Howard Snell.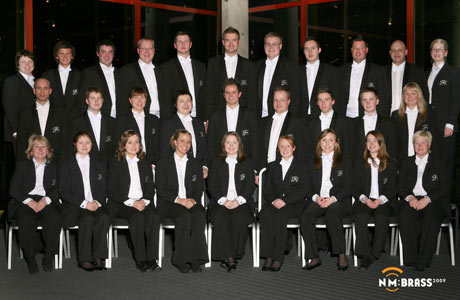 The way we are: Eikanger 2009

Ground breaking

Those ground breaking victories sealed their reputation as one of Europe's leading bands, and although they have come close to making it a hat-trick they had to be content with the runner up prizes in 1994 and 2000 until now. They will be directed in Ostend by one of Norway's leading symphonic conductors, Bjarte Engeset.
The musical relationship built with Howard Snell has been one of the most progressive in banding history, whilst their artistic ambitions have seen them work with many leading conductors and international musicians such as Elgar Howarth in a series of far reaching concert series in Bergen each year.
Many award winning CD recordings have been produced by the band, whilst a number of past and current members are professional musicians of international repute.
Anglophile

This most 'Anglophile' of bands has also worked closely with many leading British brass band conductors, from Rod Franks, Ray Farr, Allan Withington and Howard Snell through to the current association with Nicholas Childs.

Eikanger-Bjørsvik remains closely attached to its local community, rehearsing in a modern 'Musikkhuset' in Knarvik which is often used for seminars and teaching, whilst it's professional organisation receives substantial financial support from the local governments of its region.
---
Statistics:

Current 4BR Ranking: 20
2008 Contesting Record:
Norwegian National Championships: Winners
SIDDIS Championships: 2nd
2008 Prize Money won: £4,575
2009 Contesting Record:
Norwegian National Championships: Winners
2009 Prize Money won: £5,029
---
4BR Eight Year Ranking Progress: (World of Brass/4BR Ranking to April 2009)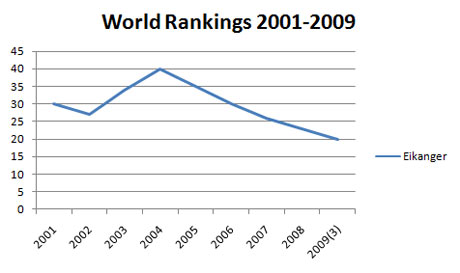 When the 4BR rankings started Eikanger ended the 2001 season ranked 30th. Since then their fortunes have fluctuated somewhat, due to the relatively small number of contests the band competed in and their successes.
In 2002 they rose to 27th, falling back to 34th, then 40th by the end of the 2004 season. Since then however, they have climbed steadily back towards the top 20 bands in the world, ended the following seasons in 35th, 30th, 26th and 23rd at the end of 2008.
They are currently ranked 20th following their Norwegian National Championship win in February this year.
---
Personnel: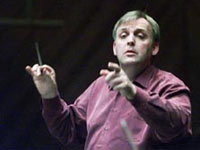 Professional Conductor:

Norwegian conductor Bjarte Engeset gained his Diploma at the Sibelius Academy in Helsinki where he studied with Professor Jorma Panula.
In 1991 he was chosen as a member of the Tanglewood Music Center Seminar of conductors where the teachers included Seiji Ozawa, Gustav Meier and Simon Rattle.
Bjarte Engeset has been Music Director of the Tromsø Symphony Orchestra, The Norwegian Wind Ensemble and Artistic Director of the Northern Lights Festival of Opera Nord.
He has also been permanent guest conductor of the Flemish Radio Orchestra and from 2007 the chief conductor of Swedens DalaSinfonietta.
Engeset has performed concerts, tours and CD productions with leading orchestras throughout the Nordic and Baltic countries as well as the Bournemouth Symphony and Royal Scottish National Orchestra to public and critical acclaim.
His Baltimore Symphony Orchestra concerts received superb reviews and in June 2006 he led the Moscow Radio Symphony Orchestra in a guest performance at the prestigious Wörthersee Classics Festival in Klagenfurt, Austria.
Ongoing recordings for Naxos Recordings have been met with superb international reviews.
---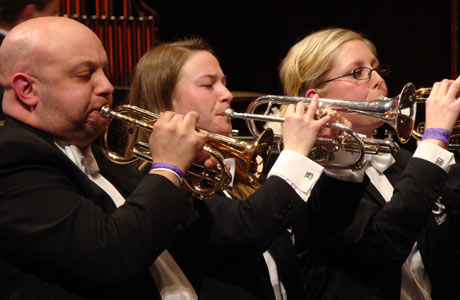 The Eikanger way - Frode Rydland leads the the back row girls...

Current Players:
Principal Cornet: Henning Anundsen
Solo Cornets: Martin Winter; Unni-Renate Moe; Anne-Lise Sæterdal
Soprano: Frode Rydland
Repiano: Marit Holm
2nd Cornets: Tina Toklum; Geir Haukås
3rd Cornets: Ingebjørg Myking; Ingebjørg Eide
Flugel: Gyda Matland
Solo Horn: Monica Vabø Reigstad
1st Horn: Aidan Smith
2nd Horn: Therese Hauge
Solo Baritone: Nina Mjanger Eide
2nd Baritone: Astrid Eide
Solo Euphonium: Patrik Randefalk
2nd Euphonium: Jannicke Eide Ellingsen
Solo Trombone: Grethe Tonheim
2nd Trombone: Sølvi Ones
Bass Trombone: Tore Bryne Berg
Eb Tubas: Magnus Brandseth; Trond Helland
Bbb Tubas: Fredrik Berentsen; Erlend Gjersvoll
Percussion: Øyvind Øksnes; Torstein Sollien; Frederick Shjelderup; Svein Fjermestad
Board Chairman: Harald Eikaas
Vice Chairman: Viggo Bjørge
---
2009 Aims and objectives: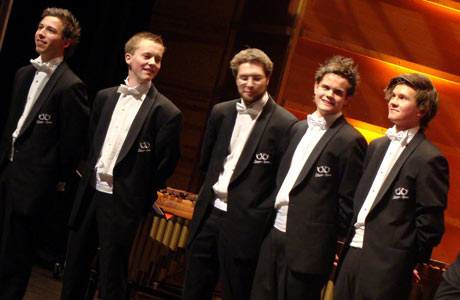 Here come the boys... Eikanger's impressive (and youthful) percussion team

Contesting front:
A spokesperson told 4BR: "We have already achieved our first aim for the year in winning the National Championship title.
"We are now looking forward to competing at the European Brass Band Championships, where we hope to add to our two titles. We last won 20 years ago, so it would be great if we were able to make it three wins this year under the direction of Bjarte Engeset."
Non contesting front:
"Away from the contesting stage we have many long term aims and ambitions for our organisation. We continue to try and inspire young musicians with our close cooperation with the local school bands, and our summer camp 'Feriespelet'.
"This is a summer course where the band's members volunteer as teachers, and it is now in its 11th year. We also have other high profile recording and concert projects that we hope will continue to enhance the artistic profile of the Eikanger Band."
---
4BR Predictions:
There is little doubt that Eikanger Bjørsvik is a band of the very highest calibre – both on the contest and concert platform.
Not only does their professional organisation stand them out, but also their competitive and artistic record speaks for itself.
That said, their World of Brass/4BR ranking doesn't lie. They are currently ranked in the top 20 bands in the world, and given more success this year that should rise towards the top 10 – although that contesting success isn't a given.
They have proven to be both fallible and unlucky at major contests (2007 Brass in Concert and the 2006 Europeans in Belfast to name but two) and they are currently a band that is in the process of the final stages of rebuilding.
They are a band to fear without doubt in Ostend, but they could also flatter to deceive too. If things click under the baton of Bjarte Engeset (who is making his contesting debut) then look out, as they have a whole host of talented performers and a degree of ensemble self confidence that can appear to be hubristic at times.
If their traditional 'slow walk' on stage leads to success in Belgium they may well be unstoppable come SIDDIS later in the year, and that may well herald a new chapter in a quite remarkable Norwegian musical story.