2010 Butlins Mineworkers Championship - First Section retrospective
28-Jan-2010
A Scottish flavour in the First Section, but it was a Midland band who left Skeggy to toast their victory with a wee dram or two.
---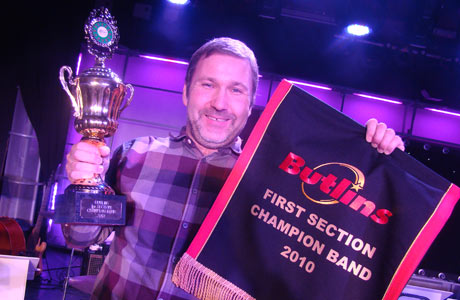 Jackfield celebrations as the Midlanders take the First Section title

Darkness had already fallen around the Skyline Resort when the First Section contest came to a close on Saturday. By the time the results were announced, quite a few of the bands were already enjoying a relaxing beer or two, whilst others were finding solace in a darkened room to ponder over their thoughts.
Onion skin

At first glance Andrew Duncan's 'A Hebridean Suite' appeared to be a test piece that was well within the grasp of a number of challengers. However, first appearances can be deceptive, and once the conductor's peeled away the layers of the onion skin of a busy score they soon discovered that there were plenty of pitfalls and problems to be overcome.
Stern test
The end result was a stern test that not many conquered – and once again it was a question of consistency that sorted out the best from the rest.
Those who managed it over the four movements received reward from Malcolm Brownbill and Colin Hardy. Those that didn't, paid the penalty.
The two men did a fine job in separating out 24 bands on the day – a task made considerably harder by the general 'much of a muchness' of many performances. Few bands could have any cause for complaint at their placings.
The piece itself proved an enjoyable test of technique and musicianship. Nerves of steel were called for in the various exposed solo passages and the first section had some really tricky moments. There was also the recurring question of tempi throughout – some of which were more than a little questionable to say the least.
The second movement ('The Old Shepherdess and the Maiden's Spirit') coupled with 'Mouth Music' proved to be the contesting crux, whilst the concluding section required bands to dig deep into their stamina reserves.
Musical guide
The composer was in the hall on the day, both as a conductor and listener, and Andy Duncan will have gone away with his own private thoughts. However, he will surely be pleased by what he heard – it's a fine old test for bands at this level.
Solid Imps
It was Yorkshire Imps who opened up what was to be a contest of over seven and half hours duration, with a solid reading under David Nesbitt. They can consider themselves a touch unlucky not to have finished higher, but the standard at the top end meant they were pipped to a top six berth.
In contrast Yiewsley & West Drayton who followed, struggled and although the potential was clear, unforced errors and a lack of detail cost them dear, and a bottom four finish wasn't a surprise. Carlton Brass meanwhile faired better, but still found the various challenges too much for them to surmount a serious threat for a podium place.
That winning performance
Jackfield Elcock Reisen's announcement as winner may have raised a few eyebrows at the result's ceremony, but there was no doubt that the Shropshire outfit produced a strongly characterised performance where the small errors never detracted from the overall musical picture.
Simon Platford's purposeful direction meant their well balanced sound was coupled with neat articulation and phrasing and a sense of energy when required.
And even when others faded towards the end, Jackfield still had something in the tank to produce a thrilling finish that made a lasting impression. They will now head to Bedworth full of confidence, and on this form they could be one of the favourites and make a speedy return to the top flight after their relegation last year.
Wigston meanwhile struggled to get to grips with the piece, and although there were glimpses of potential a performance of significant merit never materialised and the result was a bottom six finish.
Bedworth too produced a middle of the road interpretation that saw them finish rather appropriately in 13th place. On a day when a few more risks would have paid dividends, perhaps it was rather too 'safety first' to realise its full potential.
The composer's take
There was always going to be great interest in the performance of Broxburn & Livingston conducted by Andrew Duncan.
Their account appealed with many but didn't resonate in the box – ending in 16th place. The musical picture was descriptive but there were errors aplenty, and whilst it would be interesting to have seen what the two judges wrote about Andy's take on his own work, he must have known that the band left their best performance north of the border.
Curran plays to crowd
Hebden Bridge produced a solid performance full of fine playing. Even MD Roy Curran knew they'd played well as he glanced over his shoulder just before the end in readiness of the crowd's reaction, and you couldn't disagree with their top four berth.
Ibstock Brick Brass on the other hand never got going and had to settle for 15th, whilst Denham Hendon Brass battled valiantly although a bottom four finish was no major surprise.
Cawston produced a 'steady all the way' account to finish in 11th place, whilst Meltham & Meltham Mills got the closest to Jackfield courtesy of a solid show that never lost sight of the musical picture. The interpretation from Stuart Fawcett brought the music out of the score and it paid dividends, with a richly deserved second place.
Enderby was one of a number of bands bedevilled by inconsistency to end in 12th. It could have been so much higher if only they could have rid themselves of those annoying little errors from start to finish.
Third – again!!
Vernon Building Society Poynton has become one of the most consistent bands at this contest - finishing third three years running. This was really solid stuff, well thought out by the MD Kevin Gibbs. Perhaps they need a touch of luck, but on this evidence they won't be too far away at any contest this year.
Unfortunately, both Langley and Egham both struggled with the complexities of the music and could have no cause to complain at their final positions, whilst Foresters Brass and Haverhill both gave resourceful and disciplined accounts without too many errors to end in 10th and 11th respectively.
Meanwhile, Foss Dyke just needed a touch more cohesive ensemble glue to have ended up higher than 14th in a performance that had some fine individual contributions but never quite became the sum of its parts.
For the young band of Shirland Miners Welfare this was a tough old ask, but with intelligent direction and a real commitment to the cause they produced a performance that although uneven, showed the glimpses of future potential.
Lancaster's mining magic
David Lancaster is a conductor who certainly knows how to pull the best out of any ensemble he conducts and Kippax responded to his leadership to produce a very musical account in 7th place, and the accolade of the highest placed mining band. If they could just have rid themselves of the enforced errors they would have come higher for sure.
For Yorkshire Co-op, a disappointing day at the contesting office to end in 19th. The intentions from the middle were positive but the performance never materialised and it became a real struggle. One to quickly file away as an 'off day'.
Yorkshire grit
The final two bands were also Yorkshire contenders, and Stocksbridge (City of Sheffield) and Cornerstone produced solid accounts that will head for Bradford in a few weeks with a timely boost to their confidence, even though they just failed to make it into the prize winning positions, coming 5th and 6th.
Mammoth event
A mammoth contest then, lasting over seven and a half hours, and although the overall standard was indifferent at times, the cream came to the top and found deserved reward from the experienced duo in the box.
What was also encouraging however was that at times during the day the hall was full with about 300-400 people taking the opportunity to listen to a brass band contest. It was like the good old days of banding once again. Credit goes to all the bands for giving it a go and also to the organisers for choosing a work that enticed the bands to compete.
Overall the contest certainly gave plenty of pointers for the forthcoming regionals events too. Some bands will be content with their form, whilst others will know they will have to put in a great deal of hard graft on 'A Moorside Suite' if they are to challenge for a Harrogate Finals berth.
For Jackfield, Bedworth can't come soon enough.
Malcolm Wood