2010 Norwegian National Championships - Elite Division retrospective
10-Feb-2010
Manger return to the top of Norwegian banding - thanks to agnostic adjudication and some X rated playing...
---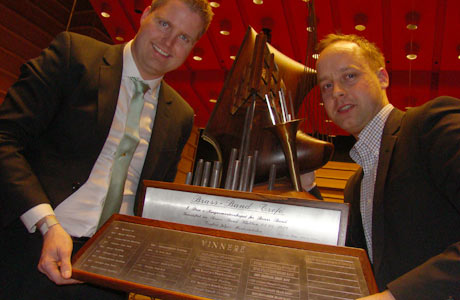 Heavyweight winners: Manger get their hands on the National Trophy again

According to the back of the America greenback dollar bill: In God We Trust.

Everyone else has to make do with brass band adjudicators.

Unless one day there is an omnipotent presence in the confines of the adjudicators box, nothing will change. Putting your trust in people to make a subjective decision about music will always be a matter of faith.

Agnostic adjudication

Norway's elite bands have accepted a form of agnostic open adjudication. And it seems after this year's result, which saw Manger Musikklag win the National title for the first time since 2002, a few sceptics are still to be convinced that the move is one they can completely embrace. Most people will still resort to a quick prayer to the contesting gods.

Not that Manger will mind.

A brace of performances that fully resonated with musical mortals John Wallace, Torodd Wigum and Maurice Hamers were just enough to beat off the challenge of reigning champion Eikanger by the narrowest of narrow margins – 0.5 of a point,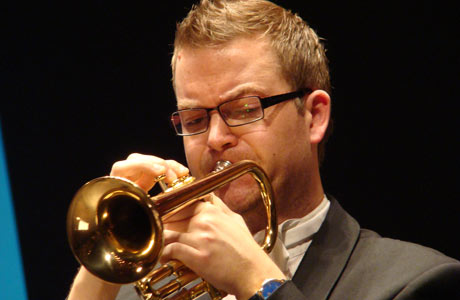 Hard work doesn't pay off for Eikanger
Not to be

If Eikanger had picked up just one extra point on their own choice selection then they would have won the contest for a third year in a row. By such margins are National Championships and invitations to the 2011 European Championships decided.

It was not to be, and a pair of the most exciting, not to say breathless performances under the direction of the flamboyant Peter Sebastian Szilvay, brought Manger victory – their 8th in total.

The Friday afternoon set work discipline saw Eikanger take what appeared to be a commanding 3 point lead over Manger into the own choice selections the following day. The surprise package Ila Brass directed by Thomas Rimul was a point further back in third.

Wonderful work

The set work by Thomas Doss, 'Sketches from Nowhere', was a wonderfully coloured, inventive piece of writing, that evoked images of the heat hazes of Arabian deserts coupled with the sensuous writhing of a Baghdad harem.

The nebulous writing of the opening soon gave way to a razor sharp clarity of Bacchanalia that asked demanding questions of style as well as technique.

The best bands were able to combine the raw excitement, with its increasingly lustful pulse, to a gimlet eyed coldness of pure technical efficiency – the best being Eikanger by some margin. Others either had one or the other, but never both in the equal measure of the reigning champion.

Sensuality

Manger's rendition was almost X-rated in its explicit sensuality – a fabulously red blooded account that left players, conductor (who really got into the swing of things) and audience completely spent by its climax. The listener was as limp as a banjaxed lover – in need of a reviving cigarette and 40 winks before another go. It really was a brilliant, wham, bang, and thank you mam performance.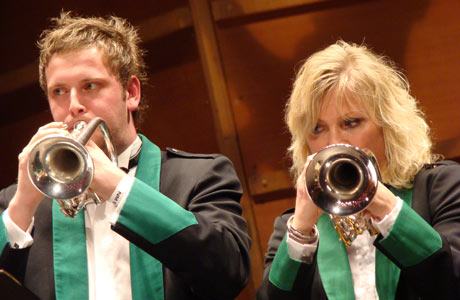 Double top: Manger's solo cornets lead the way to victory

In contrast, Ila's more conservative approach, that warmed to its task on a slow burning heat also found favour in the three sided tent to end the day in third, whilst Krohnengen's account, cut very much from the same musical cloth, ended in 4th.

Oslofjord's slightly uneven execution of an intuitively musical reading from Simon Dobson ended in 5th, whilst Stavanger may well have wondered what on earth they did so wrong in ending up in 7th.

Textured

Allan Withington drew a textured, multi faceted reading of the score, which although pockmarked by a fairly high error count was playing of rare style. It wasn't to be a contest weekend to remember for the former champions though.

Stavanger was in fact beaten into 6th place by Molde's broad brushed account under Russell Gray, whilst Sola 's excitable but scrappy performance took 8th.

Tertnes never quite captured the musical imagination to come higher than 9th, whilst Oslo's refined, almost academic brass ensemble playing was laid out like a University lecture paper – full of accomplished statements if just lacking in warmth. They were more than a little unlucky to end up last though.

Halfway point

With the contest at the halfway point, it was Eikanger who many thought to be in an almost impregnable position after a performance that was as close to being unbeatable as you could imagine.

The combination of sheer technical proficiency (especially in the tuba section) allied to Nicholas Childs's ability to draw layers of detail to the ear without losing the raw passion of the music had the stamp of the highest class.

It would take something remarkable to beat them – but not in the way most people thought it would.

Titan grip

On the Saturday, Eikanger, from the number 1 draw, seemingly grasped the mighty National Trophy in a vice like grip after their 'Titan's Progress' was laid out with a sense of mature appreciation of style and wit by the MD and his performers.

It wasn't perfect by any means, but by its close, and with the thunderous applause still ringing in the hall by the time the last player finally left the stage, it seemed that a historic hat trick of wins was theirs for posterity.

The judges though were not as impressed, and by the time Krohnengen delivered a fine rendition of 'Montreux Wind Dances' (played with just the right hint of verve and growing excitement) as the last band of the day, the final finger on Eikanger's loosening grip of the National Trophy had been agonisingly peeled away.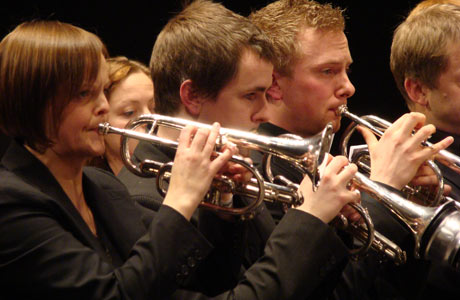 Oslofjord battle their way to 5th place

Manger's triumph came courtesy of yet another breathless performance – this time of '…Dove Descending', which once again, although by no means perfect in execution, had moments when it shifted the alignment of your spine.

Pendulum swing

If there was a just one section when the pendulum swung in favour of Manger it came in the reflective 'Nativity', when a quite sublime soprano lead offset the accumulation of little motif errors elsewhere that seemed to have terminally undermined the almost perfect musical picture.

The judges were lenient however (although the finale nearly tore the roof off with its volcanic power), and crucially gave it a four-point margin over Eikanger – and the title by that half point average mark.

Over the two days, Manger's high risk approach had paid the richest of dividends under a conductor who asked a great deal of his performers (including the solo trombone player Brigitte B. Bruget, who took the prestigious solo prize), and who in turn gave everything and more to realise their joint ambition.

There appeared to be some form of musical osmosis between them. He gave direction and inspiration; they gave determination and perspiration in return. The end result was a heady cocktail of high octane playing that at times played havoc with your sensory perception. Victories don't often come as exciting as this.

Playful kick

For Stavanger, their rather strange weekend closed after a brilliantly characterized performance of 'Masquerade' was blighted by an expensive error count. That was immediately recognised by Allan Withington's reaction at its close by playfully kicking the conductor's stand in front of him.

It was so close to being a truly memorable rendition (it came 2nd) that you could understand the frustration. 6th overall was scant reward for music making that despite the errors will remain in the memory banks for some time.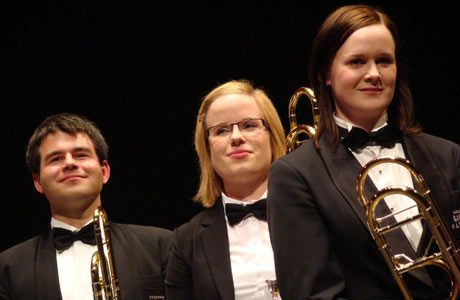 Trombone trio: But nothing to smile about for Stavanger

Good fortune

For Ila Brass, a little bit of good fortune brought them 4th place. Gregson's immense 'Trumpets of the Angels', was played with an error count that would have had Harry Mortimer asking his band of cherubs for extra rehearsals in Heaven's bandroom.

It was enough though to give the band 3rd place overall – a fine achievement, but one perhaps that owed much to a sympathetic trio of adjudicator's on the Saturday.

For Krohnengen, that enjoyable and well-paced rendition of 'Montreux Wind Dances' brought them 4th place overall – and a further encouraging step towards challenging for future honours.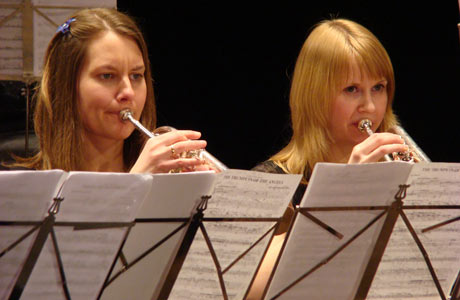 Ila's Angels do their bit for a podium finish...

Simon Dobson's memorable weekend came to a close after leading Oslofjord into 5th place overall, courtesy of a lovingly shaped account of 'Sounds' that was played with stylish intent and a subtle appreciation of texture and balance, despite the odd nasty clip.

Imagination

As with the set work 24 hours earlier, the bottom four bands never quite caught the imagination of the judges, despite some committed, and at times, truly exciting performances of ambitious works.

Molde's 'Brass Blot' was a classy bit of playing, helped by a fine interpretation by Russell Gray, whilst Sola's 'Music of the Sphere's' never quite fizzed or sparkled enough in comparison to some of the other performances on the day, but was still highly competent.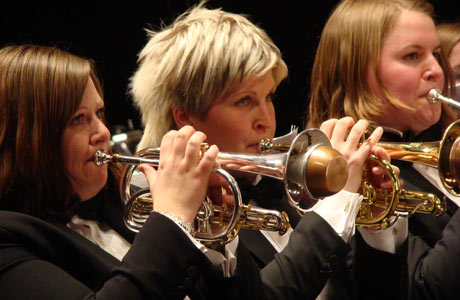 Krohnengen take 4th place with the help of their cornet trio

So too Tertnes with an enjoyable performance of 'Prague' (which revealed itself once again to be a work of tremendous nuance) and Oslo, who rounded off a weekend when nothing they did seemed to appeal to the judges, with an engaging performance of the new version of 'Seid' by Torstein Aagaard-Nilsen.

Back where they belong

For Manger, victory and confirmation that after a few years of rebuilding (helped by the likes of trumpet star Martin Winter) they are back where many people feel they belong.

Victory by the narrowest of margins it may have been, but victory nonetheless.

They now have 15 months of further preparation before they take to the stage at Montreux; fifteen months of further strengthening and producing performances to literally take the breath away.

If that's the case, they won't worry a jot who is in the box.

Iwan Fox