4BR Band under the spotlight - Tredegar Town Band
21-Sep-2010
4BR puts the 2010 British Open champion under the spotlight to find out more about them and whether or not we think they can take their remarkable form of 2010 into 2011 and beyond.

---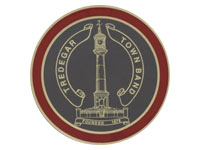 Band: Tredegar Town Band

Formed: 1876

Website: www.tredegartownband.org/

Region: Wales
---
Major Honours:

British Open Champion: 2010
Welsh Regional Champion: 1977, 1978, 1983, 1990, 1992, 1995, 1996, 2001, 2008, 2010
Grand Shield Winners: 1976, 2010
Second Section Champion Band of Great Britain: 1973
Pontins Champion: 1990, 1997, 1998, 2002
Yeovil Entertainment Champion: 1994, 1995, 1996, 1998, 2006, 2010
Radio Wales Band of the Year: 1992, 1995, 1996
Champion Band of Wales: 9 times
National Eisteddfod of Wales Champion: 2010
---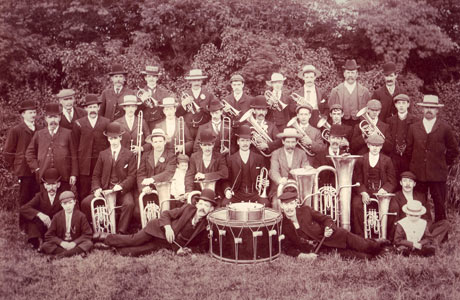 Tredegar Band - 1904

Band History:

The history of Tredegar Town Band can be traced backed to 1876, but it is in the last 40 years that it has become one of the leading contesting bands in the UK.

Multiple Welsh champion and Welsh 'Area' winner, they have also enjoyed considerable success away from the Principality following their success in winning the Second Section National title in 1973 under the direction of the late John Childs.

In the 1950s and 1960s the band developed under the guidance of Con Buckley, claiming many local titles as well as coming 3rd at the 1960 Senior Trophy.

Their first appearance at the National Finals in the Championship Section came in 1964, when they were drawn number 1 on 'Variations on a Ninth'.

Lasting success

The lasting success of the 1970s onwards was built on the remarkable production of 'in house' talent – with the Tredegar Junior Band winning two Butlins National titles in 1974 and 1975, and with many of its players, such as Robert and Nicholas Childs and Nigel Weeks going onto become highly successful brass band performers and conductors in their own right.

Tredegar made its first appearance at the British Open after the Grand Shield victory of 1976, lasting three years after posting two top-10 results. They returned again in 1994, coming runner up under the baton of Nicholas Childs in 1997, although relegation occurred in 2005.

They have been runner up twice at the National Finals and All England Masters, and have represented Wales on numerous occasions at the European Championships, coming 3rd in 1991. They will compete for a ninth time in Montreux in 2011.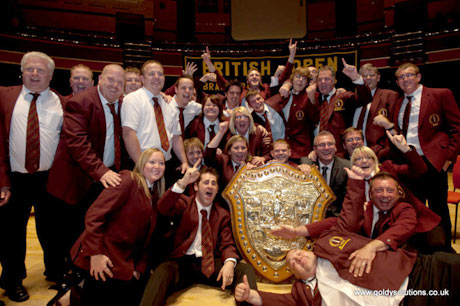 British Open winners 2010
Picture: Ian Clowes

The band has secured the Pontins and Yeovil titles ten times between the two events, and was voted BBC Radio Wales 'Band of the Decade' in 1997.

Tredegar remains a proudly independent, non sponsored organisation and their strong community roots has seen them become musical ambassadors for the Velindre Cancer Charity, helping to raise thousands of pounds for the organisation.

Porthouse return

The return of former principal cornet player Ian Porthouse as Musical Director in 2008 has signalled a further resurgence in contesting fortunes, winning the Welsh Area title at his first attempt.

2010 has been a particularly successful year – winning the Yeovil, Welsh Miners Eisteddfod, Welsh Regional, Grand Shield and National Eisteddfod of Wales titles, as well as coming runner up at the All England Masters.

They created banding history at Symphony Hall in September by winning the 158th British Open Championship, thus becoming the only band event to claim both the Grand Shield and Open titles in the same year.
---
Statistics:

Current 4BR Ranking: 4

Prize Money Pot:
2009: £1,900
2008: £7,230
2007: £220
2006: £7,530

2010 Contesting Record:
Yeovil Entertainment Contest: Winners
Welsh Miners Eisteddfod: Winners
Welsh Regional Championship: Winners
Grand Shield: Winners
All England International Masters: 2nd
National Eisteddfod of Wales: Winners
British Open: Winners
Wychavon: Winners

2010 Prize Money: £11,250
---
4BR Ranking Progress: (World of Brass/4BR Ranking to September 2010)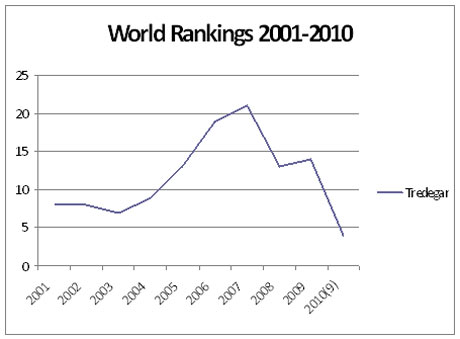 When the 4BR rankings started, Tredegar was still riding high after the tenure at the helm of Nicholas Childs, and finished the 2001 season ranked 8.

A top 10 ranking was maintained over the next three years - as high as number 7 in 2003 on the back of their second runner up placing at the National Finals.

A period of uncertainty and loss of form, which saw them lose their British Open status in 2005, saw the ranking drop as far as 21 by the end of 2007.

The return of Ian Porthouse however has seen a remarkable return back, ending 2008 and 2009 just outside the top 10, before their surge to an all time high of number 4 in September 2010.
---
Personnel: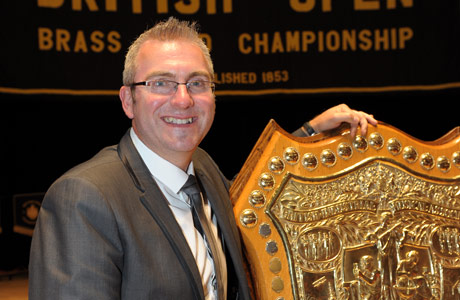 The man in charge: Ian Porthouse
Picture: Ian Clowes

Professional Conductor: Ian Porthouse

Ian Porthouse was born into a family of musicians and joined the Flimby Saxhorn Band where his father was principal cornet. Within 5 years he would take over as principal himself.

At 16, he became principal cornet of the National Youth Brass Band of Great Britain leading for 3 years, before joining the Leyland Band in 1984.

He went on to play with the Desford Colliery, becoming National Champions 3 years in succession and appeared as guest soloist with the Royal Liverpool Philharmonic Orchestra.

He later became principal cornet with the Black Dyke Mills Band, winning another National title and with the Yorkshire Building Society Band, winning 3 European Championships and the British Open in 1997, and the Fairey Band, winning two more National titles.

In 1998 Ian became MD of the newly formed Pennine Brass, taking them from the Second Section to the Championship in two years.

Ian is Director of Brass Band Studies at Birmingham Conservatoire, and a tutor to the National Youth Brass Band and at Accrington and Rossendale College.

His IPBrass, have performed at many prestigious venues including the gala concert at the National Championships, whilst conducting projects include several concerts with leading bands in the UK and Europe as well as being MD of the European Youth Brass Band in Birmingham in 2006.

He returned to become full time Musical Director of Tredegar in 2008.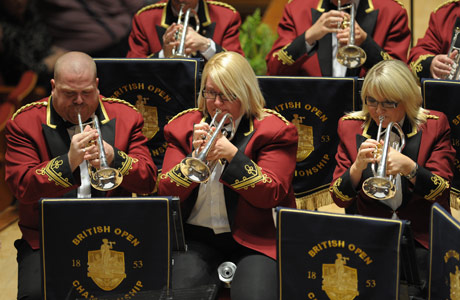 Powerhouse front row
Picture: Ian Clowes

Current Players:

Principal Cornet: Dewi Griffiths
Ass. Principal Cornet: Rhian Linney
Solo Cornet: Leanne Porthouse
Solo Cornet: Derek Williams
Soprano Cornet: Steve Barnsley
Repiano Cornet: Lewis West
2nd Cornet: Dai Thomas
2nd Cornet: Taddy Evans
3rd Cornet: Dai Carey

Flugel Horn: Zoe Hancock
Solo Horn: Chris Davies
1st Horn: Lowenna Taylor
2nd Horn: Lee Drew

Solo Euphonium: Darren Morris
2nd Euphonium: John Jones
Solo Baritone: Geraint Chamberlain
2nd Baritone: Jonathan Bound

Solo Trombone: Stephen Sykes
2nd Trombone: Iwan Williams
Bass Trombone: Mark Winstone

Eb Tuba: Gethin Rees
Eb Tuba: Steffan Jones
Eb Tuba: Michelle Hockings
Bb Tuba: Andy Russell
Bb Tuba: Jacob Pritchard

Percussion: Steve Barnett, Matt Hall, Mike Olivier, Bev Coats, Rhyd Griffiths, Alun McNeil-Watson
---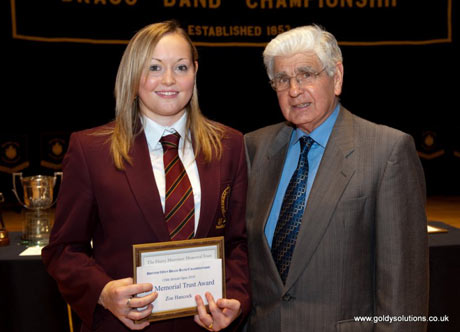 Star performer: Flugel player Zoe Hancock
Picture: Ian Clowes

2010/2011 Aims and objectives:

Contests:

MD Ian Porthouse told 4BR: "Although we have enjoyed a fantastic year so far, we are determined to finish the season off on a high. The Nationals is a contest we are looking forward to, and we believe can deliver a competitive performance at the highest level once again, whilst we will be working hard to showcase our entertainment skills at Brass in Concert.

2011 is a very important year for the band, as we will be looking to make an immediate impression both at home and abroad. The Welsh Area will be a great battle as the region is now one of the strongest around, whilst we are really looking forward to Montreux and the Europeans.

It's a brilliant venue and a contest we believe we can do well at. The defence of our British Open title will be the focus in the second part of the year, but we are determined to show that 2010 has not just been a one off."

Non contesting front:

Ian added: "Since the British Open our concert diary has filled up and we will have a busy year in front of us with a number of high profile events to look forward to.

We hope to confirm an artistic relationship with Birmingham Conservatoire as well as undertake at least one new CD recording."
---
4BR Predictions: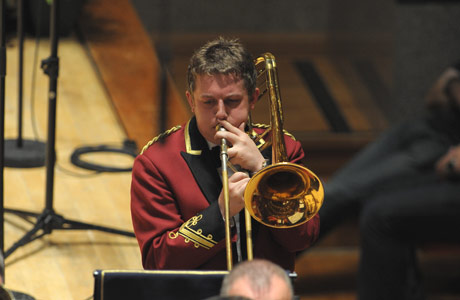 Trombone star Stephen Sykes
Picture: Ian Clowes

The band of 2010. Ian Porthouse has completely rejuvenated Tredegar over the past two years, despite some nasty set backs at both local and major contests in his first season and a half at the helm.

His contribution to the success has been immense, but the influx of a stable of highly talented young players in the main solo seats such as Zoe Hancock, Stephen Sykes (above) and both BBC 2 Young Brass Musicians of the Year, and Chris Davis (National Eisteddfod of Wales Blue Riband winner) has been matched by huge improvements within the ensemble itself.

What the rest of 2010 brings is anyone's guess, with a realistic chance of a podium finish at London and the opportunity to show off their successful entertainment skills for the first time in over a decade, at Brass in Concert.

2011 could be the real litmus test however – the opportunity to show the banding world that their upturn in contesting fortunes is not just a temporary surge in form, but a permanent step up in class.

The fight with Cory at the Welsh Area contest will be fascinating, whilst their appearance at Montreux for the European Championships will be a central focus of contesting attention for the early part of the 2011 season.