David A. Stowell
Conductor and composer

Contact details

email: dstowell@mac.com
website:
home: 01263 734142
mobile: 0776 616 3576
work:
fax:
More about David A.
David began his career at the Royal Military School of Music and on leaving HM Coldstream Guards furthered his studies in London and Boston. He continued to work with several leading Orchestras including The City of Birmingham Symphony Orchestra and the Royal Liverpool Philharmonic Orchestra.
A memorable highlight of this time being the performance of a new work with the Royal Liverpool Philharmonic Orchestra at the Royal Albert Hall in the presence of Her Majesty the Queen.
In the Brass Band field he has conducted many bands including the Black Dyke Mills band, Kennedy Swinton and until recently was the Professional Conductor of the GUS Band.
For the Millennium Festival at the National Indoor Arena, Birmingham, David was commissioned to compose and arrange music for a 120 piece Wind Orchestra. Subsequently, with funds provided by the national lottery and Arts Council, he was then asked to compose a new concert work for Woodwind, Brass and Percussion.
Other Commissions include composing for the City of Birmingham Choir Festival held in Symphony Hall Birmingham, Music for Her Majesty the Queen and music for the inauguration of the Bishop of Worcester, commissioned by the Royal College of Church Music. Most recently, David has completed a major Ballet score for the renowned 'Danse Noir' company.
Following an opportunity to score a drama production in America (The Lake. 1987) David has worked as a composer on many television and radio productions including 'A Christmas Carol' . 'The Letter'; 'Anne Boleyn'; 'All Talk'; 'Out of Time'; 'Unbeliever'; 'IceBound'; 'The Snow Crystal'. He has also been nominated for a Queens award for Television for 'Best Original Score'.
David's most recent commissions include music for the TV series `The Witches' and 'Listen Closely' which is currently in production. He is married to the Cellist Helen Barber and they have two children.
4barsrest Classifieds
Otterbourne Brass
After a run of winning 1st Section Contests in 2016 Otterbourne Brass are 2nd Section from January 2017 and are looking for a...
NABBA
Date: 10-Mar-2017
Venue: Embassy Theatre and Grand Wayne Center. 125 W. Jefferson Street . Fort Wayne, Indiana 46802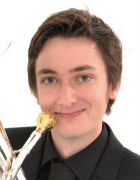 James McLeod
BMus (hons)
Euphonium Soloist, Teacher and Conductor