4BR Time Team - August 2007 - This month in history...
4-Aug-2007
4BR looks back at stories and events that happened this month from four different decades of the 20th century.
---
---
August 1907:
A little known fact about the general rules for the September Belle Vue Open Contest was printed.
Under the general regulations for the contest it read: "Every member of a band must be a resident in the town or within a distance of 4 miles, or thereabouts, of the town from which the band is entered. Special remark must be made, and special permission obtained from the Contest Manager at the time of entry, before any member, whose residence is more than four miles distant, will be allowed to play."
The eventual winners were Wingates Temperance from the village of Westhoughton. The band had been formed in 1873 when elders of a Good Templer's Lodge wanted to form a band from abstemious players. They raised £200 and soon Wingates were on their way.

Three of their players (including principal cornet player C. Helsby of Grasmere Street) were registered as coming from Bolton, some five miles away, whilst others had addresses in Tyldesley, Farnworth and Swinton. William Rimmer their conductor gave his address as Belmont Street, Southport. Permission had to be granted for all of them to play presumably. It is not recorded whether they lived up to their temperance title after their victory or not.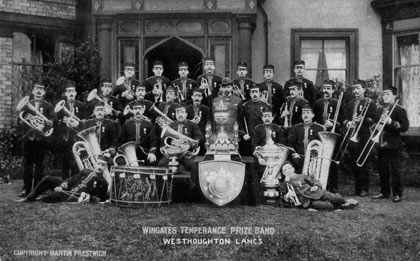 Wingates Temperance Prize Band 1907: See larger version
Other players came from Lock Lane, Scot Lane, Bolton Road, Church Street, Albion Street, Thomas Street and Smithey Street in the town that had a population at the time of around 14,000. How many of these streets are now still standing a century later?

The names of the winning band were:
Conductor: William Rimmer (Belmont Street, Southport)
Solo Cornet: C. Helsby (Grasmere Street, Bolton)
Solo Cornet: P. Haworth (Church Street)
Solo Cornet: C. Elsom (Henley Street)
Solo Cornet: W. Adamson (Manchester Road)
Solo Cornet: A. Brady (Lunts Heath, Fransworth)
Soprano: A. Lonsdale (Albion Street)
Repiano Cornet: E. Green (Daisy Hill)
2nd Cornet: G. Bainford (Ladies Lane, Hindley)
2nd Cornet: P. Starke (Church Street)
3rd Cornet: S. Laughton (Seldon Street)
Flugel Horn: J. Adamson (Manchester Road)
Flugel Horn: J. Chadwick (Smithey Street)
Solo Tenor Horn: J. Garlick (Thomas Street)
1st Tenor Horn: J. Taylor (Winward Street)
2nd Tenor Horn: J. Green (Warish Lane)
Solo Baritone: W.J. Owen (Manchester Road)
2nd Baritone: T. Kay (Church Street)
Solo Euphonium: H. Scott (Grennfield, Oldham)
2nd Euphonium: H. Davies (Marshfield, Bolton)
Solo Trombone: W. Weedall, Stafford Street, Swinton)
2nd Trombone: D. Rowlands, Manchester Road, Tyldesley)
Bass Trombone: W. Bradley (OaklandStreet, Farnworth)
Eb Bass: S. Farimond (Bolton Road)
Eb Bass: A. Hibbert (Lock Lane)
BBb Bass: T. Smith (Scot Lane)
BBb Bass: W. Cowburn (Daubhill, Bolton)

Fast forward 100 years and a variation on the same rule is said to be flouted by bands bringing in players from Europe and even the rest of the world just to play for a day.
---
August 1917: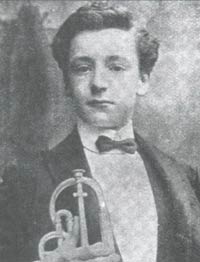 The same rule applied at the 1917 contest with one very poignant entry on the list of players for the Fodens Motor Works Band.
Listed, as solo cornet was one Edwin Firth of Hawthorn Villa, Sandbach. Firth was, and still is, regarded one of the finest cornet players of all time and was just 28 years of age. This shy and undemonstrative young man had been head hunted to play for the band by William Rimmer himself and had married the granddaughter of Edwin Foden, the company founder.
Son of the renowned Squire Firth, a cornet player with Black Dyke, Edwin was a prodigy, winning numerous solo contests and was principal cornet with Fodens when they won the Diamond Jubilee Belle Vue in 1909 and 'double' with the band the following year. He also wrote the famous march 'Westward Ho" winning a competition run by the British Bandsman in 1913.
Just nine months or so later in June 1918 he was killed whilst serving his country in Amiens in France. Just eight weeks before his death, his wife gave birth to their son, Edwin Twemlow Firth.
Tom Hynes, Bandmaster at Fodens wrote: 'Our Bandsmen are grief stricken at the loss of dear Edwin Firth. A better or kinder boy never lived. He was beloved by all who came into contact with him and was a favourite everywhere. His wonderful playing with our Band, and his modest and genial bearing, will never to be forgotten. The loss to our Band, and the band world in general, is a great one. He was a true artist and a gentleman.'

Edwin was buried in the Varennes Military Cemetery at Albert, near Amiens in the Somme region of France along with 1,218 other Allied soldiers.
His wife never remarried and died in 1991 aged a month short of her 99th birthday.
Further reading:

Remembrance - In Memorium Edwin Firth by Allan Littlemore
---

August 1957:
The National Registry of Brass Bandsmen had a peak membership when around 90,000 bandsmen were contained on its list.
At the same time the Salvation Army registered that it had 36,389 senior band players plus 14,729 junior or youth band players operating in 85 different territories world wide.
---

August 1967: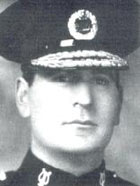 The entry list of 20 bands for the 115th British Open Brass Band Championships to be held on Saturday 2nd September was announced.
Bands no longer with us that were listed to compete included BMC; Cowpen & Croften Workmens; Crossley Carpets; CWS (Manchester) and Edge Hill.
The legendary Frank Wright appeared on BBC 2 in a documentary outlining his work for the then Greater London Council, whilst Col C. H. 'Jigs' Jeager of the Irish Guards and a former conductor of Black Dyke was in America spreading the brass band gospel.
Closer to home a new march entitled 'The Rover's Return' by Edrich Siebert was being advertised as the new 'must have' concert item and the three Mortimer brothers, Harry, Alex and Rex shared the stage conducting a concert at Buxton.
The Mineworkers Contest due to be held in October announced their line up of bands who would do battle for the Lord Robens Trophy and the 200 guinea top prize whilst the British Open announced that the opera star Adele Leigh (described as a 'vivacious beauty' – and who died in 2004) would sing at the massed bands festival.
The first all girl band entered the contest arena when Trinity Girls played at Whit Friday. Star players included Madeline Aspinell (16), Mary Livesley (18) and one Susan Lindsey (11) on soprano cornet. Where are they all now?