2004 Scottish Open Championships - Youth Brass Band Retrospective
5-Dec-2004
It wasn't just the top bands battling it out in Glasgow last weekend as the very best Youth bands north of the border entertained as well at the Scottish Youth Brass Band Championships.
---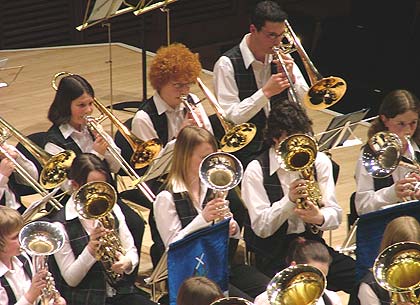 Moray Concert Brass
At the same time that the Scottish Open was taking place for the top section bands at the Royal Concert Hall, the cream of youth banding in Scotland were battling it out in some of the other concert venues within the building and adding a great deal of fun, noise and brilliant playing to the whole weekend.
There were three main sections; The Development Section for junior or training bands in membership of SBBA with an upper age limit of 16 years. (They were allowed one overage bass player to help them along): The Community Section for bands from individual schools, locally based youth bands or entries from bands in membership of SBBA with an upper age limit of 18 years: and the Premier Section for county or area bands who considered themselves at an advanced level.
The format was quite simple; 15 minutes entertainment in the Development Section, 20 in the Community and 25 in the Premier Sections, all judged in the open by an experienced group of musicians such as Gavin Lindsay (ex soprano of CWS Glasgow and a leading youth conductor here) and the very well known pair of Raymond Tennant and Charles Keenan (who both don't really need further introduction!)
Although we were unable to listen to the Development and Community Sections as they overlapped with the main event, we did hear the two bands at the Premier Section – Moray Concert Brass and Aberdeen City Youth, both of who were of an excellent standard.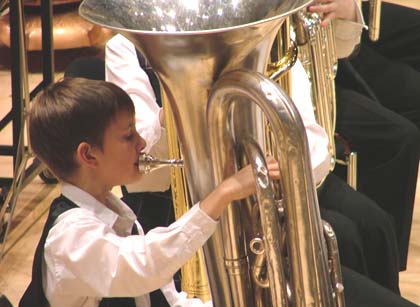 Moray Concert Brass bass player
Gavin Lindsay spoke of the standard of the Development Section in his remarks from the stage and was suitably impressed by what he had heard from Perthshire Youth Brass directed by George Annan, Loanhead Brass Roots conducted by Alan Fernie and Campbeltown Junior Brass directed by Katrina Barr, and made the comment, "I don't really know what you are doing, but it certainly works – just carry on and enjoy it!" – a great sentiment for children who hopefully will develop a life long love for brass playing.
In the end, as is now customary at such events, no placings as such were given, but awards of Gold, Silver and Bronze are made to reflect the overall standard of the bands performance. This led Gavin to award Silver to Perthshire and Gold to Loanhead and Campbeltown, with the latter gaining the overall award as the best in the section.
Raymond Tennant was equally impressed by the standard he had heard in the Community Section where Queensferry High School Brass Band conducted by Gareth Ross, Auchinleck Academy Brass Band conducted by Stephen Boyd, Campbeltown Youth directed by Katrina Barr and Jedforest Junior Band directed by Cameron Mabon all shone with well chosen programmes and some fine ensemble playing.
In the end, Raymond opted for three Silver awards and one Gold award, which went to Katrina and her band from Campbeltown, whilst Queensferry and Gareth Ross were declared overall runners up from the Silver placings.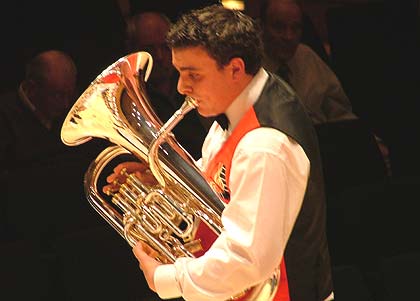 Ricahrd Kidd of Aberdeen City Youth Brass Band
That just left the Premier Section, which took place before the announcement of the results of the main contest in the Royal Concert Hall auditorium itself. Two bands, Moray Concert Brass conducted by Glenn Munro and Aberdeen City Youth Brass Band conducted by Eric Kidd provided wonderful entertainment for the large audience (swelled by supporters and players of the youth bands – and putting to shame the sparse crowd that had made the effort to listen to the top section bands).
Moray rounded off their programme with a really excellent 'Episodes for Brass' by Ray Farr which featured some fine playing from their percussion section, whilst the highlight of Aberdeen's programme was undoubtedly the rising euphonium star Richard Kidd who wowed the hall with a cracking run through the immensely difficult 'Van Flickerens' theme, which has been recorded by the likes of Tormod Flaten – some young player this laddie!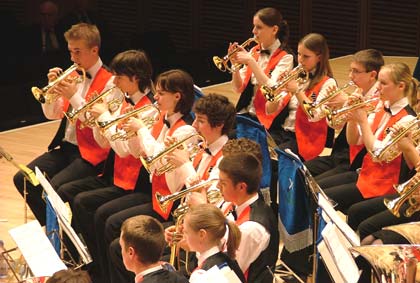 Aberdeen City Youth Brass Band
There was plenty of other fine playing fro both bands, but in the end, Raymond Tennant and Charles Keenan opted for Gold to Aberdeen and Silver to Moray – both were quite outstanding though.
Even though the Scottish Open seems to have some problems in attracting people to come and enjoy the talents of the top section bands it doesn't have a problem at all with the standard and enthusiasm of its youngsters who entertained the audiences royally indeed. Perhaps they are telling us that the old contesting ways are possibly now out of date?
Results:
Development Section:
Gold Award: Campbeltown Junior Brass (Katrina Barr)
Gold Award: Loanhead Brass Roots (Alan Fernie)
Silver Award: Perthshire Youth Brass (George Annan)
Community Section:
Gold Award: Campbeltown Youth Brass (Katrina Barr)
Silver Award: Queensferry High School Brass Band (Gareth Ross)
Silver Award: Auchinleck Academy Brass Band (Stephen Boyd)
Silver Award: Jedforest Junior Band (Cameron Mabon)
Premier Section:
Gold Award: Aberdeen City Youth Brass Band (Eric Kidd)
Silver Award: Moray Concert Brass (Glenn Munro)
4barsrest Classifieds
York Railway Institute Band
York RI Band (North of England Championship Section, MD David Lancaster), have immediate vacancies for Principal Cornet, Back...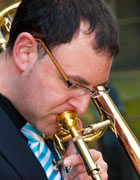 Brett Baker
BSc (Hons), ARCM, PG Dip
Rath clinician, conductor, teacher, adjudicator, editor