2006 West of England Regional Championships - Fourth Section retrospective
23-Mar-2006
It could have become a marathon, but it didn't. 26 great bands and a fantastic contest as Verwood Concert topped the lot.
---
It's very easy to say that listening to twenty six bands in a seven hour contest would be hard work, but in all honesty, it wasn't. The standard of playing and the level of commitment from players and supporters made this a really enjoyable experience.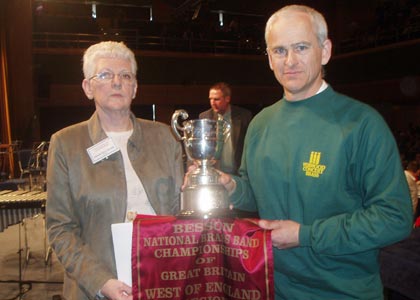 Safe Keeping: Verwood's representative takes back their cup for a second year in a row.

Time just flew by and hopefully adjudicators Alan Morrison and Steve Pritchard-Jones enjoyed it as much as 4BR. Having come out of the box, Alan quipped that, '…He and Steve would like to thank the band that didn't turn up' and 'Is it Tuesday' – yes it had been a lengthy spell but it wasn't as gruelling as Birmingham City fans must have felt having watched their team get thumped 7-0 at home by Liverpool in the FA Cup.
Alan pointed out that he and Steve were looking for 'controlled performances' and although the Brighouse top man didn't speak for as long as he'd perhaps liked too (due to the time constraints of the organisers wanting to get the Championship Section under way) he did make the point that they, '…were surprised at the amount of un-tuneful playing that should have been spotted in practice by MDs and can be adjusted when spotted at the time'. Simple things, but frustrating then for the judges.
What really stood out in this contest was the enjoyment factor that was conveyed from the bands on the stage to those in the audience and possibly vice versa. Once the third (split-draw) had been completed the hall was full with people just wanting to listen, and they had a real treat.
The standard overall was very impressive, reinforcing the point that the West of England Region is extremely strong in general but particularly at this and youth level. Yes, the standard was varied from the bands who finished at the top, in the middle and at the bottom end, but we didn't hear one performance where we had sympathy for the band because the piece was beyond them. In fact the bands who finished near the top had more than enough quality about them to cope in the Third Section and the four bands who got through will relish the chance of taking the National title back to the West of England in September.
Don't be surprised if it's Verwood Concert Brass either. Having won here last year, the band were a class above the rest of the field on the day, producing a cracking display led by David Marshall, formerly of the Coldstream Guards (and who conducted the last remnants of the famous Hammonds Sauce Works Band before they became YBS many years ago). The draw of twelve suited them, and they grabbed the chance to put down a marker that wouldn't be beaten.
The opening movement was so tight and so secure that the glitches never detracted and the level of consistency continued throughout. Where they really nailed victory though was in the tricky fourth movement, where they produced a controlled pianissimo sound throughout. Mention should also be given to the trombone player who shone like a star, none more so than in the final movement.
Sidmouth, Wincanton and Bream will join Verwood in the finals and all three played late in the day, each of them giving fine musical interpretations.
Sidmouth played twenty-three and like Verwood, never sound in any trouble whatsoever with the demands of the test piece. The quality of sound in the opening three movements was extremely persuasive, and they milked the fourth movement for all it was worth, finishing off with a firm final movement.
Wincanton's performance from the number twenty-one slot had plenty to admire about it as well. Once again, along with those at the top end, their overall clarity of sound was brighter and sharper and they had some fine soloists on show. Each of the movements had real character and it came as no surprise when they were announced in the podium places.
Bream played last and if the adjudicators thought they'd got a top four sorted out, then their performance certainly will have made them think. Once again, the sound was bright and clean and they never sounded in trouble at all with the whole work. Each of the movements had a clarity of style and was so well executed whilst the soloists all played their part to the full.
You can only have sympathy for Pendennis. They drew number one and gave a terrific performance that was always going to be in the mix come results time and to come fifth and miss out on a trip North by one single point must have been tough to take. What stood out was the quality of sound that remained consistent throughout and a strong closing two movements. Up until Verwood played, this was the clear leader.
Our tip to win on the day was AW Parker (Drybrook). Playing nineteen they produced a fine display that wasn't it without slips and overall we thought they'd left the door ajar instead of slamming it shut into a top four spot. That door was sneaked into (and we do mean sneaked as it was a good quality show) by Sidmouth, Wincanton and Bream.
Outside the top six, you then had a number of bands who showed plenty of promise. They put in some good quality performances but the lack of consistency meant they didn't quite have enough to get a qualification place.
Torrington, Hatherleigh, Swindon, Tewkesbury, Shankin and Saltash all fell into this category.
Torrington started well with a nice balanced sound but they fell victim to the tricky fourth movement and they didn't finish off to strongly. Hatherleigh meanwhile started off quite loosely for us and took a long time to settle before producing some fine moments as they headed for home. Swindon with the knowledgeable Francis Cowley at the helm played off the number two slot and took time to get going on the day for us. When they did start to play with promise you left thinking 'if only they had been like this earlier'.
Tewkesbury for us lacked touches of control throughout. They had more than a few slips and if those had been avoided it could have been a lot different overall.
Shanklin and Saltash never really started too well either for us, and when they did finally show some promise, more slips appeared. That was frustrating in a way, because if they'd hadn't, they could have finished higher than eleventh and twelfth respectively.
One of the challenges for the adjudicators was ranking the bands that didn't feature in order of merit and the issues of balanced sound and tuning became more apparent.
Weymouth, Bideford, Shaftsbury, Constantine Silver, New Forest Brass and Porthleven gave their all, but some struggled more than others.
Weymouth, Bideford, Shaftsbury and Constantine took the piece in their stride and put in commendable performances that had more than a few moments to admire; the same goes for New Forest Brass. It was as always at this level, a question of consistency. One good movement was invariably followed by one that just wobbled, then one that recovered and one that went well only to be rounded off with another wobbly bit. It didn't always go in that order – some had fine openings followed by a weak second, a good third etc, whilst others started poorly and got better as they went along. All though brought something to the contest table and all can take away something from the contest and their performances.
Ten year old Caitlin Strike was one of the stars of the weekend for 4BR and her performance with Porthleven was fabulous. Ok, the overall performance of the band wasn't as good as others on the day but this young lady had one of the nicest sounds of any cornet player during the contest. Her eyes were transfixed upon the MD and the level of concentration was brilliant
Okehampton played from number on the day and it wasn't the best performance suffering from poor tuning particular in the horns, whilst Wilton & District showed some early promise but struggled at the end -, again tuning issues being noticeable.
Brixham played very early in the day around 9.30am and they struggled in the opening two sections in particular, but they had some admirable efforts from the solo lines even if tuning was a bit awry.
Watchet Royal British Legion, Midsomer Norton, Gosport and Cheltenham gave it their all and the commitment was 100% even if they did suffer from tuning problems. Each had their moments when things were going really well, but then again, all had their moments when things got a little bit wayward and the tuning in particular became grating. All though brought something out of the piece, be it from the plethora of solid solo players (every band at the contest had at least one star player in the ranks) or by a section (the standard of trombone playing was noticeably good all day).
All four of these bands will return the better for playing this piece though as although it tested them to the full, it never defeated them. The players all seemed to enjoy the experience (both young and old) and the standard of some of the percussion playing was very good indeed, and didn't obliterate the music as many in the other higher sections did. .
As we said at the beginning though, this was a cracking contest with the bands enjoying Alan Fernie's 'Anglian Dances'. Verwood and David Marshall were the overwhelming winners on the day but perhaps the real winners were all of the bands and their supporters who enjoyed every minute wherever they finished. The West of England has a great deal to be proud about here.
Malcolm Wood
4barsrest Classifieds
Mossley Band
Mossley Band (MD Duncan Byers) are looking to recruit committed Front Row cornet, Solo Trombone and Tuned Percussion players ...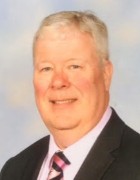 Simon Gresswell

Conductor, adjudicator, tutor, tuba specialist