2006 European Brass Band Championships - Championship Section - Set Work retrospective
3-May-2006
The 29th European Championships were certainly a memorable event, but they also provided a bit of a shock as well - or did they? 4BR looks back at the Set work section of the contest on the Friday night.
---
If the overall result of the 2006 European Brass Band Championships came as something of a surprise, it shouldn't have been a shock that it was Frans Violet and Brass Band Willebroek that provided it.
Over the years this rather unique combination has proved itself to be one of the very best brass bands in Europe and has almost single handedly provided the finest bands in the UK with their sternest challenge at the contest.
They have of course won the European before, but their 1993 victory has been seen by the banding cognoscenti as something of an anomaly; a result of others failings in Plymouth that year rather than their own brilliance. That argument has been supported by the fact that they took the title there by coming 5th and 2nd rather than winning either of the two legged sections. In fact until this year Willebroek had only won the own choice section of the contest in 1991. Statistics invariably only tell half a story though, although when it does come to them, Willebroek have a record that stands comparison with the very best bands at this contest in particular.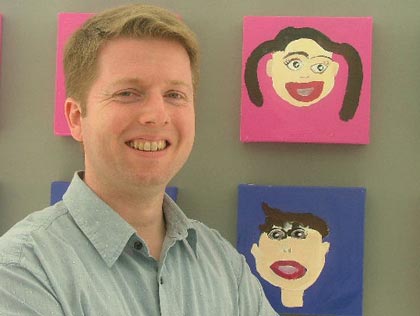 Fan Club: Composer Ian Wilson and some happy faces before the first performance of his set work

In the past four years in particular they have come 2nd twice, 3rd and 4th and the standard of their performances has rarely if ever fallen below the exceptional. They are an ensemble that produces a quite wonderful, authentic brass band sound, has any number of players of the highest class dotted around the stands, and are led by a musician of rare talent and insight. In short, they are a superb band.
That said, we didn't have then down as winners here, but that said, any number of people we spoke to before the announcement of the results, and especially after their performance of the set work, certainly did. And that certainly included the set of six judges in the box over the two days. Willebroek are a band that is worthy European Champions.
The secret to winning the European is not hard to fathom out. A band has to produce two very high class performances over two days – one preferably a winner and the other very nearly as good. In the previous 28 years of the contest only 11 bands have managed to win both sections, so if you can produce at least one that finds favour with the judges and another that deeply impresses then you are in with a very good shout. Willebroek won on the set work and came 3rd on their own choice selection. It was just enough to win and it may well signal the start of European domination at the contest too, what with only the one English band at Birmingham next year. Willebroek are more than capable of retaining their title.
The contest itself started on a rather subdued note with Ian Wilson's set work, 'Seascape with High Cliffs' which proved to be a very stern test for the ten competing bands and also for the audience at the splendid Waterfront Hall on the Friday evening.
The hall was just over half full throughout the Friday – a result perhaps more of the starting time of 5.00pm than the piece, although there were many that felt it was too introspective, dark and austere to illicit a great degree of enthusiasm and interest to listen all ten performances at one sitting. That was a pity as it was a fine work that required bands to explore the old fashioned virtues of balance, control, tonality and timbre. All the virtues in fact that were conspicuous by their absence in many performances the following day.
Reigning champions Black Dyke was given the honour to start off the contest (the draw having taken place earlier in the day, with Dyke's representative left high and dry as nine others picked out their draw from the velvet bag, leaving Dyke with Kelly's Eye) and they produced a quite wonderfully atmospheric account of the work.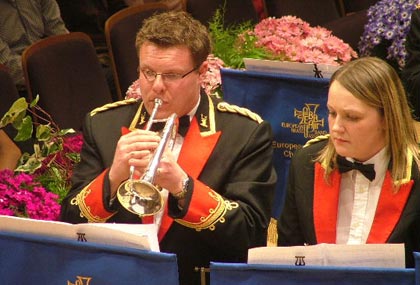 Leading from the front: Richard Marshall leads Black Dyke off number 1

A couple of hours earlier, the composer Ian Wilson had given an enlightening talk about his work in which he described it as something of a tone poem, that although not directly descriptive drew inspiration from the three main elements of the Cliffs of Moher; the viscous, oily sea; the floating ephemera of the birds and the immovable, implacable rocky isles of Aran on the horizon.
Dyke seemed to bring that all to life; quietly it must be said, as Nicholas Childs relied on his bands unique ability to play with almost perfect sectional balance at the extremes of the dynamic range. It was for us, having heard the piece played before, a quite stunning performance. Not so in the box though where Torstein Aagaard Nilsen, Jappie Dijkstra and Maurice Hamers felt it worthy of 5th place. We had them 2nd.
That may seem harsh, but it is difficult to even suggest that the trio didn't understand the work or the performance given by the band. Torstein is a wonderful musician with a real understanding of the banding medium, especially in contemporary form and if he was happy with what he heard then it would be hard to disagree.
Eikanger Bjorsvik were next up and gave a performance in complete contrast to Dyke. Bjorn Sagstad drew a very broad and lyrical performance from his charges that although not error free (the use of three cornet players to share the three main cornet solos was a democratic decision that certainly didn't work) was of very high quality indeed. 7th was the result and a harsh one it was too for us as we had it down for 3rd. Contesting can throw up the odd decision now and again, and this was for us, one of them.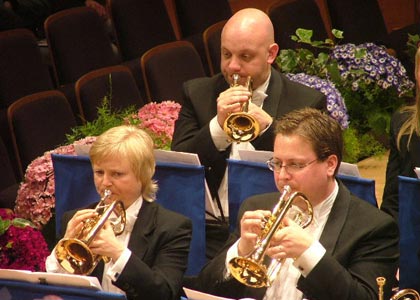 Norwegian trio: Eikangers top three can only settle for 7th place

Then came three performances that for us didn't register at all, but in the judges box, (and what a box it was – constructed like a shaker piece of furniture in white and beech, and seemingly impregnable – even to sound as one wag put it!) one certainly did.
Lyngby Taarbeak were error strewn and imbalanced with their account, whilst Soli Brass upped the volume, pace and style and rather failed to capture the mystery and elegance of the work.
Brass Band Fribourg meanwhile certainly caught the ear of the men in the box, although their somewhat orchestral brass ensemble approach seemed cold and rather emotionless for us.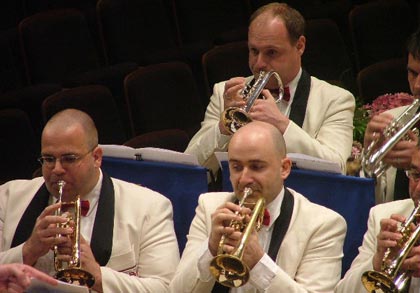 The result in black and white: Fribourg claim second place

It wasn't error free for certain but it was polished and detailed and for the judges it was a musical picture that appealed to their feelings of what the score was trying to portray. They placed them 2nd, we had them 10th. We were way out on this one weren't we then?
Newtongrange followed with a rather underwhelming performance that tried to create atmosphere but lacked balance and timbre, before Willebroek set the marker no other band on the day was to beat.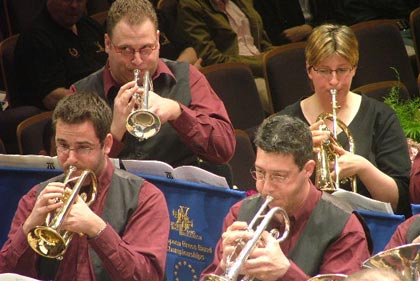 Seascape with High Places: Willebroek take top spot on the set work

Theirs was a most musical reading of the score by Frans Viloet; full of broad lyricism, detailed lines and wonderful balance. It was also bedevilled by small, annoying errors in many of the leading lines, but these were ignored by the judges who opted to reward the musicality of the reading rather than the more obvious technical clips. We felt at this level those errors may have proved more costly than they eventually did, but the judges knew what they were looking for, and they found it with Willebroek. Whether or not it was 4 points better than Black Dyke and 3 better than BAYV was debateable, but there were lots and lots of people in the hall at the end of the first day who felt they were. We had them 5th.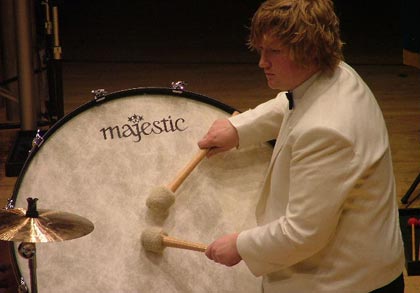 Majestic performance? Leyland's perc team lead the way to a top six place

Leyland did themselves proud with a typical Russell Gray inspired performance that was most notable for the security of the main solo lines (Andy Lord on solo cornet in particular) but just needed more control over the dynamic variance, whilst YBS produced the other most musical account of the set work under David King that had a wonderful scope of musical thought but was undermined by early errors in the top lines.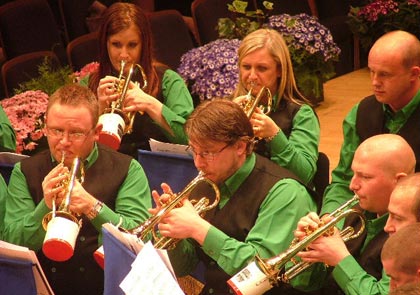 Muted pictures: The YBS front row keep things quiet

Without those it could have featured very highly indeed. We had Leyland 4th and YBS 6th, whilst the judges had them 6th and 4th respectively.
That just left Buy As You View, and the Welsh band produced a superbly detailed account of the set work that was almost error free in execution.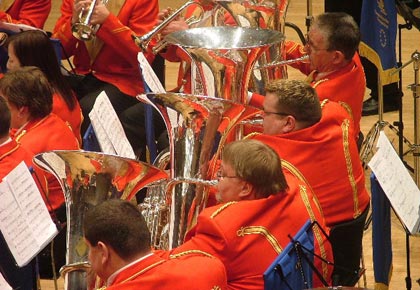 Rock solid foundation: The BAYV bass team provide the bedrock to their performance

There was very little we could find fault with, and we had it as our leader at the end of the day. Others around the hall agreed – others didn't, but there was little argument that they had positioned themselves in with a very strong chance of victory the next day.
For 4BR it was a close run thing between BAYV, Dyke and Eikanger. We had these three ahead of the rest, although for others though, it was Willebroek's contest for the taking. Saturday was to prove to be a momentous contest.

Iwan Fox
4barsrest Classifieds
Thoresby Colliery Band
First Class Percussionist required for this progressing Championship Section based in Clumber Park in North Nottinghamshire. ...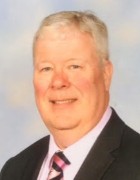 Simon Gresswell

Conductor, adjudicator, tutor, tuba specialist