2006 European Brass Band Championships - Championship Section - Own Choice retrospective
3-May-2006
The 29th European Championships were certainly a memorable event, but they also provided a bit of a shock as well - or did they? 4BR looks back at the Own Choice section of the contest on the Saturday.
---
The draw had given Eikanger Bjorsvik the shortest straw. However their performance of 'Riffs and Interludes' was one of the most memorable performances we have heard at the contest in many, many years. Supremely laid out by the MD (who wiggled his ass like Beyonce on heat in the first movement) it was a tour de force of technical brilliance and musical integrity.
That it eventually came 7th (we had them as winners) was a complete travesty, that it only elicited six words (yes, just the 6) from one of the judges in his remarks was nothing short of preposterous. The judges (in this case, Goff Richards, Paul Young and Blaise Heritier) are asked to provide concise and precise notes about performances for the bands, but this was shamefully inept. Eikanger, the music and the contest deserved better and there may be a strong case for the organisers to look at the make up of the judges for the own choice selections to include at least two people with comprehensive knowledge of brass band repertoire. Here, with respect, we had one debutant, one saxophonist and someone who has not been in the very best of health.
With Eikanger's chances disappearing quicker than foreign prisoners from a UK jail, it was up to Leyland to step up to the plate with John Pickard's wonderful 'Eden'. Once again the band performed with huge merit with a performance that in general terms exceeded that in London, even if the MDs tie was something of a high risk fashion victim.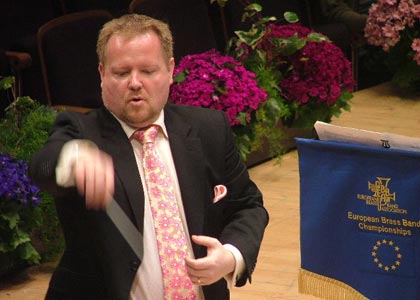 Russell Gray makes a colourful impression with Eden

If it did have a weakness it was that perhaps it just lacked real detail in places whilst the snaking trombone lacked venomous presence throughout. It was still a good one though and 5th place was about bang on the money on the day. Leyland will approach Blackpool in fine form. We had them 4th.
Then came the moment when many thought the contest to have been won. Buy As You View has come close to winning the European in the past few years and have tried just about every musical combination in the book to win the converted top prize. This year they went down the specially commissioned route with their own choice selection of 'The Promised Land'; a real tour de force from the pen of Kenneth Downie. Others have done it also of course, but perhaps this was the most openly 'patriotic' call to arms ever. In fact not since Tredegar Band were obliged to play 'Owain Glyndwr' at the inaugural contest in 1978 has such a piece of Welsh musical 'hywl' been placed before the audience here.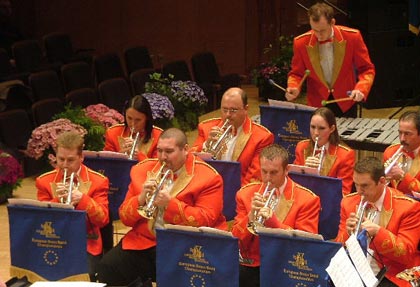 The Welsh front row: BAYV cornet section put the hywl into The Promised Land

Based around the hymn tune 'Cwm Rhondda' and the iconic love song 'Myfanwy' it drew inspiration from the biblical journey of the Hebrew slaves. In parts it was more like the journey of the Welsh rugby supporters to Scotland on an International Day from the confines and slavery of the jobs and wives in the valleys to boys own 'tour rules' apply, free for all that takes place on the weekend of the game, miles from home and preying eyes.
It was a very 'un Downie like' piece in fact and at times it was rather contrived with it musical fulcrum centered somewhat on the amazing talents of David Childs. That made it no different from 'Music of the Spheres' or 'Journey to the Centre of the Earth' but it certainly made it different from anything played on the day and it emphasised the brilliance of BAYV as a technical juggernaut as well as their immense ability to provide quite startling musical effects. It was an electrifying piece though to listen to, and one suspects to perform. That it was received with a deserved roof raising ovation came as no surprise, but as a piece it was perhaps too transparent a vehicle for a specific band and its contesting aims. The judges rightly rewarded it accordingly, but it would appear to be a piece that now it has served its purpose here may have difficulty in finding another elsewhere and for a different band.
With the hubbub becalmed, Lyngby Taarbaek produced a worthy account of 'Music of the Spheres' that perhaps highlighted more than anything what may befall 'The Promised Land'. Take it away from its original rather cynical source and bands find the piece almost impossible to overcome as intended. Try as Ray Farr did (and at times he went through the whole gamut of show pony histrionics to drag something from the band) it never rose above the mundane and 10th place (we had it 9th) was just about right as its reward.
Soli Brass came with the intentions of creating a musical 'Earthquake' with Jan de Haan's interesting work that involved plenty of exotic ideas, lots of percussion and even some pretty good vocals. However the effect was rather more mark 2 on the Richter scale than a Krakatoa blast with the amalgam of varied ideas never quite reaching a satisfactory conclusion. That said, the band did play it rather well and their soprano player certainly felt they did as he went completely bonkers at the conclusion of the last note. He made Kirkintilloch's Steve Stewart appear like a choir boy. 8th off the judges though seemed a touch harsh for us ( we had them 6th) as even though it may not have been the hardest test piece heard on the day, it was certainly one that caught the imagination.
Brass Band Fribourg may not have known it but they were taking to the stage as overnight runners up, just a point behind Willebroek. They chose to play 'Music of the Spheres', and after the rather prosaic Danish interpretation theirs was of a much higher quality.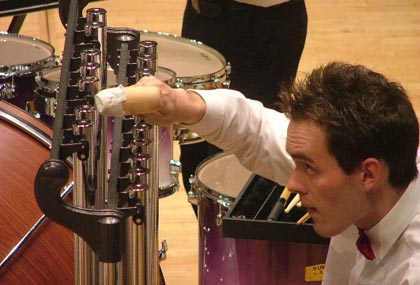 A study of concentration: Fribourg's percussionist makes sure he hits the right note

A very fine horn opening led to a scrappy first quarter of the piece, but thereafter it was playing of a very high class indeed, especially from the soprano and euphonium, although the error count was noticeable. It grew in presence the longer it went along, and by the end it had become a gloriously realised performance. Against the others on the day we felt the first part of the piece had cost them dearly and we had them in 7th place, but the judges were once again impressed by their ensemble sound in particular and placed them 2nd once more.
As someone told us after the results – 3 judges may be wrong, but rarely can 6 eh?
YBS and David King knew that they would have to play out of their skins to regain their European title that was once their sole possession, and their performance of 'Eden' was as brave as it was as musical.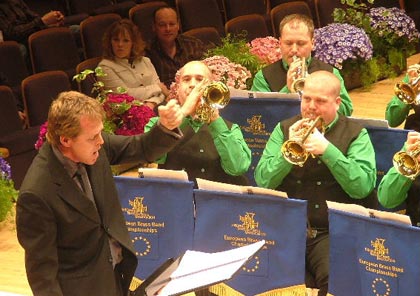 Aiming high: Stuart Lingard follows David King's instructions to the tee

That it wasn't enough was more to do with the number of small errors that crept into the piece at times rather than the bands commitment to the cause, but it didn't help that for the most part there was fragility in some of the solo lines that were rather too obvious and at times (such as the very beginning) had to be camouflaged. YBS though are a band being rebuilt, and rebuilt with style. They will return here to reclaim the title once more we are sure. The judges had them 6th, we had them 5th.
Now to Black Dyke and after a long wait for the band to take to the stage (a wait not made comfortable by Frank Renton's rather ill advised attempt to inject a bit of humour into proceedings) and the reigning champions proceeded to defend their crown in the most impressive fashion.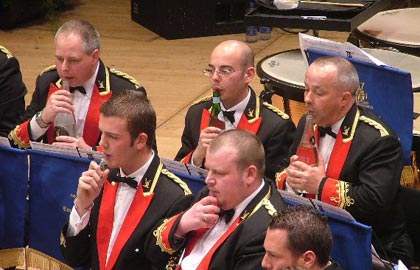 Hitting the bottle: Dyke's cornet section collect their empties

'Extreme Make Over' is a stunning piece, and one that deserves to be played in the UK at the highest level, and whilst many find its use of bottles a bit of a party trick, its musical content is as good as anything you can ever hear played by a brass band. Here Dyke got off to a fine quartet start (although it was a touch fast for some) before they went down all guns blazing in defence of their title. At times we said it could have knocked the dangly bits off a charging Russian rhino such was the immense force of the playing, and whilst there were some errors in the percussion lines (did someone come in early at one point?) it did send a thrill of electricity down the spine. At its conclusion we had it next to Eikanger and ahead of BAYV but the judges had it in fourth to end their title defence. Dyke, may never now return.
Newtongrange had the difficult task of following Dyke on stage and produced a worthy account of 'Journey to the Centre of the Earth' that at times really did have its moments and featured a fine percussion team, but against this company it was never going to make more than the slightest of marks. We had them 10th, the judges 9th for them to come 9th overall.
That just left Brass Band Willebroek. Twelve months previous they had gone into the contest with Philip Sparke's 'Spheres' as their own choice only to undone by the last few bars. This time it was to be 'Journey to the Centre of the Earth' a piece they knew they could play in stunning fashion from first note to last.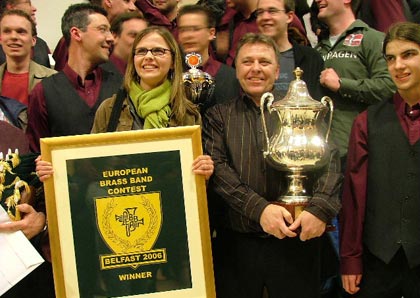 Winning Willebroek: Frans Violet keeps a tight grip on the trophy

In the event they produced merely a very fine account of it (something their soprano player Bert van Thienen alluded to in his interview with 4BR), but even though they didn't know, with one winner already in the bag it was just enough, and we do mean, just enough to take the title.
Their usual blend of superb ensemble compactness, balance and huge dynamic variance was there for all to hear once more, but so too were the little errors, especially from their usually impeccable solo cornet player, Raf Van Looveren. With the piece itself not really extending the band to its full potential it seemed they had missed their chance to capitalise on that set work win. The judges though thought otherwise and gave it 3rd place, whilst other seasoned critics had them lower (we had them 8th). That didn't matter though as in the final compilation of the results they had done enough to be crowned European Champions.
With the contest over it was down to the organisers to tot up the results of the two days and for the audience to discuss and argue who they thought had won.
4BR had a final list of BAYV, Black Dyke and Eikanger separated only by the result of the set work, whilst others had Willebroek very much in the mix, although perhaps not as winners after their own choice performance. It is fair to say that not too many people had Fribourg in the final mix, but there were mentions in dispatches for the likes of YBS, Leyland and Soli for a top six place.
In the event 6th place went to Leyland for their two very commendable accounts whilst 5th place was taken by YBS on their brave and very musical return to the contest. There was a real gasp of shock when Black Dyke were declared in fourth place and an intake of air that threatened to suck all the oxygen out of the Waterfront Hall when Jappie Dijkstra announced that the top three bands had all tied on points and that the winners had to be decided on who had done the best on the set work.
4BR had thought that would occur, with Dyke, BAYV and Eikanger being in the final mix. With Dyke out of the way, it therefore came as a bit of a shock that 3rd place went to BAYV, whilst even more of a shock when Brass Band Fribourg were announced in second place – although their supporters certainly didn't think so.
With the tension mounting and with the announcement of: "…with 96 points in the set work and with 95 points in the own choice, making a total of 191 points, the 2006 European Champions are…Brass Band Willebroek.
Cue pandemonium, cheers, tears and celebrations (the male members had their heads shaved in celebration - heaven knows what the ladies of the band did!) in the foyer of the hall that seemed to go one for ever. Willebroek had become European Champions and had finally shown the banding world that their 1993 win could no longer be considered an anomaly of history. Given how good a band they are, this may well be start of a period of Belgian dominance.
Iwan Fox.
4barsrest Classifieds
Otterbourne Brass
After a run of winning 1st Section Contests in 2016 Otterbourne Brass are 2nd Section from January 2017 and are looking for a...
NABBA
Date: 10-Mar-2017
Venue: Embassy Theatre and Grand Wayne Center. 125 W. Jefferson Street . Fort Wayne, Indiana 46802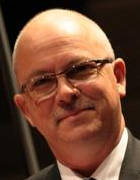 Martin Heartfield
GGSM, ARCM, PGCE
Conductor, Adjudicator, Educationalist