2006 Buxton Contest - Retrospective
7-May-2006
David Tinker of 4BR was at the Buxton contest to witness (in some pain it must be said) how the day unfolded.
---
43rd Buxton Brass Band Contest
Sunday 30th April
Adjudicators: Nigel Hall (3rd/4th Section) and Roy Roe (Championship/First)
---
Fourth Section:

31 bands entered this fine contest and with no withdrawals a full day of music was assured. The Fourth Section had twelve bands and the wide choice of test pieces chosen gave the large audience plenty of variation.

Sale Brass playing of the number one draw chose Alan Fernie's excellent 'Anglian Dances' as their own choice piece, and to be honest did not have the best of days. The band sound was solid enough but some poor intonation and balance was evident and 11th place was the result. Wellington (Telford) Band followed with Gregson's 'Laudate Dominum' and it had its good moments but lacked atmosphere at times and got a touch tired at the end. 7th place was about right for us.

The third band on was Besses Boys and they too chose the Gregson and gave a good account of the music with plenty of contrast and fine solo playing. The dynamics were well controlled apart from the very last note of the piece with the soprano blowing straight at the adjudicators box, which was totally uncalled for and could have been costly. First place was the result though and on the whole it was well deserved. Ellenbrook and Boothstown were the fourth band on with Vaughan Williams 'English Folk Song Suite' but they never got to grips with the music. The performance was bedevilled by some poor tuning and lack of dynamic range and 12th place was the result. No complaints we feel.

The band drawn fifth, Uppermill gave a fine account of 'A Royal Mile Suite' by Alan Fernie and deserved second place, for on another day it could have been the winner. A good round sound with the characteristics of each movement shining through were well presented. A little more dynamic contrast could have been the difference between first and second, but it was a good show nonetheless.

The bands drawn sixth and seventh Gwernaffield and Burbage ( Buxton) both had their moments. Gwernaffield chose 'Indian Summer' by Eric Ball and there was some mispitching and harsh sounds that spoilt what could have been a better show of this fine music. 10th place was the result. Burbage meanwhile gave us 'Dimensions' by Peter Graham in a performance of merit enlightened by some fine work from solo cornet and euphonium. The downside was the rather over enthusiastic timp player at the end who went way over the top in dynamics, and robbed the piece of a well balanced ending. 5th place was the result, but it could have been higher.

Greenfield Band followed with a musical performance of 'Music For a Festival' producing some fine detail and dynamic control only for intonation to rear its ugly head too many times. 4th place was deserved and they did sound a band on the up. Parr Richardson Ltd St Helens of the number 9 draw also chose 'Dimensions' and this gave them third place with a tight performance that didn't take any unessecary risks allowing the music to flow.

The Bands drawn tenth and eleventh both had similar fortunes. Barton Town Band with Eric Ball's 'Call To The Sea' (How nice to hear this good old piece again} gave a performance which at times promised much but lacked the sound from the middle of the band to do it justice. It was a fair attempt all the same and 8th place was the result. Brindle Band meanwhile gave a somewhat mishmash performance of 'Dimensions' with some fine playing at times followed by some bad intonation and tuning and another timp player who went well over the top at the end. 9th place was about right we think, but we do have to ask if the MDs of some bands really realise that care must be taken with percussion dynamics.

The last band on was Thoresby Colliery Youth who gave a creditable performance of 'Partita for Band' with some fine direction from the conductor. This young band will only get better and 6th place was a good return.

Overall this had been a good section and the adjudicator said he had enjoyed the playing. On the whole we agreed totally with his comments although we felt there may have been a need to make more of a point about the lack of control with the percussion dynamics. Even at this level, common sense should prevail more often.

Third Section:

With only three bands competing in this section, it was Skelmersdale Prize who took the winners trophy with a very decent and solid performance of Goff Richard's 'Aeronauts' followed by Rivington and Adlington in second place with Fairfield (Buxton) in third. Overall the standard was pretty good, although it was hard to really make more of a critical analysis because of the lack of numbers. Pretty good stuff though and well done to all three for making it an interesting contest.

Second Section:

Six bands competed in this section and the standard was of a good level. Band number one, Blidworth Welfare gave a mixed showing of Dean Goffin's 'Rhapsody in Brass' with a good all round sound although but it became stodgy in texture and too heavy especially at the opening of the third movement. 4th place was the result. Silk Brass Astrazeneca (Macclesfield) from the number 2 draw gave a powerful performance of Snell's 'Images for a Millennium' which deservedly gave them first place. It contained some fine work from the euphonium all backed up by some well controlled band playing. A worthy winner indeed.

Hawk Green (Marple) chose Kenneth Downies 'Purcell Variations' and the highlight of this performance was the fine work from the cornet section with plenty of detail evident, although more control of the dynamics could have had a higher reward. 3rd place was fair enough.

Boarshurst Silver with Sparke's 'Land Of The Long White Cloud' had a good opening but then began to rock and fell away with the band not sustaining the sound, and it all resulted in a pretty fair 5th place. Greenall's followed with a fine performance of 'Kaleidoscope' by Sparke which deservedly gave them the runners up spot, and which was highlighted by some nice cornet and flugel horn playing with the conductor letting the music flow. Despite some looseness from trombones the all round performance was one of real merit. Last band on was Kippax with Keighley's 'Lorenzo'. Despite a good sound they failed to bring out the music of this good old piece and it lacked shape at times and style. 6th place was the result.


Championship Section:

Ten bands competed in this section with some difficult choices of music chosen and it was Hade Edge who got the section underway with a spirited and musical performance of Graham's 'Journey to the Centre Of The Earth'. This was a much better performance than in the area contest (although it must have been hard for the band to get up the enthusiasm to play the piece again) with some nice solo playing especially from the principal cornet, and at the end of the day it was enough to gain them second place. It was well deserved and showed that sometimes, revisiting a piece that you had thought had been exhausted by your efforts is sometimes a worthwhile effort. Well done to one and all for doing it so well.

Wrexham chose another of Peter Graham's music with 'The Essence Of Time'. There was some good playing especially from the soprano cornet, but overall it was too much in your face stuff with a lack of dynamic control and as a result the subtle moods of the music were missed. 8th place was the result and they could have no real complaints. Poynton gave for us one of the most musical performances of the day with Sparke's allis Variations', a brave choice for an own choice selection given its quiet ending, and they and can feel unlucky not to have finished much higher than the 7th place they eventually got. There was some fine pianissimo playing and detail in the performance, but it just was not their day.

Derwent Brass chose Bourgeois dramatic 'Blitz', a rarely played piece nowadays and they certainly went for it with some good dynamic effects and some fine all round ensemble playing. It was no surprise when they were awarded third place for a real top notch effort. Towcester Studio meanwhile opted for Herbert Howells classic 'Pageantry' and on this occassion they never captured the mood of the music with a lot of the ensemble playiong lacking clarity. It was not one of their better days and joint 9th was fair enough.

The Broseley Band (Milton Keynes) came next with the George Lloyd 'English Heritage', a much undervalued work, but like the band before them it lacked clarity and at times technique, so joint 9th was no surprise.

The Staffordshire Band then upped the ante considerably with a splendid performance of Michael Ball's 'Whitsun Wakes' which was full of character and fine soloists. Th performance was one to gain them first place and we doubt if anyone would disagree with the decision. This is a fine, compact band who seem to be on the verge of really making a mark. Blackpool will see if they are really ready to make the leap into the big time, but on this evidence they are not far away for sure.

Thoresby Colliery meanwhile also gave a good account of 'Journey to the Centre Of The Earth' but it lacked the musical nuance of Hade Edge with the tempo's too much on the quick side. It was a very decent show nevertheless, and again showed the value of revisiting a piece that had been well prepared in the immediate past. 4th place was the correct result for

Phillip Sparke's Harmony Music is one of his finest and most difficult pieces to master and Drighlington Band gave it a fair shot, although the soloist's will be hoping for a slightly better day in Blackpool. Overall it had some very fine moments and 6th place was well earned.

The last performance of the day fell to the Enderby Band who gave a fully committed performance of Wilby's 'Paganini Variations' and with a little more control could have finished higher than the 5th place they were awarded.

Overall this had been a good contest very well attended and Shirley Woodward and her team deserve credit for the hard work that went in to running the event. The cooperation 4BR received in getting all the placings was first class, especially as I was in some state of immobility! Thanks to one and all, and thanks for a fine day of interesting contesting. Some bands left with work to do, others with confidence high for the next few weeks ahead.
David Tinker
4barsrest Classifieds
Coleshill Town Band
Coleshill Town Band (4th section) are looking for an enthusiastic conductor to continue the development of this friendly, suc...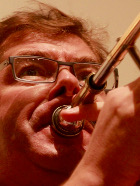 Nicholas B. Hudson
FTCL LGSMD (Hons)
Musician | Trombonist | Educator