2007 National Youth Brass Band Championships - Junior Championship retrospective
2-May-2007
What a fantastic way to spend a Sunday morning as the Junior Section provided everyone with something to savour.
---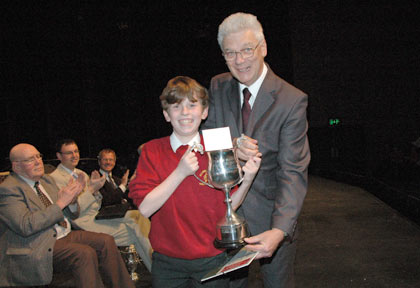 The winning smile: Elland take the top prize in the Junior Section
Picture: John Stirzaker

One of the real delights of this contest on Sunday morning was watching bands perform on the stage without a care in the world. Yes, they were nervous at times, almost petrified of making a mistake, but they went out and had fun nontheless. In the words of adjudicator Geoffrey Whitham it was indeed 'a very pleasant way to spend a Sunday morning'.
Whilst Mr Whitham and his fellow judge, Brett Baker were charged with awarding not just prize winners but either a Gold, Silver or Bronze Certificate of Merit, there was that sense at times that the certificate itself didn't really matter – it was just being able to take part. Some of the players had never competed at on stage before, let alone compete in the National Youth Championships. Let's hope it has given them the taste of a lifetimes enjoyment to come.
In terms of ranking, Gold, Silver and Bronze, the top three bands really stood out on the day and the winners were debutants at the event, Elland Silver, led by Samantha Harrison.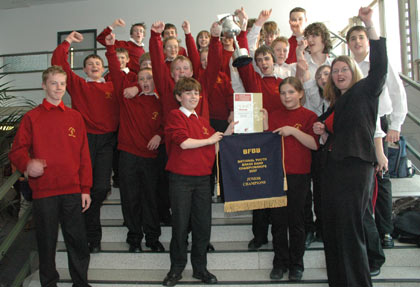 Three cheers: Elland celebrate their National title
Picture: John Stirzaker

Extremely smart in their shirts and waistcoats, Elland produced a mature sound from a well balanced programme. They opened up in confident mood with Goff Richards' 'Spirit of Youth' where the band really epitomised the title. Next up, the band's principal cornet, 14 year old Philip Varley produced a fabulous rendition of 'Sugar Blues'. Philip's playing was so confident and relaxed and he could consider himself unlucky not to have been awarded the Best Instrumentalist prize. What a prospect though.
With the solo having gone well, the band seemed to relax more and they grew in confidence concluding with 'Singing in the Rain' and 'Gloucester Market' from Sparke's 'A Malvern Suite'. Both contrasting pieces were executed very well and even before the end of their performance, tit was a strong bet that they would be in the frame. Could it be beaten though? The answer was no.
Astley Youth narrowly missed out on the title as there wasn't an awful lot between the top two at all and it came down to what the judges thought.
Astley set off like they meant business with a confident rendition of 'Death or Glory' which was closely followed by the band's bass trombone player, Simon Minshall performing 'Mini the Moocher' that was in a league of its own on the day. Here is a young man that is extremely talented and the announcement that the Fodens player had been awarded the Best Instrumentalist of the section came as no surprise to those that had heard him. To close, Helen Minshall led the band through 'Gaelforce'. Once again this was confident and when there was the odd uncertain moment, the band just got on it with it.
The final Gold Certificate and in fact, third place went to the Fred Longworth High School Band. Once again, this was a band that really set out to enjoy themselves in a contrasting programme. They commenced with James Curnow's 'Jubilation' that did take them a little time to settle, before they performed the popular 'Hymn to the Fallen'. To finish though, the band opted for Bill Whelan's 'Riverdance'. Clearly the band had put a lot of work into this piece of music and their soloists coped extremely well standing front of stage.
Outside the top three, the bands were then graded with Silver or Bronze Certificates.
The two Welsh participants on show, Gwynedd Mon William Mathias Junior Band and Cwmtawe Training Band took home Silver. Gwynedd's programme was light and entertaining starting with the march, 'On the Ball' followed by 'Chorale and Rockout', music entitled 'Little Stars' and 'Friday Rag' before finishing with an abridged version of 'Finlandia'. Towards the end the band did seem to tire and perhaps a different piece may have been more appropriate on the day. It was an immensely promising effort though.
Cwmtawe Training Band opened up with Brahm's 'Hungarian Dance No 5' before performing two movements from Eric Ball's 'Devon Fantasy' – 'Moorland Song' and 'Seafarers'. There was some nice ensemble playing on offer and when there was uncertainty, they just brushed it off. The overall standard of solo playing was very impressive throughout too. Bass player Lee Davis stepped forward to perform, 'Little Teddy's Tuba' and he wasn't short of confidence either giving a very competent performance. The whole programme was completed with 'I Will Follow Him' from 'Sister Act' including the percussionists really getting into the spirit of the piece and dressing up as nuns. What would the local vicar say!
James Holt and Stockport Intermediate opened up the day's proceedings in the Bruntwood Theatre with the march, 'Punchinello' taken at a very steady tempo. A quartet stepped forward to perform the familiar 'Now is the Hour' which was a real credit to the performers, before the band concluded its contribution to the day with Ball's 'Indian Summer'. Throughout its entirety it wasn't without the odd uncertain moment, but to the bands credit they persevered right to the end and produced a overall performance programme of merit.
Wire Youth Brass led by Jo Sherry was just brilliant. Founded in 2005, it was clear everyone involved loved the opportunity to participate. The percussion got the chance to dress up as Mexicans in 'Chicken Cha Cha', and they also performed the cartoon themes from 'Scooby Doo' and 'The Muppets', the final movement from 'Indian Summer', the hymn tune 'Blaenwern' and Philip Sparke's 'Cornet Rock'.

As mentioned at the outset, it was a real joy to watch Wire (and other bands) perform without a care in the world. Issues liking balance, intonation and playing together will come together as time goes on - the most important thing was the band wanted to be part of the day – they loved it and they'll want to compete again on the contest stage very soon. Look out for them – they are a treat!
That just left Worcester City Juniors led by Mark Oldham. The star of their programme was soloist Andrew King on euphonium who took the old warhorse 'Grandfathers Clock' in his stride with up to date digital version of the old pendulum swinger that was still nice and steadily played. It really was a bravo performance. Also included in the repertoire were 'Amazing Grace, Jock Mackenzie's 'Westbound' and the march 'City Lights' all played with just the right degree of enthusiasm and approach from all concerned. They too are another band with a great future ahead of them.
Adjudicators Geoffrey Whitham and Brett Baker praised everyone for their efforts. Yes, issues like tuning, intonation, playing together, listening together became noticeable, but the comments on the sheets were one of total encouragement for everyone to build on.
Credit to the players, conductors and MC, Peter Bates who was full of encouragement and kept everyone's spirits high. As Geoffrey Whitham did say, it really was a pleasant way to spend a Sunday morning.
Malcolm Wood
4barsrest Classifieds
Flixton Band
Due to career move, the Flixton Band welcome applications for a competent and reliable BARITONE and TROMBONE player.. Ambitio...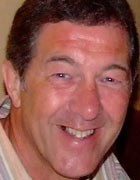 Derek Renshaw
ABBA Member
Conductor, Band Trainer and Adjudicator.