2008 European Brass Band Championships - Additional events
28-Apr-2008
Not only are the eyes and ears tuned into the Championship Section battle, but there is plenty of other exciting events going on too this year in Stavanger...
---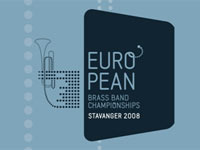 With all the competitive eyes and ears on the main contests taking place this week, there are also a number of other side events going on that form an important part of the European Brass Band Championships.
The European Youth Brass Band met last Saturday and has been practising hard for their series of concerts that will culminate in them taking part in both the Gala Concert and the Farewell Concerts.

There is also the final of the 4th European Conductors Competition, which will take place on Thursday night after 18 candidates have been whittled down to the final three.
Meanwhile EBBA will host their usual opening ceremony and press conference as well as their own general meeting on the Sunday. In addition there are also talks from the coposer of the Championship set work, Hakon Berge as well as some midnight entertainment!

European Youth Band

The players who will take part this year with the band are as follows:

Soprano cornet: Benjamin Richeton
Cornet: Jeppe Nielsen (Denmark)
Cornet: Saleem Khan (Netherlands)
Cornet: Blandine Budelot (France)
Cornet: Roeland Henkens (Belgium)
Cornet: Filip Draglund (Sweden)
Cornet: Ruth Montgomery (Northern Ireland)
Cornet: Lena Schønhardt Westgård (Norway)
Cornet: Philip Lang (Austria)
Cornet: Arturs Levics (Latvia)
Cornet: Florian Ehrlinger (Austria)
Cornet: Gebriele Menci (Italy)
Cornet: Andrin Villiger (Switzerland)
Cornet: Gustav Stenseke (Sweden)
Cornet: Nerijus Jakstonis (Lithuania)
Flugel: Elizabeth Fitzpatrick (England)
Horn: Eirin Haugland (Norway)
Horn: Michael Montgomery (Northern Ireland)
Horn: Sophie Budelot (France)
Horn: Emma Havard (Wales)
Horn: Andrew More (England)
Baritone: Bart Wouters (Belgium)
Baritone: Marine Barras (Switzerland)
Euphonium: Simon Kjærgaard (Denmark)
Euphonium: Gerd Wensink (Netherlands)
Euphonium: Chris Shanks (Scotland)
Trombone: Grégoire Sauthier (Switzerland)
Trombone: Lauris Intlers (Latvia)
Trombone: Eoin Downie (Scotland)
Bass Trombone: Chris Evans (Wales)
Eb Bass: Stefan de Groot (Netherlands)
Eb Bass: Bethan Lowri Evans (Wales)
Bb Bass: Jonathan Shaw (England)
Bb Bass: Daniel Overskott (Norway)
Bb Bass: Lauri Levistu (Estonia)
Percussion: Laurynas Vilys (Lithuania)
Percussion: Agnese Vaivade (Latvia)
Percussion: Fabian Homar (Austria)
Percussion: Johannes Andreas Sømme Ulveraker (Norway)
Timetable of Events:

Thursday 1st May
19.00-21.30:
Gala Concert and Final 4th European Conductors Competition with Sola Brass Band and EYBB followed by award ceremony with EYBB(Atlantic Hall)

Friday 2nd May

10.00-12.00: Open EBBA Brass Band Conference (Atlantic Hotel)
12.30-14.30: Opening Ceremony and Official Reception EBBC 2008 including the official draw for EBBC (Atlantic Hall)
14.30-15.00: Press Conference (Atlantic Hotel)
16.30-16.45: The Composer of the test piece talks (Stavanger Concert Hall)
17.00-22.00: European Brass Band Championships, Championship section– test piece (Stavanger Concert Hall)
23.00-00.00: Midnight Concert with Bergen Brass Band (St. Petri Church)

Saturday 3rd May

9.00-12.00: Draw for Championship section own choice (Atlantic Hotel, Munkehaven)
12.00-17.30: European Brass Band Championships, B-section (Stavanger Concert Hall)European Brass Band Championships, Championship section- own choice piece (Stavanger Concert Hall)
20.00-22.30: Grand Gala Concert EBBC 2008 followed by award ceremony (Stavanger Concert Hall)
22.30-02.00: European Party (Atlantic Hall)
Sunday 4th May

10.00-11.30: General Meeting EBBA followed by press conference (Atlantic Hotel)
12.00-14.00: Farewell Concert with EYBB and EBBC 2007 Champion, Brass Band Willebroek (Atlantic Hall)
4barsrest Classifieds
Harrogate Band
Cornet & 2nd Horn players required to join a thriving, dynamic and exciting 1st section band based in Harrogate, North Yo...