2008 National Championships of Great Britain:Time Team - Searching for the hat trick
7-Oct-2008
History repeating itself? 4BR looks at the bands who have tried, but failed to make it a hat trick at the Nationals since 1900.
---
History books not only record the great successes of life, but also the great failures too.
To win is one thing, but to lose is something completely different. To lose when true immortality beckons though is something not many people really want to even contemplate.
Elite club

The list of hat trick winners at the National Brass Band Championships for instance is a pretty small one: Fodens and Black Dyke have done it twice, whilst Cory and Desford make up the numbers in a very, very select club.
Others have tried to gain an entry ticket, but only this quartet has ever been allowed into the hallowed halls of immortal fame. To win a National once is some achievement, but to retain it twice, bestows more than just greatness.
Strangely, once it has been done, winning it a fourth time seems positively easy (both Black Dyke hat tricks were followed by a fourth win, as was Desford's), although winning it six times in a row (as Fodens did) is simply mind boggling, given the potential in any contest to throw up the unknown factors such as an early draw.
These four bands are something very special then, and on Saturday a fifth immortal member in the shape of Grimethorpe Colliery could well join them.
Tried and failed

Can they do it though? For as the 4BR Time Team has found out, many have tried and many have failed.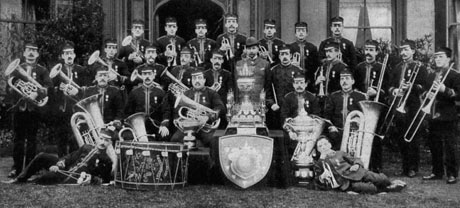 Wingates Temperance Band - 1906/1907 winners, 1908 losers

The first band to fall at the final hurdle was Wingates - exactly 100 years ago.
At the time the band was rightly regarded as perhaps the finest in the world – double, 'Double' champions in 1906 and 1907 under the baton of arguably the greatest brass band conductor ever – William Rimmer.
The contesting gods however were not quite ready to anoint a first National triple champion of the 20th century.
In the previous two years, and off the number 11 draw on each occasion, Wingates had won the famous 'Caradog Cup' with something to spare.
Perhaps the band should have known something was up when they were drawn 13 in a 16 band field, for by the time they had finished playing the test piece 'Rienzi', the judges, Charles Godfrey, James Ord Hume and Walter Reynolds only placed them 3rd.
Rimmer still had his hat trick of course, conducting the eventual winners Irwell Springs, but Wingates were broken and the following two years they didn't even make it into the top six.
Legends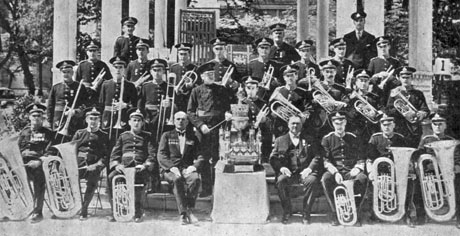 Legends but not triple champions: St Hilda Colliery

Next to try their luck was an even more famous banding name – the legendary St Hilda Colliery.
In the first contest after the First World War in 1920, the band took the National Trophy back to the North East under the baton of William Halliwell, and repeated the feat the following year for good measure, when the great man made sure he was in with a chance of personal glory by conducting five of the bands that came in the top six.
All seemed set for the first hat trick in 1922, but despite Halliwell conducting six bands on the day in a field of 14, and getting four of them into the top six, St Hilda could only manage 4th place.
The reason for their failure may well have had something to do with Halliwell's voracious appetite for conducting, as St Hilda was the sixth, and last, of the bands he conducted that September, off the final number 14 draw. Maybe even he was exhausted by the gargantuan effort.
With Fodens and Fred Mortimer making Crystal Palace their own personal contesting fiefdom in the 1930's and Black Dyke joining them in the hat trick club after the War under his son Harry, it wasn't to be until the early 1960's that a band found themselves on the brink of a triple success once more.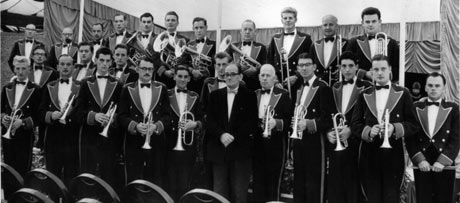 The aristocrats of CWS Manchester - double champions only

Aristocrats

CWS (Manchester) were the aristocrats of the day – a band that not many people liked, but many more respected.
Under Alex Mortimer they took the title in 1962 with a classic performance of 'Force of Destiny' and repeated the feat with even greater élan the following year – this time by a three-point margin.
With triple British Open winners Fairey not even at the 1964 finals, all seemed set for CWS to join Fodens and Black Dyke, but a combination of an inspired Stanley Boddington with GUS, and an early number 5 draw saw them finish in 3rd place.
The dream was over, and despite a couple of runners –up places in the next decade, they never came close to winning again.
Unluckiest

The unluckiest band to miss out on a chance of gaining that elusive triple membership card is surely Brighouse & Rastrick, who led by the diminutive genius of Walter Hargreaves took the National title back to Yorkshire in 1968 and 1969.
This was the time of the preposterous 'World Championship' experiment, a thought process of mind blowing naivety that led to the Excelsior Band from Holland being invited to compete at the 1969 Championships, therefore allowing the organisers to tag the 'World Champion' epithet to the National title.
As 1969 National Champion, Brighouse was therefore shunted into the 1970 World Championship Contest, which featured just seven bands (the one non British Band being Concord from Copenhagen).
The result was Brighouse neither competed at the National (won by Grimethorpe) and came nowhere in the World event either. There was to be no historic hat trick, although they did take the National crown again in 1973.
To make matters worse for the lads from West Riding, Black Dyke then matched Fodens in bagging their second hat trick in1977, whilst Cory (1982 – 1984) and Desford (1987 –1989) also took their places at the select top table.
Long wait

Brighouse had to wait their turn again – and it came in 1999.
By now Brighouse had been revitalised under the baton of Allan Withington and had won the Nationals in style in 1997 and 1998. A young band of tremendously gifted solo performers backed by plenty of experienced section players, they were odds on favourites to lift the 1999 title after being drawn 13 in a 20 band field.
By the time they had finished playing 'Concerto for Band' the old hall erupted, but with a touch of almost spiteful irony, they were refused entry to the select hat trick club by the founder member – Fodens, who to add insult to injury were winning their first National title since 1958.
Allan Withington had clearly now gained an appetite for further National success and with the Williams Fairey Band, he led them the North West band to victories in 2002 and 2003.
Final hurrah

The 2003 win was perhaps the final hurrah for the band though, as by the time they returned to London in 2004 with a possible hat trick on the cards, their inspirational MD was unable to conduct them and almost half the double winning band had gone amid stories of loss of sponsorship.
Fairey FP Music as they were now called, and under the baton of David Evans, put up a brave defence of their title but never sounded as of they were going to become the fifth member of the elite brigade of hat trick champions – they came 10th.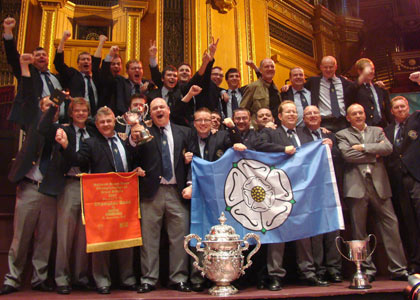 2006/2007/2008? Can Grimethorpe celebrate once again?

2008

So we come now to 2008.
Grimethorpe's stunning victories of 2006 and 2007 have set them up for what they hope will be a triple success on Saturday. Their two previous successes have come off late draws (16 and 18), so the one thing they will not want is to end up with an early slot in the proceedings.
History suggests that they may well they may just become that fifth element in the banding firmament at the Royal Albert Hall if they get that extra little touch of luck to go with their undoubted desire and talent.
It would also mean that their conductor will become a seven time winner too – an amazing achievement in its own right.
If however the contesting gods are not on their side, Grimethorpe could well join a pretty historic list of bands that have failed in their bid for banding immortality over the past 100 years. And that would hurt more than anything you could possibly imagine.
Iwan Fox
4barsrest Classifieds
Deepcar Brass Band
Deepcar Brass Band are looking for solo cornets and Bb bass to join their friendly team. We rehearse 7.15pm - 9.15pm Monday a...
NABBA
Date: 10-Mar-2017
Venue: Embassy Theatre and Grand Wayne Center. 125 W. Jefferson Street . Fort Wayne, Indiana 46802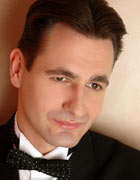 Craig Roberts
BA (Hons), MA
Conductor / Adjudicator