2009 Spring Festival - Test Piece review: Pageantry
7-May-2009
4BR looks at another great classic of the banding repertoire - Herbert Howells 'Pageantry'.
---
Pageantry - Herbert Howells

There is no doubt that Herbert Howells's suite 'Pageantry' is one of the true masterpieces of the brass band movement.

Written for the 1934 British Open Championships (although the second movement was omitted for the contest), it was a revelation at the time - a work of true English modality, but with rich echoes of almost medieval flourishes allied to exotic flair and immensely detailed technical demands.

It remains to this day a most severe test of musicianship for players and conductors alike, and as a result has been resurrected on innumerable occasions to test bands - most notably of late at the All England Master Championships in 2001, although used a few years later in the First Sectionat the National Finals.

However, since 1995 Howells's great work has undergone a little musical restoration and is no longer a work untouched.

In 1995 the piece was subjected to what it must be said was a very sympathetic and neutral bit of cosmetic surgery in the form of additional percussion writing by Philip Wilby. This was done through the request of the publishers, the then Novello and Chester Brass Band Series whose General Editor was Bram Gay.

It caused a huge furore in the banding press. Letters were sent to the British Bandsman in particular (for those of you with back copies, look around the time of issues 4813 onwards) and Mr Gay replied twice to explain the reasons why he believed the rescoring was necessary.

He stated that, "Sadly, this wonderful score includes only the simple and rather ineffectual writing for 'drums' though it makes occasional reference to timpani. This was acceptable in the days when contests had no percussion. Today it represents a handicap to the music."

Whatever your feelings on the matter - and in all honesty it was rather like putting in double glazing in Westminster Abbey - it may improve the insulation but it would do nothing for the architectural integrity of the place; it still seems a rather pointless request.

'Pageantry' was a truly great work before it's nip and tuck treatment, and although as fine a job as Philip Wilby has done, it still takes something away from what is near enough the perfect musical vehicle of a contesting piece.

The work is in three movements:

'King's Herald' an immensely detailed and virtoistic opener, the somber funereal 'Cortege' and the joyous almost playful call to arms in 'Jousts'.

In 1937 Howells recast 'King's Herald' as a fanfare prelude for the coronation of George VI (which was forgotten amid the acidity of the letter writing, and was rather spuriously used as final justification for the changes) but it is in its original form as a pure brass band test piece that it remained in its most acceptable guise.

Strangely for such a significant work, there is no 'story' or inspiration given by the composer about his work. It is dedicated to John Henry Iles and was composed in the Spring of 1934.

Again for its use at the 1937 Nationals the second movement was omitted due to time constraints.

After the performances heard by the composer in 1937 he wrote "For a composer may count with certainty on only a few superlative performances of a work in a lifetime. On Saturday (the contest took place at Alexandra Palace) I heard half a dozen in one afternoon."

He went on further to say: "Pageantry, with all its difficulties, and quips and cranks and unexpectedness has already become a new normal standard for our greater brass bands. That is a highly significant fact."

That was indeed true in 1937 as it is today - with or without the extra percussion writing.

The opening will test both the nerves, tuning and technique of the ensemble and individual whilst the beauty of the second movement should give the best bands the chance to show off their eloquence and warmth as well as the conductors ability to bring emotion and pathos to the performance. 'Jousts' should showcase the cornet players or course but it will also give the whole ensemble the chance to shine.

'Pageantry' remains a fascinating work to this day - even in its slightly amened form and as happened all those years ago, only the very best bands will master it here.

Iwan Fox
4barsrest Classifieds
Shirebrook Miners Welfare Band
Musical Director position available following 2017 Midland Area contest.. First section band with a full and varied program o...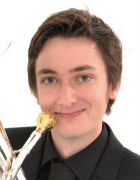 James McLeod
BMus (hons)
Euphonium Soloist, Teacher and Conductor