4BR Talking Point - Negative Equity - A new home for the National Finals?
19-Aug-2009
Is there a future for the Nationals in Kensington? 4BR looks at the pros and cons of a few alternative venues...
---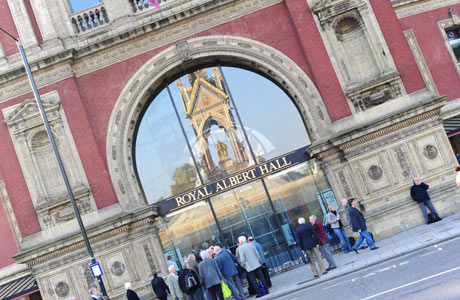 Looking for a new home? Is there a future at the Albert?
Picture: Ian Clowes

There may well come a time – and possibly in the not too distant future, when holding the National Championships at the Royal Albert Hall no longer becomes viable.
In fact, there may well come a time when holding a one off contest for 20 brass bands in any major venue that has a seating capacity over 2,500 no longer becomes viable full stop – musically or financially.
Bums on seats

Bums on seats means money in the tills – and there are not too many backsides of banding trousers that are being worn thin by sitting in a hall for 8 hours at a time listening to bands play test pieces, are there now.
Let's be realistic about things. The Royal Albert Hall is held in the affections of brass band aficionados in the same way as the old Wembley Stadium used to be viewed with rose-tinted spectacles by those football fans who turned up once a year to see the FA Cup Final.
Spiritual home

They forget that the last 30 years of its life, the 'spiritual home of football' was a run down dump of a place – an outdated concrete toilet; scruffy, overpriced and unfit for purpose. The so-called 'atmosphere' was usually enhanced by the smell of stale beer, cheap meat pies and free flowing urine running down the backs of your legs.
Despite recent renovations, the Royal Albert Hall is quickly following suit (even if the toilets are better, the beer replaced by overpriced bottles of lager, and the food costs a small fortune), and the pressure is on from the owners themselves to eek out every last bit of revenue from those who wish to use the old place too.
It comes as little surprise then that the RAH isn't even in the list of the top 20 'Best Concert Halls in the World'.
Ticket sales

The years of people queuing around Kensington Gore vainly pleading for tickets to the Nationals are long gone.
Sources reported to 4BR that not even half the tickets were sold by the time the first band took to the stage last year, and this year there have been rumours of problems getting seats in certain boxes.
The Albert Hall itself sets out to have at least 75% occupancy for events, so does the National Finals really have a long-term future in Kensington?
Many people will tell you that the start of the demise came with the hiving off of the Lower Section finals away from the Nationals day, robbing the Championship event of potential listeners.
Others though will point out that spending a great deal of money for a night in an overpriced central London hotel, only to get up at 6.00am for a rehearsal and possibly early draw, then spend the rest of the day in Soho looking at the ladies with pretty beads or getting plastered down the Mews on overpriced London Pride bitter, was always going to go out of fashion at some time or another.
An answer?

So where could the answer lie?
What about a 'Nationals rotation' – sending the event around the country, and back to London once every five years or so – a bit like the British Open Golf tournament, with the event back at St Andrews to please the traditionalists every half a decade or so.
Ten alternatives

If so, what about the pros and cons of these ten concert hall venues:
---

1. Royal Festival Hall – London
Built in 1951 for the Festival of Britain, it was substantially renovated between 2000 and 2005 and reopened to critical acclaim in 2007. It seats an impressive 2,900 people in the main auditorium.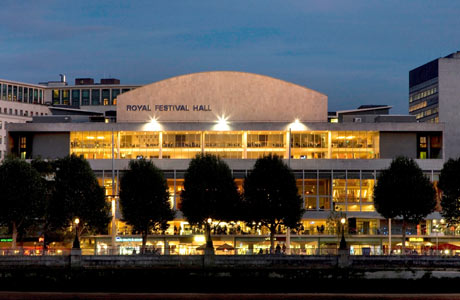 Image: Morley von Sternberg

Pros:
It's still in London, and has that bit of cache that traditionalists like – it looks good on a band's CV. Hire costs are likely to be cheaper than the RAH.
The hall is more than big enough to hold the potential audience and it's position means that hotels, restaurants and nightlife are close at hand.
Cons:
It's still in London – expensive London at that. Getting there is a bit of a bind and the facilities inside aren't that brilliant either (the seats are said to be uncomfortable and it's a skateboarders paradise outside).
Sir Thomas Beecham no less, described it as, '…a giant chicken coop', and it hasn't got the greatest acoustic either.
If you are to move from the RAH, why choose a venue that for most people is second best?
---
2. Barbican Centre – London
Built in 1982, the post modern architectural brutality of the Barbican has since won over many admirers. Its huge complex include a 1,949 seat main hall, plus a smaller theatre of 1,166, cinemas, library, conservatory and restaurants.
Home to the London Symphony Orchestra, it hosted the 1997 European Brass Band Championships.
Pros:
Big, if not beautiful, it has plenty of amenities and would be full if the banding public made the trip. The link to the LSO could be exploited by a bit of clever PR work and it does have a touch of snob appeal too.
Cons:
Another London venue that perhaps holds less affection for brass band aficionados than the Festival Hall.
Not in the greatest of places to enjoy a day out either, and a bind to get to – especially for buses and cars.
The dry acoustic has caused problems for years, its bound to be expensive to hire and getting around inside is like a mix between Hampton Court Maze and an IKEA store.
---
3. Millennium Centre – Cardiff
The iconic home to Welsh cultural activity was opened in 2004 amid much Celtic pride and little idea of just how much it was going to cost to run – something they found out to acute embarrassment a year or two ago.
Seats 1,900 in its main Donald Gordon Theatre, and the Centre itself is situated in one of the most popular parts of the Welsh capital.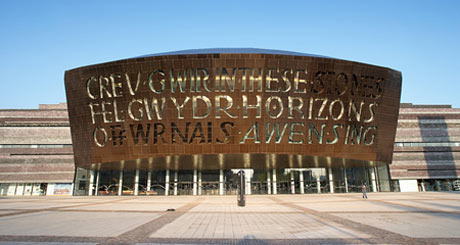 Pros:
The venue is spectacular – at the heart of the redeveloped Cardiff Bay and in a city that has a growing reputation of hosting top class cultural and sporting events.
Despite the prestige it is looking for business and can accommodate just about any type of entertainment with plenty of hotel, eating and drinking facilities close at hand. Dr Who and Torchwood geeks would love it too.
Cons:
Only sits 1,900 despite its size and the acoustic has caused a few problems. Parking is a bit of a headache. Cardiff has a growing reputation for a 'colourful' if problematic nightlife – much of it around the Bay area on a weekend.
On a fine day it's a great place to visit and mill around – if it's raining and the wind blows off the Bay, its pretty miserable – and Cardiff ain't no London in terms of other attractions.
---
4. Royal Concert Hall – Glasgow
Opened in 1990, Glasgow's premier cultural venue seats a mighty 2,475 people and has built for itself an international reputation.
Home to the Royal Scottish National Orchestra, it also boasts facilities such as an additional 500 seat Strathclyde Suite, Exhibition Hall, cafes and restaurant.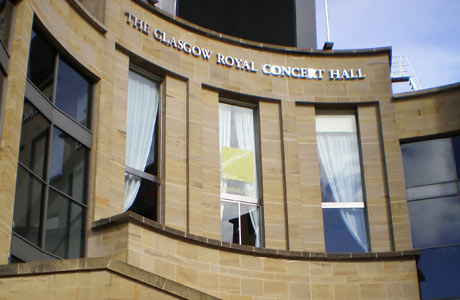 Pros:
Very much the above, plus it's in the centre of Glasgow and has plenty of things to see, visit and spend your money on close at hand.
Cons:
The acoustic has been criticised from the word go and it has had it's fair share of critics due to it's cost.
It was used for the Scottish Open a few years back and local interest was negligible. For all the mock grandeur, it's still a pretty unimpressive bit of architecture and lacks atmosphere. It's not that easy to get to either. It's in Glasgow.
---
5. Usher Hall – Edinburgh
Opened way back in 1914, it has been substantially redeveloped over the last decade or more with plans for further changes and upgrading.
Seats 2,129 people and is revered as a landmark building in the Scottish capital.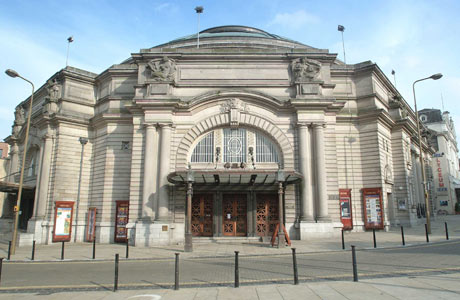 Pros:
Fine acoustic, lovely design and decoration and seats plenty. Has housed different events over the years too with success – from heavy metal concerts to boxing at the Commonwealth Games.
Has a distinct sense of grandeur and snob appeal and is in a decent part of town.
Cons:
Still under re-devolvement – the second part of which was to cost £11 million, and there is more to come before it's finished.
Not that great to get to for buses etc, and the European that was held there in 1984 was a bit of a damp squib. The Scots equivalent of the RAH – but not as big or famous but with many of the same inherent problems.
---

6. Symphony Hall – Birmingham
The cultural pride of the Midlands – the bespoke concert hall that is home to the City of Birmingham Symphony Orchestra and hosts numerous high profile events throughout the year – including the British Open.
Opened in 1991 and seats 2,262 people in its main auditorium.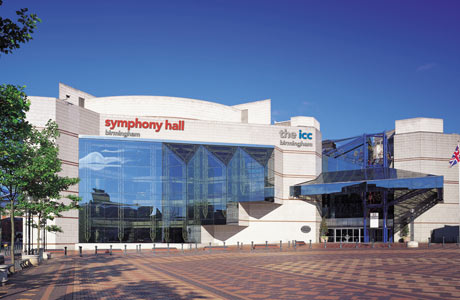 Image: Symphony Hall/Mike Gutteridge

Pros:
A fantastic 21st century concert hall, with all the gubbins and facilities that go with it.
Has held the British Open for over a decade (and the European) and is close enough to keep the hungry, thirsty and bored happy. Has a bit of artistic cache to go with the bling.
Cons:
A second brass band contest at the same venue within two months of each other? Not likely.

Expensive to hire, and real problems with access for buses especially. As the Open has shown over the last couple of years, the demand for seats for a brass band contest here isn't in excess of the supply either (think of the European).
---
7. St David's Hall – Cardiff
Opened in 1982 by Princess Diana, it boasts '…the 6th best concert hall acoustic in the world' according to its website.
Home to the BBC National Orchestra of Wales and Cardiff Singer of the World Competition, it seats 2,000 and is situated in the heart of Cardiff's commercial retail area. Has put on the European Brass Band Championships before.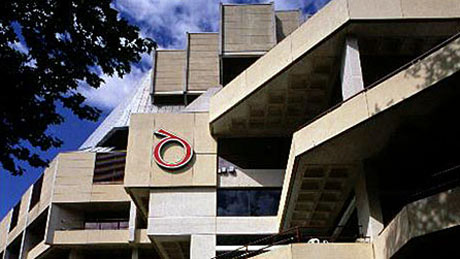 Pros:
A fine hall with a deserved reputation for its acoustic and facilities. Used to putting on big events and does attract a fair bit of local media attention that fills the airwaves of the Principality.
Not as expensive as the Millennium Centre either and is bang on the doorstep of a night out in the Welsh capital.
Cons:
Not the Millennium Centre on Cardiff Bay – and an absolute bugger to get to or even find if you don't know Cardiff like the back of your hand.
Bus parking is virtually non existent and car parking expensive.

If the contest is on the same weekend as something at the Millennium Stadium over the road then forget it. Local nightlife can be frightening at times.
---
8. Bridgewater Hall – Manchester
Opened in 1996, the hall seats 2,341 people on four different levels.
Home to the Halle Orchestra and BBC Philharmonic, it held the British Open in 1996 and has since become the home to the Great Northern Brass Arts Brass Festival.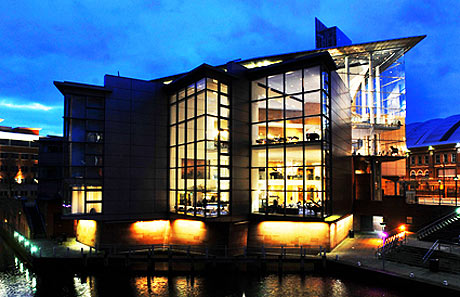 Pros:
A return for a major brass band contest to Manchester – the spiritual hometown of banding in the UK.
Affordable and used to hosting bands too, it has excellent soundproofing (workers didn't even hear the IRA bomb that went off half a mile away in 1996) and communication links are decent. Can hold the numbers if demand is there.
Cons:
Holding the British Open here was seen as a failure due to the perceived lack of exhibition facilities for traders to do decent business. The acoustic too was deemed to be a bit fruity for bands liking.
The hall appears to be off the beaten track somewhat from the throbbing heart of the city and all day 'comforts' are few and far between locally. Bus parking seems difficult and the nightlife can be a touch frenzied.


---
9. Royal Concert Hall – Nottingham
The Royal Concert Hall was opened in 1982 at the cost of £12 million and seats 2,499 people in its main auditorium.
Was used to host the 1987 European Brass Band Championships and has built up an impressive cultural reputation.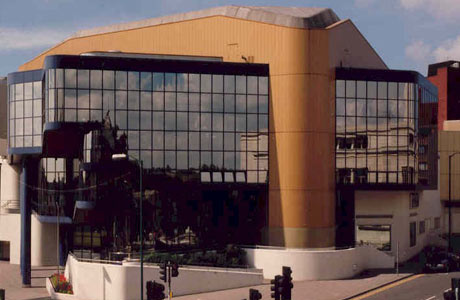 Pros:
A big, modern venue with excellent communication links and a reputation for putting on high profile events very well.
The main auditorium is state of the art with a 38 tonne hydraulic acoustic canopy that can be raised and lowered to suit the performers on the stage. Cheaper to hire than you may think thanks to the link to the local council. Has put on the European Championships in the past.
Cons:
It's in Nottingham – not exactly the Venice of the North and a city that doesn't exactly get the synapses twitching in excitement, even if they do now boast Sven Goran Erickson amongst it's current residents. Big, bold, but a bit nondescript for the traditionalists.
The last time the brass band movement came to the Hall things ended in disaster – and the locals may not have forgotten just how badly certain people behaved.
---
10: De Montfort Hall – Leicester
Opened way back in 1913, the 2,000 seat hall has been a mainstay of cultural life in the region for close on a century. Also has two smaller suites on site.
Has been refurbished in the last 15 years and is home to the Philharmonia Orchestra. Is situated fairly centrally in the city close to the railway station, Leicester rugby ground and the Royal Infirmary!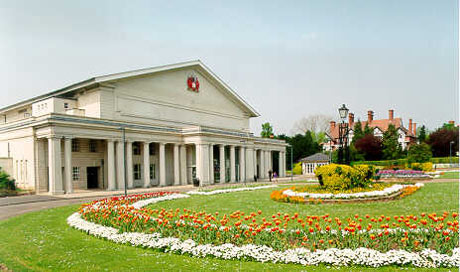 Pros:
A lovely old hall in its own grounds that has built up a deserved reputation over the years for the diverse cultural and musical activities it promotes.
Not that expensive to hire we suspect given its local authority ownership, and has a flexible seating auditorium. Easy enough to get to.
Cons:
Built in 1913 and it shows – despite the renovations it lacks the modern facilities that make other halls a much better visiting and listening experience. It has been unable to really rid itself of its provincial image and lacks that touch of grandeur that the Royal Albert Hall has in spades.
Will the thought of a weekend in Leicester really raise the hairs on the back of the neck for players and supporters alike?
---
Other contenders:
Waterfront Hall - Belfast: Modern and accessible and in a vibrant city. Seats 2,223. Used for the 2005 Europeans, but local interest in that event wasn't great and the cost of transporting the bands counts against.
The Sage - Gateshead: Iconic venue on the banks of the Tyne, and close enough to plenty of the type of facilities that can guarantee a good weekend away. Sits only 1,700 and is a bit isolated perched up on the side of the river. Stag night revelry in the Big Market may put a few people off an overnight stay.
Leeds Town Hall: Opened in 1858 and has all that Victorian splendour that the RAH has in abundance. Sits just 1,600 though and the facilities are not really up to the mark against its rivals.
Guild Hall - Portsmouth: Imposing venue that seats 2,000. It's in Portsmouth though…
Butlins – Skegness: Not perhaps for the Nationals, but it offers all you need to keep people happy and entertained long into the night. A possible venue for the Lower Section finals in year's to come…
ICC – Birmingham: OK for car shows, Madonna or WWF wrestling (its seats 2,266) – but brass bands?

O2 Arena - London: Let's be serious folks, although there are 50 dates available after a certain Mr Jackson's demise…
New venues

As for any new venues on the horizon?
No real big projects in the UK as far as we know, although Birmingham will have a new concert hall around 2012, but only sitting 450 people.
All the real big iconic venues have been, or are, are being built abroad – from the amazing Walt Disney Centre in Los Angeles, to Jean Nouvel's 600 million Euro Copenhagen Concert Hall complex.
Even that well known holiday destination for Brits, Lanzarote has a new 900 seat Palacio de Congress.
So why not the Nationals in Europe or the USA for a change?
Iwan Fox
4barsrest Classifieds
Milton Keynes Brass
MK Brass would be pleased to welcome a front row cornet player to join us. Rehearsals are on Tuesday evenings in Loughton, MK...
Unibrass 2017
Date: 18-Feb-2017
Venue: King's Rd, Harrogate HG1 5LA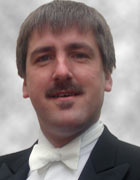 David A. Stowell

Conductor and composer