2009 Midlands Regional Championship - Fourth Section - retrospective
19-Mar-2009
21 bands will have been glad to have seen the back of 'The Talisman' - although the top three heading for Harrogate may just disagree...
---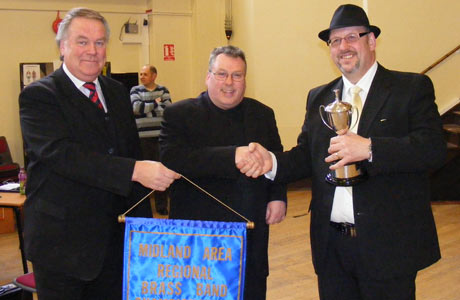 Hats off! Not quite for Whitwell as they take the Fourth Sectionin some milinary style

On Sunday 21 bands lined up with the incredibly daunting task of performing 'The Talisman' 'for the consideration of adjudicators David Hirst and Derek Southcott.
I am sure that to a man (or woman) they all gave a huge sigh of relief when their performance was over and they could consign "that piece" to the darkest dusty corners of their library cupboards.
Not again

I do not want to criticise anyone for choosing this music for the contest, after all every other section had a great piece to play. Just don't do it again that's all, right!!! The audience showed their appreciation of the work by being mainly absent from the hall all day, with the exception of the last performance.
A huge change from last year when with a good piece to listen too; extra seating had to be provided by the organisers for the eager audience. Test piece selectors please take note. It may be a contest but it has to work on a few different levels.
Test the bands, make it interesting and challenging to play, make sure a fair and reasonable result can be arrived at, and entertain and engage the paying customers, the audience.
However the contest was on and the judges were ready and waiting to do their best to sift through the bands to get a result.
On Top
Coming out on top were Whitwell who had a purposeful performance, some good soloists, the soprano in particular. The over all effect throughout was a well-balanced performance with the technical difficulties in the last movement dealt with very well indeed.
The last chord of the piece was terrific and provided a superb finish to an outstanding attempt to play this piece. MD David Fretwell must be a proud man indeed.
Pushing all the way

Pushing them all the way in second place was Dronfield CMW with a solid performance of some merit. Clear simple effective direction from MD John Davis got the most from this band.
Good band sound, expressive solo cornet playing with a soft bass drum accompaniment for once (sounds bonkers but true folks) and a real attempt to find some music in the piece. Some odd scrappy stuff and a few intonation issues tipped the balance ever so slightly in the favour of Whitwell. A very tight call that one.
Fairfield (Buxton) was last band on and played to a fairly full hall. Theirs was a performance of musical style rather than technical perfection. Attention to the rhythmic detail and dynamic shifts was excellent.
Balance

The balance in the sounds was a feature in the basses and the fiendish short second movement was possibly the best overall on the day musically. Some good soloists, an awesome sounding bass trombone, good percussion and man of the match soprano added to the plus points of this performance.
Some individual scratches here and there, odd bits of looseness and tuning were enough to see them slip to third place but the final qualification place was assured.
These three bands will represent the Midlands Area in the National Finals in Harrogate. If they show the same commitment to the cause as they did on Sunday in the finals hopefully they will do very well there.
Just missed out
Just missing out were Rolls Royce (Derby) who gave a performance of purpose with many highlights. A good start; rhythmically fine mostly, excellent percussion and some good quality solo playing in particular the solo horn whose sound we thought was top class.
However even though MD Graham Cardwell kept excellent control and showed dynamic contrast throughout there were the odd lapses by some individuals in terms of balance and technical approach that just may have caught the attention of the adjudicators and given them the excuse to place this performance outside of the qualification places.
Close very; very close.
Committed

Ireland Colliery Chesterfield of the dreaded number two draw played well. This was a committed performance with a big band sound, superb solo cornet and some top class EEb bass playing a feature.
This was slightly undermined by some rhythmical, technical and balance problems that appeared now and again.
In sixth position were Rushden Town who started well and created atmosphere in the music. The MD Peter Vine was thoughtful in his musical approach, but some intonation and rhythmic problems gave the judges reasons to mark it down.
Out of the top six
Croft Silver ended up on top of a group of bands that played to a similar standard and although the band played with commitment some musical licence was taken in this performance that found no favour with us or the judges, technical and rhythmical issues helped the adjudicators make their decision.
In a creditable eight place the very young Thoresby Youth enjoyed a good opening. The sensible tempo allowed them to play the technical passages cleanly. Good rhythm and dynamics kept this at the top of the field.
The euphonium, flugel and soprano all did very well, but the technical difficulties and the odd bit of tuning kept this performance out of the top six.
Debut performance

Ceramic Brass made their debut this year. Their website declares that they are the friendliest band around. After an early trombone entry on the very first note we were left wondering if that would still be the case after the performance.
Good soloists were a feature of this performance but intonation and rhythmic difficulties conspired against them, ninth was a fair return for this new outfit.
Bestwood Black Diamonds came in tenth with a performance that started well but fell away as it went along. The second movement started really well but intonation and some disjointed playing put them down the field.
Slight disagreement

Our one and only slight disagreement with the adjudicators came with Shipston Town who drawn number one, played a solid band and showed good attention to detail. Some excellent individual contributions made this a very good marker.
Tuning and ensemble problems were punished by the judges, but very severely in our book. Eleventh was the meagre reward for this performance. If they continue playing to that standard whilst concentrating on the few issues their rewards will come.
Off the pace
A few bands had more difficulties than the others that kept them off the pace. In twelfth place was Ilkeston Brass with a slightly lacklustre performance for this experienced looking band.
Coming next in the table were Ratby Cooperative who despite some expressive solo playing had technical, tuning and balance problems in their performance. Pleasley Colliery Welfare suffered technical and rhythmical problems which took their toll but featured a star solo cornet player.
Trentham Brass in fifteenth did well in terms of trying to get a performance out of this difficult piece, but again despite some good individual work particularly the trombone, confidence seemed to be an issue.
Malvern Hills and District had a very mixed showing, they found the first movement a challenge and struggled to get the music out of the second, but the thirds technical challenges were met head on and despite a sparkling contribution from the soprano, came home in sixteenth place.
Bottom reaches
The rest of the bands suffered problems with the technical demands of this piece, there were also ensemble and tuning issues aplenty, but each performance had the odd golden nugget in it that gave the judges something to consider and also gave the bands something positive to build on.
Corby Silver boasted a young percussion team and a trombone player who were excellent, whilst Newhall had good musical flow throughout and the horn section produced a great sound in the last movement.
Melton had a few shaky moments, but the solo cornet and the excellent flugel shone brightly for them. Market Rasen RPC who in MD Steve Askew had the musical picture well laid out but a series of individual errors and accidents put paid to his preparation and thought.
Nerves

Finally Burbage Silver making their debut appearance suffered from a few nerves and the odd wrong entry here and there. However the soprano and flugel were both good and there are better contest days to come in the not too distant future we're sure.
A fair result all in all from the experienced men in the box who before the results expanded on the criteria for their decision making on the day. They were looking for musical lines, technical competence, clarity and rhythmic security.
They acknowledged the difficulty of the test that this piece provided for the bands, they felt that all "did it justice" They thanked the top six bands for their efforts the top three particularly.
Concerns

There were concerns raised by some bands officials concerning placing bands with no points given. I must say that in this particular case, points would be of no significance at all, because there wasn't a twenty one points gap in the standard between first and last, it was much, much closer than that.
To award Whitwell say 180 points and Burbage Silver 159 points in the bottom spot would be a huge insult in our opinion.
Quite frankly in a field of this size, perhaps the top six places should be announced and the rest of them kept in the safe keeping of the judges. Just a thought that's all.
Mike Kilroy
4barsrest Classifieds
Burnham and Highbridge Band
Burnham and Highbridge Band are in search of an enthusiastic Musical Director.. . We are a non contesting band, however looki...
NABBA
Date: 10-Mar-2017
Venue: Embassy Theatre and Grand Wayne Center. 125 W. Jefferson Street . Fort Wayne, Indiana 46802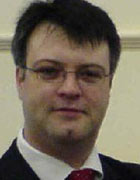 Gary Davies

Conductor, Band Trainer, Adjudicator