BBC Radio 2 Young Brass Soloist Final - retrospective
23-Feb-2010
Malcolm Wood reports from the RNCM on a night when bucket loads of character and talent saw Matthew White become an extraordinary BBC Young Brass Soloist winner.
---
RNCM Concert Hall
Manchester
Saturday 20th February
Finalists: Jonathan Bates, Zoe Hancock, Ben Richeton, Matthew White
Accompanied by the Black Dyke Band
Conductor: Dr Nicholas J Childs
Presenter: Frank Renton
---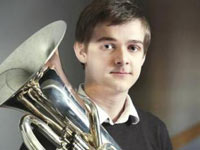 It has been said that the possession of iron willed personal character is the foundation for future success. All other things are transient in comparison.

If that is the case, then Matthew White certainly has character by the bucket load.

For the third time on Saturday night, the young euphonium player of Pemberton Old DW Band walked on stage looking to win the BBC Radio 2 'Young Brass Soloist' title.

In the previous two finals, Matthew was unlucky that he was up against two remarkable winners (Ben Thomson and Stephen Sykes) but on this occasion he showed that he was the truly outstanding performer – and a deserved winner of the prestigious award.

The relief on his face at the end may have been palpable, but it was joyous too.

Experience

Matthew ensured he came to the Royal Northern College of Music with a steely resolve, and that little bit of extra character building 'know-how' helped him when it mattered most.

He is a wonderfully talented performer, who's playing has developed immensely in recent years. A familiar 'guest' with many top level bands (he played with Desford at Butlins earlier this year) his musical personality is one of maturity and intelligence.

Extraordinary challenge

The 19 year old seems to relish the challenge of difficult pieces. On this occasion, he opted for the 2nd and 3rd movements of Peter Graham's 'In League with Extraordinary Gentlemen' and chatting with compere Frank Renton afterwards, the winner said that it was a piece he wanted to play as soon as he'd heard it.

Playing last of the four challengers, Matthew rose to the challenge superbly – with a quite 'extraordinary' performance.

Technically flawless, he brought the music to the fore with a sense of panache that never subdued the character of the Victorian adventure seeking protagonists.

It was terrific playing - bubbling with vibrancy, yet always with a tight leash of control. It was a formidable performance, worthy of victory.

The judges, Richard Evans and Philip Cobb were left suitably impressed too, with Richard telling 4BR after the announcement of the results that Matthew possessed that almost indefinable quality that can be summed up as that, 'little bit extra'. He was not wrong.

Privilege

Philip told the audience: "It was a privilege to sit and listen to the four finalists. There was some fantastic technique on show as well as some really musical, really hairs standing up on the back of the neck moments as well'.

Richard echoed his colleague: "These were wonderful soloists, producing technique, sound and style that was well above their years." Richard also took the opportunity to praise his fellow judge, who aged 22 now sits in the same seat (co-Principal Trumpet with London Symphony Orchestra) once occupied by his best friend, Maurice Murphy.

Now that's where character and sheer talent can take a young performer.

In addition to the accolade gained from victory, Matthew will now go on to perform live with the BBC Concert Orchestra on Radio 2's flagship music programme 'Friday Night is Music Night'. He won't be short of bookings for other concerts either.

Pride

The fact that all four finalists currently perform with Championship Section bands reinforced the impression of quality on show, and whilst the winner had that 'extra' touch of class on the night, the remaining performers can be proud of their efforts.

Superb Bates

At just 14 years of age, Jonathan Bates was the youngest contender, but showed a remarkable degree of musical maturity in opening the competition.

With few signs of nerves, the Brighouse & Rastrick player demonstrated his unquestionable potential. The confidence in his own ability was clearly evident during his three pieces: Goedicke's 'Concert Etude', 'Rainforest' from 'Windows of the World' and 'Capriccio Brilliante'. The National Youth Brass Band of Great Britain player will no doubt compete in this event again. The building of a future winner's character took an enormous leap forward on Saturday night.

Hancock's Rainbow

On just about any other occasion, Zoe Hancock could have become the second Tredegar Band player after Stephen Sykes last year to take the title.

Zoe is already a very accomplished performer with a subtle appreciation of style and nuance, as showed during her renditions of the of the Judy Garland classic, 'Over the Rainbow' and Philip Sparke's 'Song and Dance'.

The quality of her phrasing, and shaping of the melodic line were features in what was a recital that perhaps came closest of all to pipping Matthew White.

Richeton challenge

Young Frenchman Benjamin Richeton is currently enjoying playing with Grimethorpe Colliery Band and has already forged a growing reputation in Yorkshire as a fine exponent of the cornet - be it Bb or Eb.

Slightly built but possessing a wonderfully full fat tone, he delivered a facile performance of the challenging 'Jubilance', which grew in stature after a slightly hesitant start.

With all the basic requirements of technique and tonality in place, this boost to his performing character will surely see him return to this final again.

Dyke in concert mode

Whilst the judges went to make their decision, a short programme by Black Dyke entertained the capacity audience.

Understated when required during their accompaniment of the soloists, the National Champion upped the gears and the dynamic (which was considerable at times) during their solo spot.

Soprano player Paul Duffy performed 'Only for You' written for him by Paul Lovatt-Cooper, which showed just how versatile a soloist this young man is fast becoming.

Winner

All that remained was the announcement of the winner.

Frank Renton, who hosted the evening in his typical polished manner talked to the 2009 winner Stephen Sykes about what winning the title had meant for him in the past 12 months, before making the announcement to who would follow in his footsteps.

2011

Although there was no formal announcement about the competition for 2011, the success of the competition is such that not even the credit crunched BBC could possibly deny another remarkable young performer like Matthew White the chance to show their musical character to the world.

The competition's final will be aired on BBC Radio 2 on Friday 26th February at 9.30pm and afterwards via www.bbc.co.uk/radio2 or courtesy of the BBC iplayer. It's certainly worth a listen.

Malcolm Wood
4barsrest Classifieds
Thoresby Colliery Band
First Class Percussionist required for this progressing Championship Section based in Clumber Park in North Nottinghamshire. ...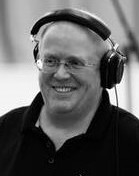 Sandy Smith

Conductor, teacher, adjudicator and arranger