2010 Scottish Championships - Fourth Section: retrospective
22-Mar-2010
Plenty to enjoy on a great test piece and a fine winner in Glenrothes as Dumfries head for Harrogate as champion.
---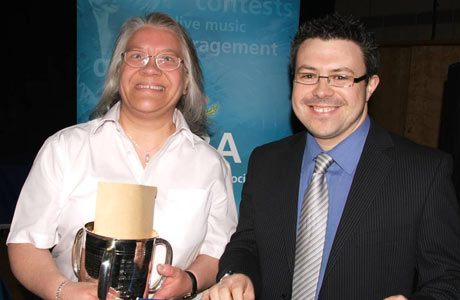 Thanks Dave: David Thornton presents the winners Dumfries with their trophy

Although there were only the six bands to take to the stage in the Fourth Section, there was plenty for adjudicators Nigel Seaman and David Thornton and the audience to enjoy.

Improvement

The overall standard of playing was an improvement on last year, due to a much better set work that didn't unduly punish developing and sometimes fragile bands such as these, and a healthy, vibrant approach by the MDs to the music.

That said, the standard still wasn't great. It is frustrating that despite the fine work SBBA has done in encouraging youth development in Scotland, the benefits at the grass roots of the contesting tree are taking time flourish.

Those overall benefits will undoubtedly arrive over the next few years, but at the moment they remain very much in the promising embryonic stage.

It is doubtful whether either winners Dumfries Town or runner up Langholm Town will go to Harrogate as one of the pre contest favourites on the evidence of their performances here, but it was encouraging that they will go after gaining a substantive confidence boost by their qualification.

Generous

David and Nigel were generous in their assessments on 'Saint Saens Variations', but made telling remarks about not only getting the basic right, but also trying capture the right style and feel for the music. Very much an ensemble work, the need for balance and detail was crucial.

Peter Heyes and Dumfries certainly did that in a fine performance from a band that has benefitted from an influx of youth. Well over half the band still looked as if they would have to produce ID to gain a celebratory drink in the bar after the announcement of the results.

A good opening gave confidence, and whilst there were odd moments of poor tuning and a few clips, there was a flow and sense of growing excitement, with a closing section that was well paced and delivered.

Return

For Langholm Town it was a return to the contest stage to remember, as Alan Fernie once again worked his particular brand of magic and drew a colourful, vibrant account from his band to claim the second Harrogate berth – and all off the number 1 draw too.

Although lighter in tonality that their rivals, the balance of the band was well maintained, and despite stamina waning in the final few bars, the closing section in particular was played with a vibrant stamp of enthusiasm.

These two bands were a good length or two ahead of the rest of the field, although each of remaining four contenders will have left pleased with their efforts.

The more mature Tayport Instrumental followed the eventual winners onto the stage, and whilst there were a clutch of errors and slips, they maintained an enthusiastic approach to the music under the baton of Frank Culross to come 3rd.

Ponder

4th placed Penicuik Silver may just ponder on an opportunity lost by the choice of a fairly deliberate tempo at the start, which took a while to bring the music to vibrant life. Thereafter it had its moments, but a little too late to push them close to the qualification places.

Queensferry Community rounded off the contest with a brave effort from a very young band under the command of conductor James Anderson. The inexperience did show at times with some wrong notes and a few nerves, but overall it was a performance of rich promise.

Encouraging

Finally, Dysart Colliery, who as yet haven't quite benefitted from the influx of youth that their rivals enjoyed. Still, the experienced band offered an enthusiastic approach that belied many of their player's years, although the fragility in solo lines and poor tuning ultimately undermined their effort.

Encouraging signs then in the Fourth Section – even if at present the fledgling shoots of recovery are fragile and in need of further support.

The long-term future does look bright, but Harrogate in September may be a bit of a reality check.

George Black
4barsrest Classifieds
Stannington Brass Band
Stannington Brass Band, Sheffield. 2nd Section National Champions, and now 1st section. Ambitious, sociable band. MD Derek Re...
Unibrass 2017
Date: 18-Feb-2017
Venue: King's Rd, Harrogate HG1 5LA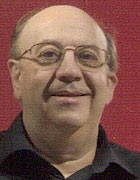 Alwyn Green
LRAM, LTCL
Conductor, composer, arranger, adjudicator, teacher and soloist