A day out in Taunton - 4BR spends a day with the National Youth Band of Great Britain
8-Apr-2010
4BR spends a day with the talented young players of the National Youth Band of Great Britain as they work hard and enjoy themselves on their Easter Course in Taunton.
---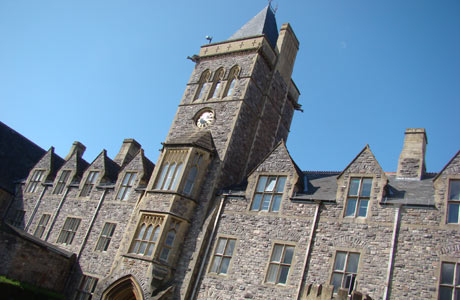 Taunton Towers: The National Youth Band meets at Taunton School this Easter

Course administrator Philip Biggs is just finishing off chairing a tutors meeting, where the day's activities on the 2010 Easter Course of the National Youth Brass Band of Great Britain are discussed and planned in minute detail.

A pale yellow sun seeps early summer warmth on the young players as they casually make their way to the various rehearsal rooms dotted round the splendid Taunton School complex.

Relaxed

There is a relaxed feeling about the day ahead, simply because the previous 24 hours have been a bit of a lip sapper – almost 10 hours of non stop rehearsals and sectional practice as Dr Nicholas Childs and his team of tutors start to build on the foundations of an ambitious programme of music which will be performed at concerts in Yeovil and Cheltenham on the weekend.

Just as Philip instructs staff on their duties, a sense of bubbling enthusiasm starts to be felt as the first warm up scales and tepid timpani notes are heard echoing into the Somerset air.

There is no full rehearsal until later in the evening so a bit of R&R then in the form of a series of masterclasses from the course tutors focused on performance technique and the development of tailored practice regimes.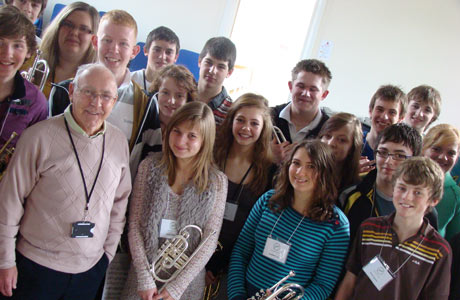 John Berryman leads the cornets in sectional rehearsal

Opportunity

There is though the opportunity for a number of the 79 young players to pit their competitive wits against each other in the Katie Ogden solo competition, with the winners from each instrument category going on to play in the Harry Mortimer Concerto Final as part of the Youth Band's Summer Course at Repton School later in the year.

A few hours later, and you are left with a real appreciation of just how remarkable an opportunity the National Youth Brass Band gives teenage brass and percussion musicians. You also find yourself in full agreement with Philip's view that the overall standard of the band is now without doubt the best it has ever been.

"I have to say that ever since we organised regional auditions in 1999, the overall standard of the band has improved remarkably," he says. "We now are able to reach out and attract the cream of Britain's young brass and percussion players and that's reflected in the performances the band now produce."

The National Youth Band of Great Britain was formed in 1952 under the guidance of Denis Wright and celebrates its 60th anniversary in 2012. It is hard to imagine that even this particularly enlightened man would have envisaged the band reaching that landmark in such a vibrantly healthy manner, when he led the inaugural course all those years ago – although you suspect he would have been delighted.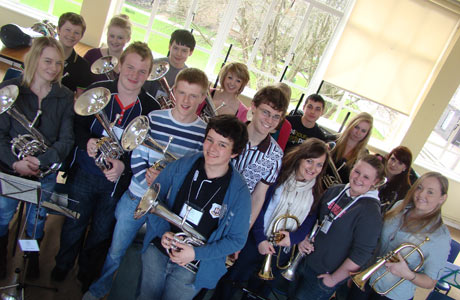 Horns a plenty: The National Youth horns

Famous performers

Many a famous performer has been a member over the years – from the likes of Maurice Murphy and Philip McCann through to David Childs and Richard Marshall, both of whom are an integral part of the current course.

In addition, a little known percussionist called Max Beasley played a few years back before he went on tour with pop star Robbie Williams and become one of the country's best known television actors.

So who knows what the future holds for the 79 players on the 2010 course – all between the ages of 13 and 19 (and with 26 debutants) who will tackle demanding works such as 'Vienna Nights' and 'The Age of Kings' as well as classics of the repertoire such as Dean Goffin's 'Rhapsody in Brass', and accompany the guest soloist, David Childs.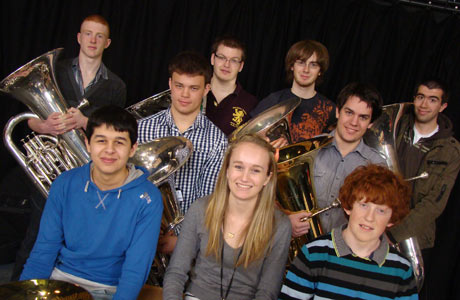 National Engine Room: The tuba section line up for action

Frightening potential

This year the band is directed by Dr Nicholas Childs, and the MD of Black Dyke is in no doubt that he is conducting some very talented performers.

"I'm amazed by the standard," he said. "To think that some of the pieces we are playing test the very best bands in the world, the potential on show is frightening!"

That opinion is endorsed by the tutors themselves, as John Maines pointed out when he led 4BR around the various masterclasses.

"It's wonderful to see the players grow in confidence throughout the week," John said. "Some of them are a bit shy when they first come here, but they soon make friends and the encouragement they receive from the tutors and the support they get from their peers is priceless."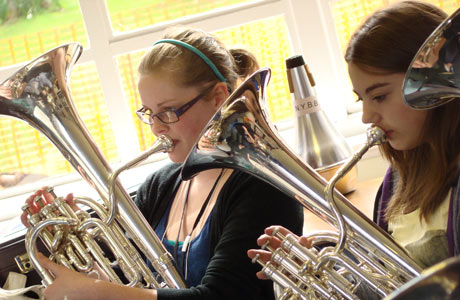 Twin baritones concentrate for Bob Childs

Memorable day

The band has already enjoyed a memorable day under the baton of Principal Conductor Bramwell Tovey, who drove through the night from an appearance with Opera North at The Sage to make it in time for breakfast.

John Maines enjoyed it too. "The response to Bram was amazing. Just knowing that he drove all night from such a prestigious concert to come and conduct them seemed to bring out the best in everyone."

Building on that memorable appearance is an essential part of the job of the course tutors, with Foden's John Barber, opting for a very individual approach that chimed perfectly with the group of trombonists under his wing.

A round robin rendition of 'Old McDonald had a Farm' may seem a touch odd at first, but the quick fire format (not unlike a student pub game it must be said – which perhaps sheds light on why it proves popular with his batch of late teens) bonds his section together brilliantly – so much so that the two first trombonists had previously taken the flak from Maestro Childs for helping out their solo trombone collegue in an effort to save his lip.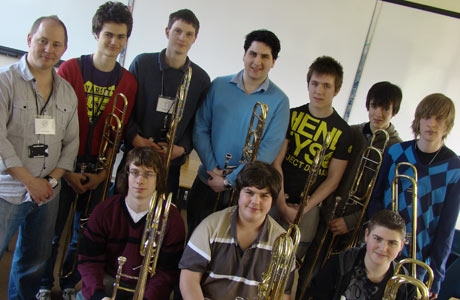 John Barber and his farm hands...

Banter

The playful banter between the players and the tutors does have an underlying note of respect though, as John pointed out himself over lunch. "They soak everything up. Ask them to try something out, challenge them even, and they respond brilliantly. You can laugh and joke and have plenty of fun, but they want to learn, and that makes it such a pleasure."

In another room Lesley Howie imparts little nuggets of wisdom to her group of flugels and horns, whilst Bob Childs makes sure the euphoniums and baritones know exactly what it takes to become a great player by showing them just how its done himself.

Phil Goodwin stokes up the bass end engine room further along the corridor, whilst Richard Marshall and John Berryman lead the cornets though a enlightening session on how to construct a solo performance. Also enjoying themselves are the team of percussionists, who are put through their paces under the command of Simone Rebello.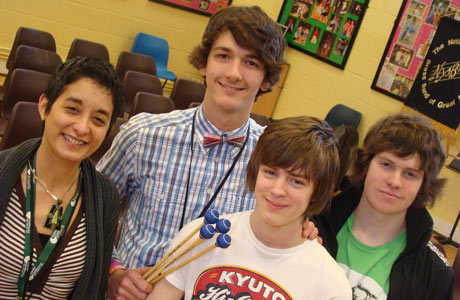 Simone and a trio of her percussion team

Great support

After lunch it's the serious, if informal, business of the solo competitions (there is great support from non playing students)

The 29 players offer an amazing smorgasbord of ambitious repertoire, all delivered with an accomplished aplomb that belies their youth. Eventually, James Fountain, Chloe Abbott, Hannah Drage, Nicholas Birch, Jonathan Hunt, Joshua Flynn and Ashley Clegg get the nod and will join reigning champion, Zoe Hancock, in the Harry Mortimer Concerto Final which will take place on the Summer Course later in the year.

That will be some final.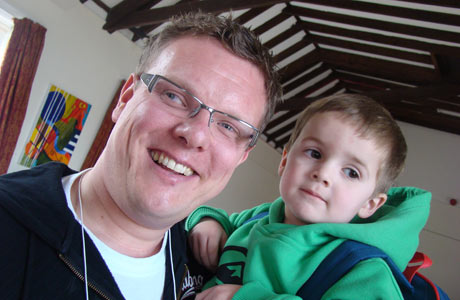 The future generation? Richard Marshall and his young nephew

Future generations

With the afternoon at an end there's just enough time for Philip Biggs to put his feet up for half an hour before its back to organising the evening rehearsals.

More hard work – but something of a labour of love for a man who revels in providing just the right environment to nurture the future generations of the banding movement.

"Hopefully it's been a week the players will never forget," he states, before making sure he adds, "…but I think it's going to end with two fantastic concerts."

You can't help but agree with him yet again.

Iwan Fox
---
National Youth Band of Great Britain: Easter Course Concerts

The National Youth Brass Band of Great Britain conclude their course with what are certain to be a spectacular concerts on Friday 9th April at The Octagon in Yeovil and Saturday 10th April at Cheltenham Town Hall. Both concerts start at 7.30pm.

The concerts will be directed by the Guest Conductor for the course Dr Nicholas Childs and the Guest Soloist will be euphonium virtuoso, David Childs.

The telephone numbers for tickets are as follows:

The Octagon, Yeovil - 01935 422884 and the Town Hall, Cheltenham 0844 576 2210.
4barsrest Classifieds
Mossley Band
Mossley Band (MD Duncan Byers) are looking to recruit committed Front Row cornet, Solo Trombone and Tuned Percussion players ...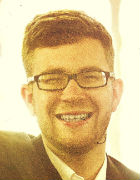 Dave Collins
BA (Hons) (Dunelm) I, FSCO
Composer and Arranger