2010 European Brass Band Championships - Day 2: European Soloist Final
3-May-2010
Selection of photographs from this year's European Brass Band Championships from Day 2.
---
2010 European Brass Band Championship
European Soloist Final
Pictures by Ian Clowes



The Winner: Glen van Looy, Euphonium (Belgium)



In performance: Peter Meechan's 'Three Stories; Three Worlds' Concerto

The Runner Up: Katrina Marzella, Baritone (Scotland)



In performance: Martin Ellerby's 'Baritone Concerto'

In Third Place: Harman Vanhoorne, Cornet (Belgium)

In performance: Torstein Aagaard-Nilsen's 'Cornet Concerto'

Taking the applause: Glen Van Looy wins the 'Band Prize' & 'Audience Prize'

5th European Solo Champion: Glen van Looy

The Awards: Soloists and Adjudicators
4barsrest Classifieds
Dronfield Genquip Band
We are a Yorkshire 3rd Section Band conducted by Rob Straw and require the following players:. . Front Row Cornet. Trombone. ...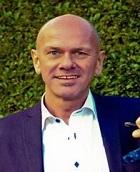 Paul Andrews

Conductor, Band trainer, Adjudicator, Instrument Repairer - Brasstoff