2010 European Brass Band Championships - European Soloist Competition
8-May-2010
Three outstanding soloists provided wonderful entertainment as a curtain raiser to the Euroepan weekend, with an engaging winner in Glen Van Looy.
---

2010 European Solo Champion: Glen Van Looy of Belgium

The opening event of the 2010 Festival in Linz was the 5th European Soloist Competition that came to a thrilling climax on the Thursday evening at the Brucknerhaus Hall.

Outstanding

Three quite outstanding performers gave their all in trying to claim the lucrative first prize (which in the end came to 4,000 Euros) in what was an evening of high quality concerto playing.

The competition had started on the Monday when a field of 58 competitors from Uzbekistan to Scotland, battled their way through three qualification rounds to leave just three remarkable players to contest the final.

Engaging

In the end it was the young euphonium player Glen Van Looy of Festival Brass Band and Brass Band Heist in Belgium who was triumphant, with a superbly crafted rendition of Peter Meechan's 'Three Stories, Three Worlds' concerto, played with air of nonchalant confidence and engaging musical personality.

Such were these attributes, that he not only won the overall title courtesy of the judges Markus Bach, Steven Mead, Armin Bachmann and Hans Gansch, but also the 'Audience' and 'Band' prizes (which boosted his pay day to that impressive figure). He is some player.

Reputation

So too is Katrina Marzella, who is perhaps further down the road of her musical career path, but who once again enhanced her already formidable reputation as a performer of rare quality by producing an engrossingly mature rendition of the Ellerby 'Baritone Concerto' that she has (understandably given it was written for her) made her own.

The playing in the middle movement was sublime, and whilst the piece itself lacks the pyrotechnic element that would (and should) have seen Katrina deservedly pick up at least one additional prize to her £2,000 runner up cheque, it was a performance to savour from the Scot.



Three superb finalists

Live wire

The same went for the livewire Belgian cornetist, Harmen Vanhoorne, who picked the short straw in having to perform the 'monstrous' (the adjective was Frank Renton's accurate description of the difficulty, not the musical value) Torstein Aagaard - Nilsen 'Cornet Concerto'.

Music for each of the qualifying rounds (including the final) had been chosen in advance by the organisers, so poor old Harmen was faced with technically the most demanding work of the three on show.

That he delivered a performance of rare merit, full of nuance and subtle colour was a triumph, and went to show just what an exciting talent he is rapidly becoming. If there were any watching British top section banding spies in the audience (and there were a few) his name will have been noted for future reference.

Never has a fine third place and 1,000 Euros been so well earned.

Fine playing

Before the announcement of the results we got to hear some fine playing from former B Section European Champions, Brass Band Froschl Hall under the direction of Hannes Buchegger (the band which first brought him to banding recognition), who also accompanied the three finalists with remarkable subtlety and stamina.

Unfortunately, the European Youth Band was not on great form, and sounded more than a little undercooked under the direction of Karl Geroldinger (they were very much better by the end of the weekend however).

Tarmac layers

Their second half performance included a robust rendition of Kenneth Hesketh's 'Masque', and uneven accounts of the weird and wonderful 'Toccata e Fantasia' by Thomas Doss (which seemed to start in baroque Germany and ended up with a rumba in a belly dancing club in Baghdad) and the overture to the 'Der Zigeunerbaron', which was unfortunately as lumpy as a driveway laid by a bunch of gypsy tarmac layers from Liverpool.

Bruce Broughton's 'Harlequin' was a lively finisher, but their best playing by far came in the tasteful shaping of 'Allerseelen' by Richard Strauss, which featured a lovely bit of cornet work from Hayley Edmond from Scotland.

The Award Ceremony that followed set the tone for the rest of the weekend (too long and with those plastic trophies so beloved of pool tournaments and darts players) but there was no doubting the quality of the three finalist's contributions to a highly enjoyable evening, and the star quality of the eventual champion.

Iwan Fox
4barsrest Classifieds
Vernon Building Society Poynton
VBS Poynton Band require solid cornet players (positions negotiable) and or a first class flugal. Positions would suit experi...
Unibrass 2017
Date: 18-Feb-2017
Venue: King's Rd, Harrogate HG1 5LA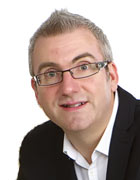 Ian Porthouse

Cornet soloist, clinician, conductor and adjudicator