4BR Scouting Report - Smain Mokrane - Market Rasen Band
10-Jul-2010
4BR finds out a little bit more about one of the banding movements rising star players - 13 year old cornet player Smain Mokrane of the Market Rasen Band.
---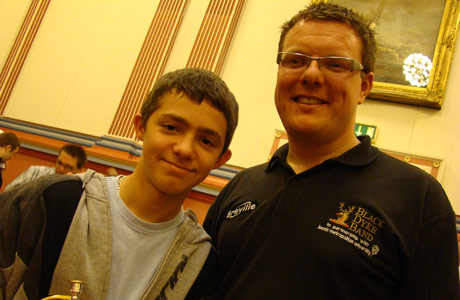 Watch out! Smain Mokrane has his eyes fixed on Richard Marshall's seat at Dyke

Name: Smain Mokrane
Age: 13
Instrument: Cornet
Band: Market Rasen

Getting your first glimpse of a young musical talent is always something that puts a smile on the face.

Spotting the unmistakable gleam of an uncut diamond is what brass teachers over the past 150 or so years dream about – the gleam of untapped potential.

That must have been the feeling Alan Needham had when he started to teach a young lad called Smain Mokrane.

Little diamond

The former euphonium player of the Polypipe Rossington Band had played with many of Yorkshire best bands over the years, but a move with his job had seen him getting involved with the Market Rasen Band as conductor – and before long he unearthed that little diamond.

Smain comes from a musical family. His mother Brenda plays flugel with the Market Rasen Band, whilst his sister, Aicha, who is two years older, is a talented cornet player. Smain's uncle is Brian Cherry, the former bass trombone player with Brighouse & Rastrick in the 1980's.

Alan's experience meant that he recognised talent when he heard it, and he soon started teaching Smain from the age of 8 onwards (he's now 13).

Talented

From that initial unmistakable glimmer has flowered a very personable and talented young cornet player, who is now principal cornet of the Market Rasen Band.

"A soon as I heard him play, I knew he could develop into a super player," Alan told 4BR. "He is so passionate about the cornet and wants to learn."

That passion was weaned from the time his mother took him to band practice when still a babe in arms it seems.

"Brenda used to bring the kids along to band practice right from the start, so its in their blood," Alan revealed.

Filled the gap

Smain has also been fortunate to be taught keyboard at Cordeaux School in Louth where his mum is a teacher, and as Smain doesn't receive brass tuition in school, Alan has filled the gap by teaching him at home.

"Although he hasn't done any grade exams, I don't think that's important at present," Alan said. "It's long term development as a player that is important and getting all the basics in place so that Smain can enjoy a lifetime of brass paying. That would be the real result."

Smain himself is a delightful young man with a very level head on his young shoulders.

Caught the ear

4BR heard him in action at the recent Black Dyke Brass Symposium in Leeds where he also caught the ear of no less a cornet player than Richard Marshall. Richard told 4BR at it was obvious to him that here was a talent to listen out for.

"What a cracking player," Richard told 4BR. "He seems to have all the attributes that a proper principal cornet player needs. I'll have to watch out for him in future!"

Samain also has his eye on the future too – with even Richard's seat at Black Dyke on his wish list!

"I'd love to be as good a player as Richard Marshall," he said modestly. "I think I'll have to work hard on my playing though and do plenty of practice – he's awesome."

Right pace

Smain seems to be making the just the right progress, and at a pace that suits his development as a player.

Alan recently promoted him to the principal cornet seat with Market Rasen, and he performed splendidly on his contesting debut in the hot seat at the Regional Championships on the Fourth Section set work, 'Saint Seans Variations'."

"I really enjoyed the music," Smain revealed. "It was difficult to play at first, but I enjoyed the experience of being the principal cornet on the day."

Alan was also delighted too. "He showed a great deal of maturity and I was thrilled by his performance."

Putting the work in

Smain knows however that if he is to make it to the same stage to battle against the likes of Richard Marshall, he needs to put the work in – and he is prepared to do just that.

"I'm working on my stamina and developing my technique at the moment, but I think I produce a nice sound and enjoy playing slow melody solos."

Smain has won prizes at local solo competitions in the past, and has developed his repertoire to include such benchmark pieces as 'Cavalleria Rusticana', 'My Love is like a Red, Red, Rose' and the 'Zelda'.

Good stead

Alan agrees that his natural strengths as a player will hold him in good stead for the future. "He produces a lovely true cornet sound that never strains and has real projection throughout the range," he said proudly. "There are areas we are working on together in the Arban, and these will come at the right time. The potential he has though is amazing."

With practice twice a week with the band, there is no doubt Market Rasen Band has a star performer on its hands, although Smain also wants to see if he can eventually try and get into the National Youth Brass Band – if he isn't called up by Alex Ferguson at Manchester United first!

"I want to have a career in music," he revealed. "But I may have to put it on hold if I get the chance to play for Manchester United first".

Football talent

The young man is also a bit of a talent at football too Alan says, not trying to hide his disappointment!

With fantastic support from his family here is a very personable young man with a very big future ahead – by it with Black Dyke, Brighouse & Rastrick or Manchester United.

Alex Ferguson may have to resign himself to missing out on this particular little diamond though….

Iwan Fox
4barsrest Classifieds
Garforth Brass
If you are a conductor who is not involved with the upcoming round of Regionals, but would still like to keep your hand in, y...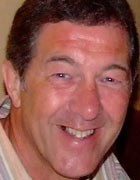 Derek Renshaw
ABBA Member
Conductor, Band Trainer and Adjudicator.