2010 Lower Section National Finals - Second Section retrospective
30-Sep-2010
There were plenty of psalms of praise and celebratory alleluias on the way home to Wales for newly crowned National champion Tylorstown on the weekend...
---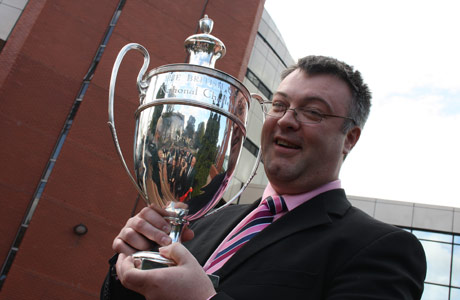 Plenty to smile about for MD Gary Davies of Tylorstown
Picture: Steve Jack

At whatever contesting level Philip Wilby composes for, his music is always challenging and fulfilling.

At times though the clues to a successful appreciation of his test pieces comes with an understanding of the titles he chooses so carefully - and on this occasion the definitive difference between a psalm and an alleluia.

Getting that right was the key – and even then it was still a difficult task for the conductors to unlock the music in the score.

Not easy

Anyone believing that 'Psalms & Alleluias' would be an easy challenge (having originally been written for the National Children's Band) was mistaken (which included adjudicator Lynda Nicholson who admitted as such when she first studied it) but those who did their homework found reward on what turned into a highly enjoyable contest.

Those bands who will play 'Resurgam' next year will have benefited from this opportunity to understand Wilby's intuitive approach to the religiously inspired musicality of the work – especially in appreciating the relationship of tempi instructions – all governed from the opening section of the piece.

A perfect 'Alleluia' is usually sung bang on the 90 crotchets beat mark – just ask Handel.

Crystal clear

By the time Lynda and C. Brian Buckley had finished addressing those in the hall with their detailed comments, bands would have started to rule themselves in or out of taking the title.

There was little (if any) leniency when it came to those not producing what was exactly on the score in the manner required.

Finding the right tempo was vital, as was the need to link the sections with a consistent momentum. Stamina issues cost many bands dearly – some starting off well but running out of steam in the demanding closing stages.

In terms of the top four, consistency allied to rhythmic accuracy, warm balanced ensemble and the ability to play with a flowing cantabile style was the key to success.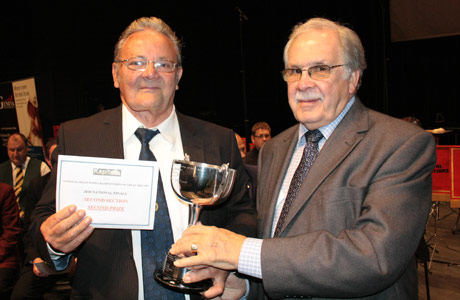 Second place for Filton Concert
Picture: Steve Jack

Talking point

That said, the biggest talk point, which created vociferous debate was the decision to award the 'Best Instrumentalist' prize to the snare drum player from Knottingley Silver – not that he didn't play exceptionally well it must be said.

The percussion union will be saying 'about time too' but the conductor and adjudicator's adage that the 'percussion section can't win a band a contest but they can certainly lose it' was turned on its head.

Whilst there was a strong case at the British Open to reward some quite brilliant xylophone players a few weeks back, the intricate rhythmic patterns played here, were not overtly demanding, although they were tricky. Some fine cornet players in particular may well wonder what they did wrong.

A bit of Davies magic

Tylorstown under Gary Davies took the title with a controlled musical performance that ticked all of the boxes the judges were looking for.

The opening was solid and detailed combined with a lyrical style enhanced by warmly hued contributions from solo lines - especially Angela Westacott on euphonium. It was always going to be a performance that was going to be a challenger (a dark horse for us) but for the judges, it was their winner.

The Welsh know a thing or two about choral singing and the Methodist prayer book, so perhaps this win shouldn't have come as a surprise (although we don't know how many of Tylorstown's players are devout chapel goers) but for the Principality to win at this level for four years in a row is some achievement.

Late charge for Second and Third

The contest was still very much up for grabs until the end, and it was Filton Concert who took the runners up spot as the penultimate band of the contest.

Bryn James coerced a fine musical rendition from his band that never lacked in confidence and self belief and never waned from the first note until the last. It was solid and workmanlike in the best possible contesting way – and it gained its reward accordingly.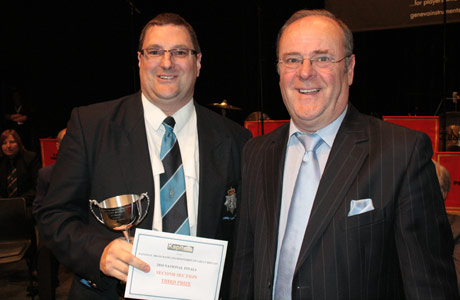 Podium finish for South Yorkshire Police
Picture: Steve Jack

Baker's delight

South Yorkshire Police under Leigh Baker certainly gave the judges something to think about as the final band of the day.

The quartet playing and lyrical musicality was excellent, with flugel player Craig Whitehead a real star. Just a few little clips and touch of uncertainty in some exposed lines cost them a chance of the title. It was a fine effort though.

With Tylorstown posting the marker for the rest of the field to beat off the number 4 draw, it was Knottingley Silver at seven, who next made an impression in the box, courtesy of a performance of drive, energy and style - not too mention that very precise rhythmic snare drum playing.

Nothing was left to chance, and Owen Wedgwood brought the best out of his band to claim their deserved top six finish.

Jayne Murrill's East London Brass produced a classy interpretation that was full of confidence and trademark detail, but just when it looked as if the pre contest favourites would run away with yet another title, tiredness crept into the ensemble and intonation issues robbed them of the chance of glory.

Style the key for Rainford

Rainford meanwhile produced a fine musical account under Neil Samuel that certainly took risks with the elasticity of the musical lines at times.

Some were perhaps stretched a bit too far, but the search for the emotive core in the music was clear to the ear. Given what the judges later said from the stage, they were one of the bands that must have known their chances of victory were lost despite a brave interpretation.

Becontree and Blidworth had to settle for seventh and eighth respectively.

Becontree promised much as did Blidworth, who was the first band to really make an impression (including their principal cornet who reacted at the end as though he'd won X Factor!) and both brought a great deal of sharp edged detail from the score, although nervousness and some inconsistency in execution cost valuable points.

4BR's curse

Diggle drew the short straw and the 4BR curse of being tipped to win.

The Saddleworth band produced a performance similar to Rainford, with James Shepherd bringing all his experience to bear by searching for the emotion in the music. It was lovely 'old fashioned' playing (and that isn't meant to be a derogatory term) that deserved perhaps a higher finish.

Further down the field and the inconsistency of approach and execution became much more clear cut.

Alder Valley produced an uneven account that waxed and waned from start to finish to come 10th, whilst Catterick Brass with Brendan Wheeler on euphonium, produced a performance that understandably lacked consistency (understandable as many of the players who are army musicians didn't get their instruments to play on until a couple of days before the contest due to being mislaid on a flight back from overseas manoeuvres!)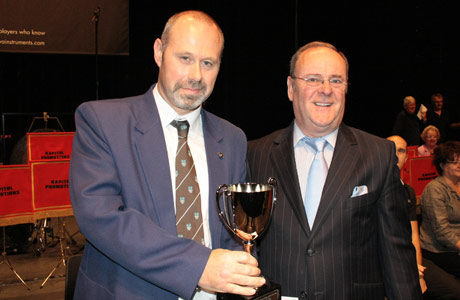 Best Soloist: Knottingley's rep takes the side drum honours
Picture: Steve Jack

Scottish duo paired together

The Scottish duo of Coalburn Silver and Dalkeith and Monktonhall finished 12th and 13th after producing renditions that had their moments but just lacked that essential solid technical execution.

Coalburn got better as they went along (much to the delight of their vocal band of supporters in the hall) but the early damage cost them dearly, whilst Dalkeith benefited from a fine reading from MD James Chamberlain but suffered in uneven application,

Once again the travelling Scottish support sang its praises at its conclusion, but the reality was a little more prosaic.

Valiant attempts

The bands that finished in the bottom four should be congratulated for digging deep into their musical character to produce a quartet of valiant accounts of a test piece that stretched them to the full.

Tintwistle drew number one and took a cautious rendition and only seemed to relax towards the end – perhaps a little too late in a performance that could have just benefited from a little more risk taking.

Cockerton Silver meanwhile produced an uneven performance that never quite settled to make more of an impression. Finally, the Welsh challenger of Deiniolen certainly got to grips with the lyricism of Wilby's score, but perhaps left too many unforced errors in its wake, whilst Shrewton Silver battled bravely from start to finish to leave the stage with heads held high after a demanding test of character.

For Tylorstown however, the result was just the start of a long night of celebration with numerous psalms of praise to their MD and players and plenty of ensemble alleluias.

Malcolm Wood
4barsrest Classifieds
Coleshill Town Band
Coleshill Town Band (4th section) are looking for an enthusiastic conductor to continue the development of this friendly, suc...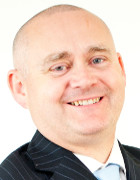 Steve Pritchard-Jones
FTCL LTCL LDBBA DipMusEd GMus QTS NPQH
Conductor, Adjudicator, Teacher