2010 National Championships of Great Britain - Test piece review
5-Oct-2010
4BR takes a look at a short work inspired by a huge country in Martin Ellerby's 'Terra Australis'.
---
It says a great deal about the skill of Martin Ellerby as a composer that 'Terra Australis' is being used as a test piece for a major brass band championship.

For as a composition, it is surely a highly enjoyable, colourful and inventive concert work – full stop.

Specific purpose

The skilful addition of testing, but not overtly acrobatic cadenzas doesn't make it anything other than a composition written for a very specific purpose: And that purpose is to entertain a concert going audience.

Why it is being used as a test piece at the National Finals is a question only the Music Panel and perhaps Ellerby himself can answer: He himself likens the piece to a cinematic film score – although at around 12 minutes duration it certainly isn't an Australian version of the music to 'Gone with the Wind'.

Originally written for the YBS Band tour to Australia in 2005, many of the directorial instructions that led to its production came from David King, so it should come as little surprise that Ellerby created a highly evocative composition full of cleverly realised musical images of the grandeur, excitement and passion that underpins the fabric of the youthful nation.

It should come as little surprise either that much of the writing is highly pitched, technically challenging and stamina sapping too – three aspects of performance that the YBS vintage of 2005 had little problem overcoming.

Imagery

The imagery of the music is paramount (although Ellerby himself is wary of steering conductors to seek inspiration through the spectacular 'Tourist Board' eye candy) – from the first evocative sighting of the Australian coast by Captain Cook and his crew, to the startling natural beauty of the immediate hinterland and its indigenous culture.

Ellerby also ensures that the modern phenomenon of Australian nationhood is not forgotten, with the inclusion of his simple treatment of the prosaic national anthem – a tune that is so redolent of its umbilical link to its Empire motherland that they may as well have kept 'God Save the Queen' to sing along to.

In retrospect that may not be surprising given the heroic sacrifice of so many of its inhabitants to safeguard it in two World Wars - although the composer's subtle expansion of his own 'Anthem for a Nation' is so much more musically and emotionally satisfying.

A little less subtle however are the musical ciphers and cryptographic motifs that appear throughout the work – from the four note cell 'Aust-ra-li-a' theme that is easily identifiable, to perhaps a more subconscious nod of appreciation to Gilbert Vinter and his own antipodean inspired 'James Cook- Circumnavigator' – with a late trombone entry that reminds you of the opening bar of his last great test piece.

Skill

The composer's innate skill ensures that there is a substantive feel to the music from first note to last – despite its overall brevity - although the inclusion of the cadenzas, like those found in 'Tristan Encounters' are seemingly superfluous - a facet recognised by the composer himself.

Why they have been added therefore is a mystery: They add nothing to the musical journey apart from a stopping point for the crudest form of contesting judgement making. The work is so much the better (if even shorter) without them.

Ellerby's craftsmanship in developing complex textures and timbres is to be found in the detailed writing – although they never get in the way of the feel for the 'big picture' the composer tries to create; from Cook's ship entering Botany Bay to the sepia tinted imagery of fallen heroes in a foreign land and the thumping climax that seems to proclaim 21st century 'Aussie' nationalistic pride.

Direct appeal

The music has a very direct appeal – something the composer himself acknowledges –and something which former YBS players have told 4BR was certainly the case when it was played on that historic tour.

Whether or not that direct appeal will connect with a traditional contest going audience at the Royal Albert Hall on the weekend remains to be seen however: 20 takes on 'Advance Australia Fair' can be wearing even on the proudest Aussie ex pat.

It is also a fair assumption that Martin Ellerby never thought that 'Terra Australis' would one day be used as a test piece for a major championship – and it may also be a fair assumption that in retrospect he may not be that brilliantly thrilled that 'Terra Australis' is being used in such a way either.

Concert repertoire

This is a fine piece of concert repertoire writing, but is a distinct level below the composer's finest output for brass bands.

Even the Swiss will enjoy hearing a major new work from his pen entitled 'Genesis' in a few weeks time (although given their lack of coast line, this work would have perhaps been completely out of their sphere of understanding), so why wasn't such a leading compositional talent, who has done so much to enrich the banding repertoire, be commissioned to write a major work for this championship?

You get the feeling that through no fault of his own, this one has been chosen because of other considerations, leaving the composer rather poorly served by its selection.

In an interview given to Paul Hindmarsh recently, Ellerby said that although he thought that other works of his were written very much as test pieces first and foremost, 'Terra Australis', whilst 'not a particularly deep piece', would still appeal to a contest going audience.

Lets hope so.


Iwan Fox
4barsrest Classifieds
Vernon Building Society Poynton
VBS Poynton Band require solid cornet players (positions negotiable) and or a first class flugal. Positions would suit experi...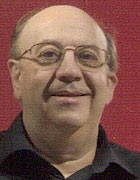 Alwyn Green
LRAM, LTCL
Conductor, composer, arranger, adjudicator, teacher and soloist