2010 National Championships of Great Britain - The art of cadenza cut and paste
12-Oct-2010
There was more cut and paste jobs on view at the Royal Albert Hall than could be found at a Mayfair plastic surgery clinic...
---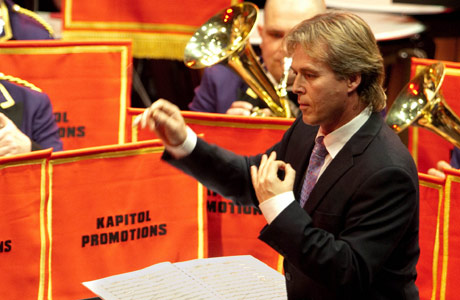 Getting it just right: David King makes sure Brighouse don't falter
All photos by Ian Clowes - Goldy Solutions. Go to www.pbase.com/troonly/brass

Despite the reservations expressed over the selection of Martin Ellerby's 'Terra Australis' as the set work for the National Finals, it was the inclusion of a series of additional cadenzas – and the way in which they were approached by the 20 competing bands, that caused even greater debate on the day.
The composer himself had stated that their inclusion, two-thirds through the work, was a very specific contesting amendment; as musically they added little to the descriptive musical canvas.
Blunt

Nothing Ellerby writes can ever be described as redundant, but as a means of allowing instant competitive comparison, a series of 12 technical motifs provides a pretty blunt way of doing it.
It was hard to suggest that the contest was won or lost here – although a few bands such as Tredegar, Foden's and Fairey may have rued their splashy efforts.
No wonder the composer had insisted that the score be clearly marked that the section was 'for contesting use only' – his inventive, colourfully vibrant, compact musical portrait of Australia didn't need the inclusion of this hoop jumping exercise.
The series opened in call and response cells with the two baritones, followed by flugel and repiano, soprano and solo cornet.
A high pitched declamatory statement by the solo horn and lyrical trio of trombone voices then set the scene for a lower brass reprise of the statement and echo motifs on the euphoniums and tubas.

Square on: Foden's were one of many bands to find the cadenzas a minefield

Crass

Technically they were not difficult – especially given we were talking about top section performers, but the amount of camouflage and substitute work on display veered between the crass and nonsensical to the clever and understandable.
Horns trying to sound like baritones, a cornet mimicking a low pitched soprano, flugels imitating horns – there was more mix and match on display than the current political make up of the Australian government.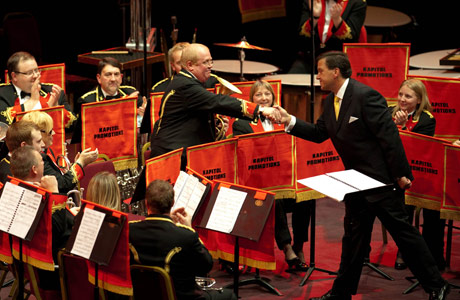 A job well done: Nicholas Childs congratulates Sandy Smith on his day's work

Obvious

Black Dyke's attempts were fairly obvious, with Sandy Smith's distinctive horn sound never likely to fool informed listeners as a high pitched baritone, whilst they were not alone in trying their luck in testing the judges absolute conviction to penalise entries that were not 100% kosher.
A number of horn players not only came in on the top A# of the initial 2nd baritone entry (as did a few solo baritones who played the start of the cadenza, left the top A# for the horn, and then played their own effort.) but also doubled up on the top C# of the solo baritone (which was also camouflaged by the odd euph too).
Not every rep player played his or her motif (Roger Webster a notable dep on 4th man for Brighouse), although thankfully, it would have taken some player to relieve the soprano of his initial top Bb entry.
A few flugel players stepped in to help their solo horn colleagues on their top C#, whilst the vast majority of euphoniums and tubas proudly maintained their artistic probity by resisting any calls of help as they battled with their closing motifs.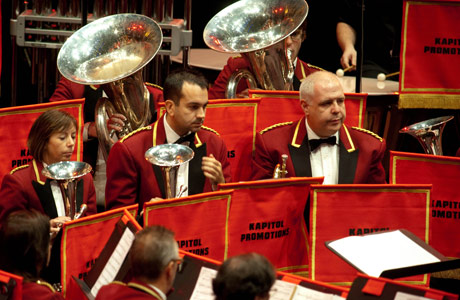 Waiting in line: Aveley & Newham's horn section wait for their turn in the spotlight

Little thought

What was also noticeable however, was the way in which it appeared that surprisingly little thought had been given by the MDs to the musical shape of the cadenzas.
The most coherent series (if not always 100% technically executed) occurred when conductors insisted on the secondary response echoing the initially statement – as stated in the score.
Some of the bands that that ended outside the prizes were the best of the day in this respect: Whitburn, Redbridge and Aveley & Newham amongst them.
Wonderful efforts

There were some wonderful individual efforts, but at times these made little musical sense as players opted for self-preservation ahead of collective responsibility (the cadenzas themselves were marked to start at piano, mp or mf and none to rise to forte or above).
Even the bands that featured in the podium places were not error free.
In the end though, the most damage to a band's chances of featuring high in the prize list was done way before the cadenzas appeared – in some circumstances with bass drum players believing the piano marking on their first entry didn't apply to them.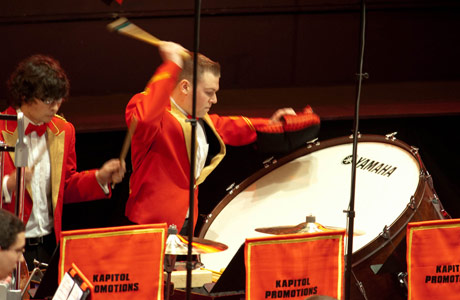 Giving it a whack! Cory's perc section delivers a hammer blow...

Generous

A number of performances started at a volume that could only be described 'generous' on a good day.
It wouldn't be a memorable brass band contest though without some debate over the ethical issues created by part swapping, creative camouflage and down right misrepresentation.
However, the age old desire to try and maximise strengths by minimising weaknesses will always be part of contesting, however much we believe it undermines the purity of the Corinthian ethos of competition.
That's a load of old bunkum anyway.

If the adjudicator's can't tell if bands are playing fast and loose with the music then the problem lies not with those making the music, but those judging it.
Iwan Fox
4barsrest Classifieds
York Railway Institute Band
York RI Band (North of England Championship Section, MD David Lancaster), have immediate vacancies for Principal Cornet, Back...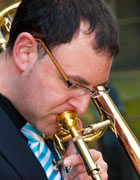 Brett Baker
BSc (Hons), ARCM, PG Dip
Rath clinician, conductor, teacher, adjudicator, editor