Life Abundant
21-Nov-2007
Philip Cobb
Cory Band
Conductor: Dr Stephen Cobb
Egon: SFZ 140
Total playing time: 59.33 mins
---
At Regent Hall on a Friday afternoon in October 1997, the day before "On Alderley Edge" was used for the National Finals, Peter Graham assembled a band to provide illustrations for his talk concerning the test piece.

Peter was involved with Black Dyke at the time, and several members of the band took part, alongside members of the ISB and other friends in the area. In addition to the illustrations in the talk itself, the band presented a short programme which included the premiere of his "Prelude on a theme by Tallis".

For many, however, the most striking item in that concert was a duet played by two young cornettists sitting on the back row. Matthew and Philip Cobb presented Peter's sparkling cornet duet "Quicksilver", and many people remarked at the time that here was a talent to look out for.
Ten years later, Philip, who is just starting his third year at the Guildhall School of Music, has produced his first solo recording. During the intermediate years he has made an impression as a member of both the National Youth Brass Band of Great Britain, and the Salvation Army's Territorial Youth Band.

He has progressed to the second seat in the International Staff Band, received an award for the Most Promising Performer at the Maurice Andre International Trumpet Competition in November 2006, and has also featured as guest soloist at the International Trumpet Guild Conference in Boston, USA.
Accompaniment for the new recording is shared between organist Benjamin Horden and Cory Band, conducted by Philip's father, Dr Stephen Cobb, and the music is drawn from Salvation Army cornet repertoire and baroque trumpet music, with Kenny Baker's "Virtuosity" thrown in for good measure. It provides an excellent opportunity for Philip to demonstrate his flexibility and adaptability, with some exquisite playing in the simpler pieces balancing out the dazzling technique in the more intricate solos.
The three major Salvation Army solos included were written for some of the organisation's leading players: Kenneth Downie's "Trumpet Call" for David Daws, Robert Redhead's "Life Abundant" for Deryck Diffey, and Erik Leidzen's "Wondrous Day" for Philip's grandfather, Roland Cobb.

Philip has featured "Wondrous Day" in recent concerts with the ISB, and he clearly has the measure of the challenges Erik Leidzen sets. His playing of the cadenzas, avoiding the temptation to rush, gives an indication of the thought and preparation which has gone into the performance, whilst he dispatches the intricate variations with alacrity.
"Trumpet Call" – written for cornet, despite its title – calls for a more declamatory approach, and Philip's clear tone rings out triumphantly over the band. Featuring the tune "Stand up, Stand up for Jesus", there are similarities with Eric Ball's trumpet solo "The Challenge", and much of the original material is drawn from the melody itself, the music emphasising the noble character of the instrument.
"Life Abundant" was written during Robert Redhead's tenure of the Canadian Staff Band, being featured on the same European Tour as his euphonium solo "Euphony".

Although the band did not visit the United Kingdom on that occasion, the tour LP was available, and allowed listeners to marvel at the technique displayed by the respective soloists.

From the unusual opening, with a single note being repeated, getting faster and faster, then slowing down again, through to the final, thrilling top G, it was written to exploit Deryck's particular talents, but Philip makes the music his own, soaring over the at times expansive writing for band, and bringing a gentle touch to the central melody, Robert's own song "One life to live". This demanding solo would have been played by any cornet player reaching the finals of the soloist's competition at the recent European championships.
Providing marked contrast with the more extrovert display pieces are four slower, more devotional items. Although perhaps better known these days for their writing for brass, both Edward Gregson and Kenneth Downie have also contributed a number of vocal works, with the latter having been quoted as saying that writing for voices is his true love.

Edward Gregson's "Before the Cross", originally a choral setting of words by Salvationist poet Peter Cooke, is one of the highlights of the recording, with Philip's perceptive interpretation being matched by the sensitive playing of the band. The arrangement was made especially for David Daws, and Philip's performance compares very favourably with David's own recording.
Kenneth Downie's "Healing Waters" started out as a vocal solo to words by General Albert Orsborn which, in their earlier incarnation, were often featured by Salvation Army bandsmen singing as male choruses. The melody captures well the yearning implicit in the lyrics, with at times angular phrases, and oblique shifts of harmony.
John Larsson's melody "Someone Cares" is taken from the Salvation Army musical "Take over Bid", and Ray Steadman-Allen has worked his own magic, with judicious changes of key and an effective countermelody for the soloist.
The name of Len Ballantine was well-known in the United Kingdom even before his appointment as leader of the International Staff Songsters, having spent many years as a professional musician and arranger in his native Canada before entering training as a Salvation Army officer. "Don't Doubt Him Now" is a fine example of him in more reflective mood.
Philip Cobb is joined by Cory's Musical Director Robert Childs in Ivor Bosanko's "Time and Eternity". Written as a follow up to "I'll not Turn Back", it was commissioned for David Daws & Derick Kane, for the ISB recording "Renaissance". Robert may have stepped down from playing full time in order to concentrate on conducting, but he is playing as well as ever as he celebrates his half-century, and the two soloists blend well together.
Philip takes up the piccolo trumpet for Telemann's "Concerto in D Major" and the "Te Deum Prelude" by Charpentier, in which he is accompanied by Benjamin Horden on the organ.

The Telemann was originally written for string orchestra, but the organ makes an excellent substitute. Philip's playing is crisp and precise in the livelier movements, and he produces a beautifully clear tone in the slower sections, with the light registrations selected by Ben showing off the bright trumpet tone to good effect. The Charpentier "Te Deum" will be familiar to many from its use in connection with various Eurovision programmes, but it is here imbued with a dignity far from the antics lauded by the late, lamented Eddy Waring in "Jeux sans frontieres"!
Kenny Baker's "Virtuosity" has also been featured by Philip with the ISB and his reading has developed and matured in many ways. He now seems much more at home with the style, and he has a wide range of inflections and tricks in his repertoire, bringing a personal touch to his interpretation that seems perfectly natural.
The production is well up to the standards one has come to expect from Egon, with comprehensive notes by Kevin Ashman, biographies of the soloists, and a listing of those who played in the band for the recording. Philip himself has added a note of thanks to various people who have assisted in the project, and in his career thus far.

On this evidence, here is a young man with the potential to go along way, equally at home on cornet and trumpet, and able to adapt readily to various styles of music. The programme chosen should appeal to a wide audience, and this recording will provide much enjoyment.


Peter Bale
What's on this CD?
1. Trumpet Call, Kenneth Downie, 5.27
2. Someone Cares, John Larsson arr. Ray Steadman-Allen, 3.51
3. Trumpet Concerto in D, Georg Philipp Telemann arr. R P Block, 7.23
4. Before The Cross, Edward Gregson, 3.41
5. Wondrous Day, Erik Leidzén, 6.28
6. Healing Waters, Kenneth Downie, 5.00
7. Don't Doubt Him Now, Leonard Ballantine arr. Craig Woodland, 3.27
8. Life Abundant, Robert Redhead, 10.55
9. Time and Eternity, Ivor Bosanko, 6.09
10. Virtuosity, Kenny Baker arr. Jack Peberdy, 4.21
11. Prelude to Te Deum, Marc Antoine Charpentier arr. P White, 1.27
4barsrest Classifieds
Foss Dyke Band
SOP, 2ND EUPHONIUM AND Bb BASS REQUIRED IN TIME FOR AREA! We are a 2nd section band based in Lincolnshire. We rehearse in our...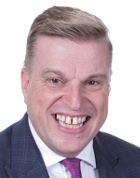 Julian Bright

Conductor, Compere/MC, Cornet Soloist