Grimethorpe Colliery (UK Coal) Band
1-Oct-2006
Conductor: Frank Renton
St. David's Hall
Cardiff
Saturday 30th September
---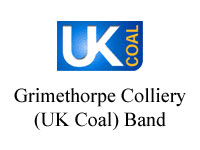 Grimethorpe is a band that is inextricably tied to its immediate past. It says a great deal about them that the memories of 1992 and 'The New Jerusalem', has not musically suffocated them, even though the spectre of 'Brassed Off' remains like Banquo's ghost, forever on their shoulder.
The link to the mining industry, its decline and eventual decimation is in many ways the bands unique selling point, even 14 years after their own pit was closed and the news that their long term sponsor, UK Coal, will not be renewing its financial input at the end of this year. Perhaps for the first time in its 90 year history, Grimethorpe will not have a direct link to its industrial heritage, and that may not be too much of a bad thing for a band that wears its proud history very much on its musical sleeve.
New sponsors have been brought on board, a proactive stance on securing further money undertaken and a full concert schedule for the next twelve moths or more is already in place. The mining link may become more tenuous in years ahead, but it will never be broken, even if the sell by date of the 'Brassed Off' years has come and gone.
Here in Cardiff they entertained a fair sized audience of around 800 or so on a wet and windy Saturday night – a damn good achievement given that a few hours before both the city's high flying rugby and football teams has packed them in their thousands under a mile away. Given the well publicised departures of both Richard Evans and David Hirst in the past month the band had also taken the sensible decision to employ Frank Renton for this high profile event, and with a audience friendly programme both he and the band were on excellent form.
'Cross of Honour' fairly thumped along to open proceedings before a cracking old whip through Derek Broadbent's arrangement of Smetana's overture to 'The Bartered Bride' really set the bands intentions for the evening out in fine style. Roger Webster displayed all his considerable talents with an authentic, almost sleazy rendition of the Harry James take on 'Carnival of Venice' – he has an almost chameleon like ability to play in so many variety's of styles and genres – all quite brilliantly.
The old Goff Richard's arrangement of 'Bill Bailey' was an enjoyable romp before the ensemble highlight of the first half and a subtle rendition of Percy Grainger's 'Londonderry Air' which showed a lovely understated sense of musical restrain and superbly balanced ensemble.
The 'Brassed Off' connection (always good for CD sales as the crowded foyer surrounding Band Manger Terry Webster's merchandise stall attested too) was maintained with Ian Shire's velvety 'Concerto De Arunjuez', complete with more twists and turns than Olga Korbutt on a gym mat, before the first half was rounded off with 'MacArthur Park' which was a real old honker of a run through, topped off with Kevin Crockord on tip top form.
A well satisfied audience returned for the second half that was much of the same mix. 'Florentiner March' was played with swagger to open before a rumbustious run through the 'Dance Scenes' from 'West Side Story'. The lightweight 'I Dreamed a Dream' was a touch weak in comparison but Michael Dodd was a loquacious presence on the bouncy sally-army euphonium solo 'Travelling Along' – which he did at an impressive lick at times.
The return to 'Brassed Off' with a gallop through the finale from 'William Tell' brought the biggest round of applause of the night (helped by Frank's storytelling abilities and a tempo that would have made the Lone Ranger breathless) before a change of mood and the saccharine coated and overlong 'Hymn to the Fallen' by John Williams.
Gavin Pritchard then took his turn in the spotlight with an entertaining double vivo inspired 'Helter Skelter', before the final chance for the band to blow the roof off the hall and a full blooded 'Pines of Rome'. With the audience now demanding more after a very slick and well presented concert, 'Czardas' was taken at double quick time to leave the good folk of Cardiff (and quite a good sprinkling of players from around the valleys on a night out in the big smoke) well and truly entertained and impressed by the standard of playing and presentation they had heard.
Grimethorpe still remain consummate entertainers, whatever the future may bring.
Iwan Fox.