Grimethorpe Colliery Band
13-May-2010
Conductor: David Stowell
St Andrew's Hall
Norwich
Sunday 9th May
---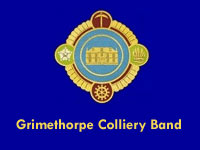 On Sunday 9th May Grimethorpe Colliery Band returned to St Andrew's Hall in Norwich to perform the East Anglian Brass Band Association's 72nd Annual Gala Concert.

Under the musical direction of David Stowell the famous band commenced their programme with the march 'Death or Glory' by R. B. Hall. This was followed by Hector Berlioz's 'Le Carnival Romain'.

Change of style

The band then changed style and tempo to perform 'Canterbury Chorale' by J. Van der Roost. The very quiet ending to this piece was breathtaking.

The first soloist of the evening was the band's soprano cornet player Kevin Crockford who gave a stunning performance of 'Demelza' by H. Nash. This was followed by Percy Grainger's 'Shepherds Hey'.

Next, the capacity audience was then treated to the second solo of the evening when the band's flugel horn player Andrew Holmes performed 'The Children of Sanchez'.

The first half concluded with an excellent performance of Percy Fletcher's 'Epic Symphony'.

Music and Dance

'Lets Face the Music and Dance' was the opening piece in the second half. The audience then enjoyed 'Ol' Man River' and the 'Waltz' from the 'Orient Express' before the horn section featured in Philip Sparke's beautiful 'Meditation'.

It was then the turn of the band's principal cornet player, Robert Westacott, to give a superb performance of H. Clarke's 'The Carnival of Venice'.

'The Russian Sailors Dance' was followed by the 'Elegy' from' A Downland Suite' where once again the band demonstrated their beautiful controlled playing.

The finale was Catherall's arrangement of 'MacArthur Park'. The band received a standing ovation and treated the audience to an encore of the 'William Tell Overture'.

Many thanks to David Stowell and the Grimethorpe Colliery Band for an excellent concert.