DVD Review - Black Dyke – Live!
10-Nov-2007
Conductor: Nicholas Childs
Featuring: James Morrison; The Mighty Zulu Nation; Bristol Cathedral Choir; The Yorkshire Philharmonic Choir; Robin Dewhurst Trio
---
One of the real concert highlights of the past 12 months took place at The Bridgewater Hall in Manchester on May 18th 2007. Packed to the gunnels, the crowds had come to enjoy a high class array of talent – topped of course by the 'Wizard of Oz' himself, James Morrison. They weren't to be disappointed.
This was the first of two concerts to take place on that weekend (the second was in London) that featured the Australian as main attraction in what was an ambitious concert initiative. Morrison is no stranger to these shores and has of course performed with the band before (and has been captured on DVD for posterity too) – the audience perhaps know what to expect from him (although he once again sent shivers up the spine as well as sending jaws dropping to the floor with his brand of dry wit and red hot playing). It was what came with him on the night that gave the sense of intrigue.
The centerpiece to the evening came with the performance of 'African Sanctus' by David Fanshaw, a quite compelling piece of musical theatre that both thrilled and moved the audience through quite startling images from the composer's trip to the continent well over 30 years ago and the dancing of the small troupe of dancers from the Mighty Zulu Nation. It was a startling achievement from all concerned with quite beautiful singing from the Bristol Cathedral and Yorkshire Philharmonic choirs.
Black Dyke were on decent form throughout the night, and you can hear that they were up for it with some cracking playing in their individual items – especially a zip through 'Le Corsair'. 'Vienna Nights' at the tail end of a demanding night was not perhaps the greatest Dyke performance but that is soon forgotten with a cleverly stage managed run through 'Riverdance' complete with Dyke's versions of Michael Flatley.
Morrison of course was simply awesome and you cannot help but be gobsmacked by his almost freakish talents. It's not just that he can play just about every instrument under the sun (his piano playing is quite something) but that he can do it with such panache and style. The wry smiles on the faces of the Black Dyke players tells you all you need to know about what they thought of his efforts.
This DVD gives you the chance to enjoy the concert from the comfort of your armchair – although nothing can beat having been there on quite a memorable night. The quality of the DVD is fine, although you do get a few inherent problems with sound and it is difficult to try and make more of a fairly static stage set up.
Lots to enjoy though with 12 pieces from performers who evidently enjoyed themselves and who provided a packed auditorium with a night to remember.

Iwan Fox
4barsrest Classifieds
Mossley Band
Mossley Band (MD Duncan Byers) are looking to recruit committed Front Row cornet, Solo Trombone and Tuned Percussion players ...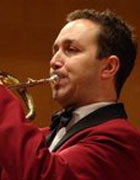 James Chamberlain
BMus (Hons) PGCE
Conductor, Teacher