Belfast Temple Salvation Army Band
30-Jan-2003
Conductor: Jack Burch

Reading Central Salvation Army
25th and 26th of January 2003
---
On the weekend of 25th/26th January the Belfast Temple Band from Northern Ireland visited Reading Central SA where they played a festival on the Saturday evening and led the services on the Sunday. Under the baton of a banding legend from Ireland in the guise of Bandmaster Jack Burch, who is believed to have been the only man to have conducted an Irish band into the top 10 at Belle Vue. The band were prepared for what was to be a great weekend (apart from the 4am start for some of us on the Saturday to make the first flight to Stansted!!!).
After what was to be a short rehearsal late morning on Saturday in the Reading Central SA actually turned into a 2 hour rehearsal, although we did have the afternoon to try and recover and re-energise ourselves for the evening.
The festival, compered by Stuart Hall, ex- ISB and now Bandmaster at Maidenhead, kicked off in fine fashion with a great opener called Intrada on Regent Square, Kenneth Downie, based on the hymn tune Regent Square, written by the composer in residence at YBS for the American SA festival series. The Belfast Temple Band then featured its principal cornet Mark Murray, who has been Principal Cornet now for approximately 20 years. Mark gave an excellent performance of My Song of Songs, Joseph Turrin, which was originally written for Philip Smith from the New York Philharmonic by his very accomplished pianist, Joseph Turrin.
The next featured soloist was the band's principal euphonium, John Murdock jnr. who brought to us a very flashy solo for euphonium entitled Travelling Along, Chris Mallett. The late Chris Mallett was a Divisional Music Director for the SA in California and a very fine euphonium soloist. This solo was written for a visit to Britain by Chris and certain references throughout the solo include an SA song " travel along in the sunshine", "california here I come", and even a cheeky little reference to the British weather system in "raindrops keep falling on my head". The band included excerpts from The Little Russian, Tchaikovsky arr. William Gordon, this piece is a great arrangement of some of Tchaikovsky's melodies and is often found in brass band concerts and entertainment contests (much to the dismay of euphonium sections who have a lot of fast fingerwork!!!). Reflections, Norman Bearcroft, provided some space in the programme for thought and contemplation, leading into a devotional piece, In his presence, David Catherwood. David plays tenor trombone for Belfast Temple Band and has had several pieces published by the SA and well known bands and soloists including ISB, Derrick Kane, David Dawes, Gordon Ward, Williams Fairey Band, NYSB, Steven Mead and Philip Smith have performed David's works. For more information on David try his newly opened website at www.opus3music.com
The band enjoyed performing Prelude to Act 3 of Lohengrin, Wagner arr. Wright, where the very strong bass end of the band came to the fore leading into another fine soloist, this time the band's soprano cornet soloist John W. Corry. John came through the young people's band and eventually became principal cornet were he sat for over 10 years before moving onto soprano cornet. John performed an arrangement of a classical flute solo called Tambourin, Gossec, arr. Howard Davies, this solo is quick and light and is often heard performed by the legendary Irish flautist, James Galway. More soloists included one of the bands percussionists Matthew White on the xylophone performing A Victor's Palm, James Curnow. Matthew is a real asset to any band in that his technique on the xylophone is ferocious!!! A Victor's Palm is often heard performed by the xylophonist from the Williams Fairey Band, Paul Lovatt Cooper.
Jazzy and big band style pieces have become very popular in brass band programmes and concerts and without a doubt, the man who pioneered this big band style is Barrie Gott. Barrie comes from Australia and is responsible for that well known piece "Light-walk". The band played two similar pieces this weekend called The Lord's Prayer and Swingtime Religion both by Barrie Gott. The latter has been performed in concerts by the Kirkintilloch band under Allan Ramsay. Leonard Ballantine has also been very talented in writing in the big band style and has contributed to the SA festival series a piece called Go Down Moses, which we featured on the saturday evening. This piece is lively and features quite a "Light-Walk-esque" flugel solo break, perfectly played by the band's flugel, David Neill.
The band also contributed a cornet duet, Quicksilver, Peter Graham, which is based on a well known spiritual, "hand me down my silver trumpet", originally written in the late 1970's, this duet is fast (scaringly!!!), and was performed in 1996 at the British Open Gala concert by Philip Smith and James Watson. Performing this duet was the band's principal cornet Mark Murray and another solo cornet player, Jonathan W. Corry a student at the Royal Northern College of Music. Procession to the covenant, William Himes, originally written for his own wedding featuring the hymn tune St.Margaret to which we can associate the words "O love that wilt not let me go", provided the band an exciting piece, very similar in structure to Wagner's Procession to the Minster, where a quiet start gradually builds into a huge ending.

My Comfort and Strength, Brian Bowen, based on the hymn tune University starts off with flugel which is quite fitting as Brian himself once played flugel horn in the ISB before taking on the reigns of the NYSB. This is another great piece found in the SA festival series and finishing with fanfares from cornets and a very grand ending. To finish the evening off the band contributed a march by Norman Bearcroft entitled Temple 85. This march is quite witty incorporating some syncopated rim shots in the percussion section and is noted along with other Bearcroft pieces to be very high for the soprano and euphonium sections, however both sections proved they could handle it!!!
For more information on the Belfast Temple Band you can check out their website at www.belfasttempleband.com
The band featured throughout the weekend many pieces including:- Temple 85 (Bearcroft), Procession to the Covenant (Himes), My comfort and strength (Bowen), The Little Russian (William Gordon), Euph Solo. Travelling Along (Mallett) soloist J. Murdock jnr, Cor solo. My Song of Songs (Turrin) soloist Mark Murray, Sop solo. Tambourin (Gossec) soloist John W. Corry, Cor duet. Quiksilver (Graham) soloists Mark Murray and Jonathan W. Corry, Xylophone solo. A Victor's Palm (Curnow) Soloist Matthew White, Go Down Moses (Ballentine), Swingtime Religion (Barrie Gott), and Prelude to Act 3 of Lohengrin (Wagner arr.Wright). The band also included several other pieces, including a meditative composition for Brass Band called In his presence written by one of the band's trombonist's David Catherwood (www.opus3music.com).

John Corry
4barsrest Classifieds
Dronfield Genquip Band
We are a Yorkshire 3rd Section Band conducted by Rob Straw and require the following players:. . Front Row Cornet. Trombone. ...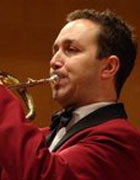 James Chamberlain
BMus (Hons) PGCE
Conductor, Teacher